If you've been blogging/writing a lot this year, sending out thousands of words and tweets into that overhead digital cloud, you've probably been hunched over your laptop or tablet. And, if like me, you've been sitting basically still for hours except to get a refill, then you may relate to what all my busy sitting and writing has accomplished apart from over 50 published posts -- tight hamstrings and some shocking pain the likes of which I hadn't felt since my days on the rugby field.
With so many of us sitting for prolonged hours, seemingly becoming "one with" our wonderful electronic gadgets, all sorts of physical ailments are manifesting themselves. Not just carpal tunnel syndrome but... bad posture, neck and shoulder stiffness, pain in our back and arms, cramp in our fingers, and other things that make you go, Ouch!
As a daily fitness enthusiast, when the pain said "hello there," I intuitively sought out the advice of two experienced massage therapists: Anna Khojanklang, whose Wellness Spa in Los Feliz offers various massage techniques -- deep tissue, Thai, Swedish, sports massage and foot reflexology, and Razmik Tigran, who is certified in seven diverse massage approaches.
Tigran, who works privately with a who's who of celebrity and business customers and has been cited by Allure and Maquia magazines for his expertise, says that aqua-therapy is increasingly being used to treat medical issues in the workplace -- repetitive use and overuse problems resulting in carpal tunnel along with shoulder, back, and leg pain: "Aqua-therapy and deep water exercise puts you in a near zero gravity environment without the jarring impact of being on land."
I am a daily swimmer anyway, but he suggested that deep water exercises and stretching would help strengthen my core, increase my flexibility and mobility, relax my stiff hamstrings and re-educate my muscles for correct posture. Sure enough, I'm now doing "yoga"-like stretching moves suspended in the pool at the Hollywood YMCA. Additionally, I'm finding that immersing yourself in deep, warm water has a positive impact in decreasing pain without risking further injury, and it has a natural massaging effect on your muscles, to boot. By the way, you don't have to be an expert swimmer to practice aqua-therapy, as you can use a buoyancy belt.
But if you're just adverse to water, traditional massage is another workable solution to keyboard-itis. Indeed, small companies to Fortune 500 corporations are discovering the benefits of chair massages in the workplace.
There's even a national convention, Health & Wellness Congress for Employers (Feb. 27-28, 2014 in Las Vegas), that's geared to creating a healthier, more productive and motivated workforce.
I had to get me some, so I sought out licensed massage therapist Anna Khojanklang to talk about my hamstring problem and she immediately suggested that while typing we should periodically get up, stretch our legs, rotate our neck... and get a full body massage:
We're in the business of helping people get well and feel better. This is a new world of connectivity -- about being connected to each other through technology but also about being more connected to our own bodies. And massage not only helps release the knots, tight muscles and sore wrists that comes from sitting at your computer or tablet for hours, but it can also help reduce stress and improve your productivity. While sitting at work, we have to change it up. Don't sit for several hours straight. Take even a five-minute break, stand up, walk around. Put a small stool under your desk and stretch your legs out onto it. Do something. You can even gently massage your own shoulders, neck and other affected areas. Just don't forget to move.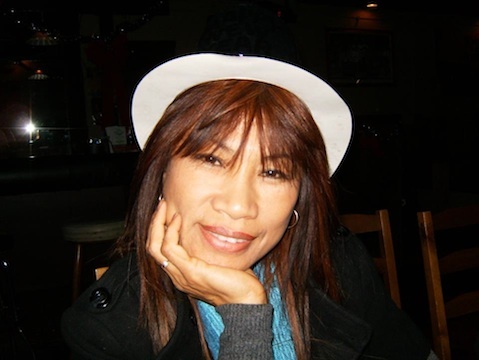 Anna Khojanklang: "While sitting at work, we have to change it up."
I've incorporated her tips into my daily schedule. I've even added in standing up at a makeshift desk, which I'm doing as I write this blog. And the combination of aquatic stretching, regular massage and changing it up at work is seriously helping!
A mother of three, Khojanklang also suggests we should understand that computer use may be causing physical problems for our kids, too. Most children in affluent countries now use computers, with over 90 percent in the U.S. using a computer at school. It's being reported that there could be a significant impact on our kids' physical development through ever-increasing computer use. So she says we should get our kids moving, too.
Great advice, however... Playboy magazine's 60th anniversary issue has an essay, "Tweet Victory," that suggests that "Twitter and Facebook will save journalism (mostly)." That's good news, except essayist Ben Smith also suggests that "long-form journalism is back" -- great, even more time spent at my new Mac! Season's Greetings!
Check out Wellness Spa at its website, and on Facebook.
Hit up Ashley Jude Collie and Fire Horse on Facebook.