Country-blues artist Grace Askew, who brought down the house on The Voice (Season 4) with her "bluntry" version of "These Boots Are Made for Walkin'," is sitting right now in her big 'ole black 2007 Ford F-150 truck called Lorraine. They've only been hitched for four months, but they've already tacked on close to 20,000 miles on highways and roads across the South, and out to the West coast.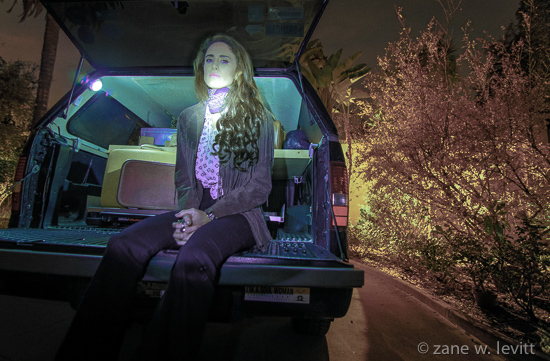 Grace and "Lorraine." Photo by Zane W. Levitt
Memphis-raised Askew is a charming, southern belle with a very distinctive vocal and musical style that can be heard on her recently released Empty Rooms EP. Smoky with atmospheric blues and Resonator-guitar toned country licks, the EP's tunes creep under your skin and grab hold.
After a road trip to the West Coast to set up some gigs and meet some industry people, Askew is now heading home via Vegas, Santa Fe -- one of her all-time fave road pit-stops -- Oklahoma City, where she plays Grandad's (December 7), and then, maybe a last-minute show in Eureka Springs. All before she returns to Memphis to play Le Chardonnay on Friday, December 13. She loves heading out on the road to spread her bluntry gospel:
Lorraine, by far, has been my favorite touring vehicle ever. I feel like queen of the road, all high and mighty and tough, ha! I grew up close to the highway, and would fall asleep to the distant hum of the cars whizzing by, and it would make me fall into dreams of where they were going and of all the places I wanted to drive to one day. Wanderlust has been such an appealing, romantic notion to me and it eventually became a very deeply rooted part of who I am today... a wanderer, a rambler, a tumbleweed.
A sixth generation Memphian, Askew says it was only natural she should take her hometown's two favorite pastimes, blues and country, and blend them together to create her own distinctive musical cocktail: "Bluntry is basically another expression for Americana or rockabilly -- with my own personal twist on it." Wearing blue skinny jeans and well-worn boots, like she was born to them, Askew talks about Lucinda Williams' influence and how her Southern-gothic storytelling "has always just blown my mind, in all its twisted, tender, bittersweet glory."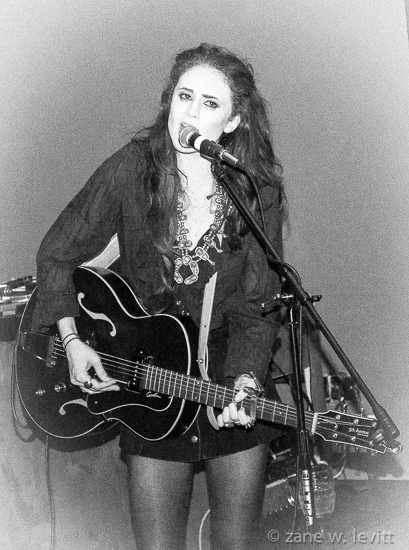 Grace Askew in performance. Photo by Zane W. Levitt.
But it's on the road at 22 where Askew found her voice after experiencing her first real heartbreak and wanting to get away. There she was under country starlight taking it all in:
Driving alone as much as I do, usually finds my spirit in a very observant, omniscient state where everything around me kind of becomes surreal, and I feel like a total ghost sort of passing through all of these strangers' lives and absorbing their stories along the way like a sponge, which in turn offers enough insight to bring out great writing material. You somehow learn a lot about yourself by simply observing others.
This delightful human tumbleweed found her inspiration for Empty Rooms after taking a drive out to the mountains of New Mexico last summer, and hanging in that magical place for awhile: "I was inspired to write Empty Rooms by the 'virga' rain that I saw all around me, evaporating before it could hit the ground and cleanse the earth."
Being a full-time touring musician, Askew is now used to doing everything herself -- "the booking, the promotion, the loading gear, the sound, the navigating... everything." And it always gives her a jolt when Lorraine's rubber hits the road:
It's thrilling when a tour kicks off and I see my little nook of Midtown Memphis in my rear view mirror. It's so exhilarating because it feels like a fresh start, a new adventure, a new identity to develop, a new song that's waiting to be written, another chunk of the great unknown that hasn't been tested is just there and available for me to conquer. Fear isn't an option in this kind of lifestyle, because from the beginning it was a choice I made and I plan on sticking to it.
As for her experience with Google Glass, she laughs: "Wow! Now that's a real taste of the future! I'm not remembering any specific incident of driving with them on, but hiking with them felt a little too technologically intrusive for me -- I like to enjoy nature in solitude."
Tumbleweed Grace Askew is back on the road later this month playing in Covington, Kentucky at the Backstage Café on December 20. Then she's planning on hitting it again, heading back to the West Coast: "I'm still here and have yet to experience any kind of really scary situation on the road. I must have some really bad-ass guardian angels watching over me or something. Ha!"
Check out Grace Askew at her website.
And listen to her Empty Rooms on iTunes.

Hit up Ashley Jude Collie and Fire Horse on Facebook.