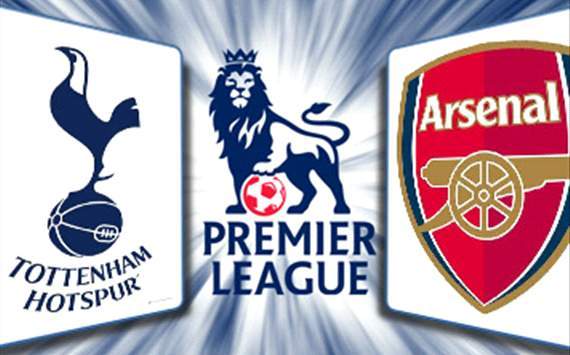 "A hundred-year-old internecine rivalry. Lilywhite versus Red, Spurs versus Arsenal, the Yids versus the Gunners. The action is frenzied. The tackles are furious. The goals are spectacular. And when the waves of opposing fans sing their SONGS to heaven's door, the sensation is hair-raising. But it's not life and death. Oh, no, it's much more important than that."
--Opening to "Danny Boy" movie script
March 5, White Hart Lane, Spurs vs Arsenal, one of the oldest local derby rivalries in the world -- like Barca and Real, Milan and Inter, Man-U and Liverpool, Rangers and Celtic, the Yankees and Red Sox -- it's all about bragging rights.
Although we've never met in a major soccer cup final, North London Derby matches have had significant consequences: Tottenham 0-1 Arsenal -- 3 May 1971 in the final match of the 1970-71 season, with Arsenal needing a win or a goalless draw to take the title, and with three minutes to go they did it; Tottenham 3-1 Arsenal -- April 1991 at Wembley was the first FA Cup semi-final between us, and Spurs won then went on to win the Cup, preventing Arsenal from winning the double; Tottenham 5-1 Arsenal -- January 2008 and our first victory over Arsenal since November 1999, in the second leg of the League Cup semi-final... we also went on to win that trophy.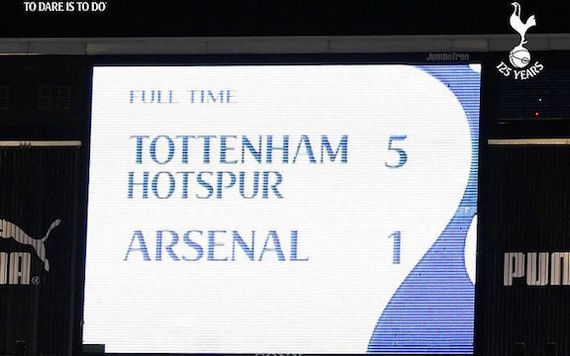 They've won more league and FA cup titles than Spurs. Fair enough. But we've won more League Cup and European cup competitions than them.
That was then. And, with our new Spurs Manager Mauricio Pochettino, the worm has turned. Now, this particular game on March 5 could determine who wins the Premier League. This one sends a message about who will rule North London. And, in pubs right across North America, Lilywhite will be going off against Red, with fans sporting our opposed colors. I asked some fellow "Yids" in America to tell of their fave NLD game.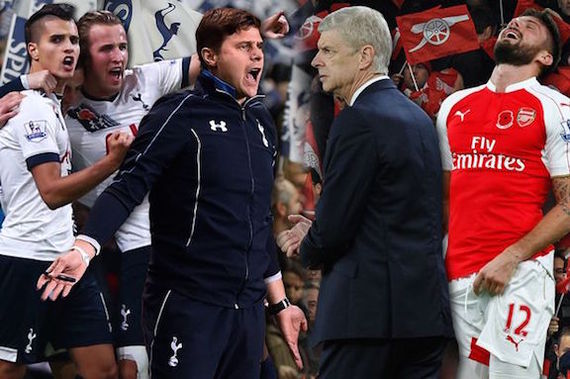 Pochettino's Blue/White army hosts Wenger's Red invaders from the Deathstar
Modern bard and SF Spurs original, Steffan Chirazi, has attended over a dozen NLDs calling each a powder-keg of tension, excitement, anticipation and bombastic pride whatever the outcome. His recent best was in 2008:
At the foot of the table, and with them near the top, we went to the 'Deathstar' (their stadium) with a new manager, and looking to avoid a clouting according to every expert. It was a ding-dong match but in the 90th minute, down 4-2, my mates wanted to leave as the humiliation was too great. 'Never!' I bellowed, 'We will not lose our pride to these bastards...' Jenas bent in an absolute pearler, and then Luka curled one onto the post and Azza reacted faster to stab home the equalizer... I screamed myself hoarse, looked up at the miserable goons in the upper deck and gave them a repeat of the situation in sign-language --100% raw electricity surged through me, and all the wins, all the mighty moments against these South Woolwich wanderers received a very legitimate cousin that night!... Whilst we all have goon-pals, impossible not to given the modern geography the two clubs share, the irrational, spontaneous sense of nausea and contempt at the sight of their shirt doesn't get any less with age. Haha!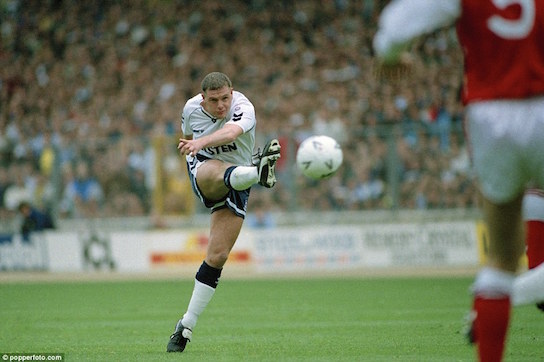 Gazza's FA Cup semi-final screamer against Arsenal -- "schoolboy's own stuff"
HR professional and LA Spurs co-founder Rolfe Jones had never seen a NLD until after he'd emigrated from the UK to America. But in 2005, he returned to London to witness a thrilling draw:
After the crowd managed to control themselves, with the emergence of the 'Judas' and ex Spurs Sol Campbell being booed every-time he got near the ball, the game exploded into life. Ledley King, our defensive replacement for the traitor, scored first for the mighty Yids. But we couldn't put the game away and Arsenal equalized late. Interestingly, near me on the Shelf was a hidden 'Gooner' fan, who decided to cheer and leap to his feet when his team scored. Not a wise decision. I shall never forget the very dark cloud that suddenly descended on the area and I was beginning to have great concern for life and safety of the brave but foolish soul in front of me, when some angels of mercy -- the THFC stewards -- rescued and then subsequently ejected the South London interloper. It ended 1-1 but I'd finally witnessed the 'holy grail' of all Spurs games, the game against our most bitter rival, the home game of the North London Derby!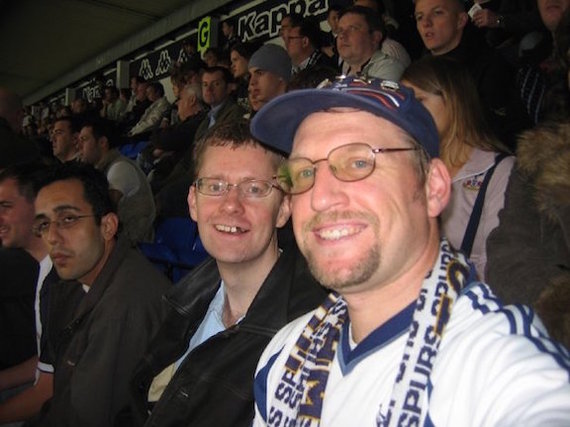 James Smith and his LA-based pal Rolfe Jones on The Shelf at White Hart Lane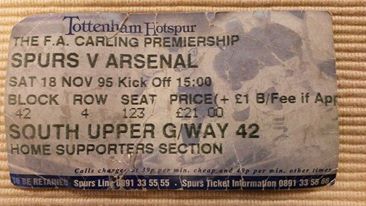 A classic ticket to Paradise

Barry Howorth, a British transplant to Canada, tells of his 1995 NLD story:
Through my wife's encouragement, I returned to England to see the Derby. My brother and I decided to put our Dad between us as the fans on both sides of an orange mesh were hurling insults and maybe even a meat pie. When Chris Armstrong put the winner away for us, I can't explain the sensation and then the elation of walking by their fans after the game seeing their miserable faces, haha! The next day Arsenal's manager Wenger was asked, 'What did you learn from your first London derby?' He replied, 'Only that you must not lose!' We could've told him that!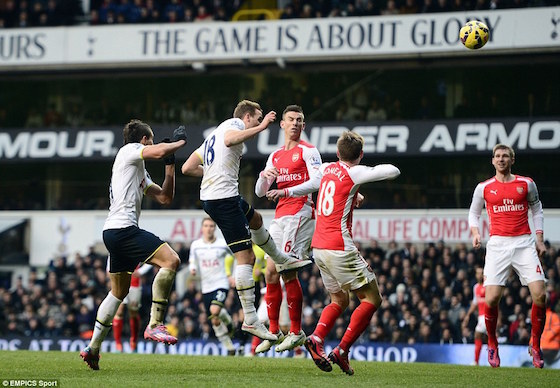 Harry Kane's headed winner vs Arsenal last season -- "the game is about glory"
Realtor Brian Moore and chairman of LA Spurs, who grew up 12 miles east of The Lane, suggests:
Our bi-annual derby game is so anticipated by supporters on both sides it's like a one day civil war. I hate them c***s way more now than when I was 15. The 1970s had way more violence -- beer bottles chucked, punchups, running battles and arrests on Tottenham's streets. But I think the rivalry is still as strong today, just different.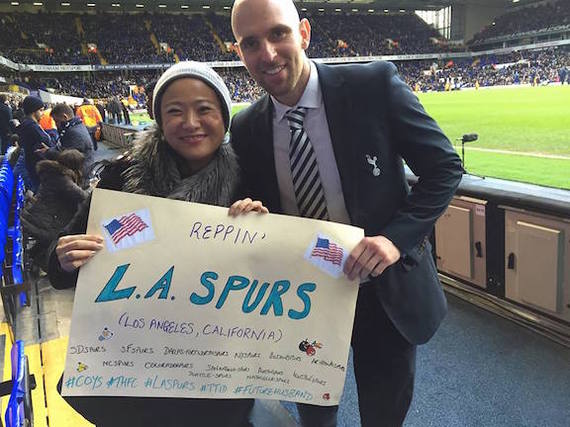 Eliana Fu representing LA Spurs and other US Spurs groups at White Hart Lane
About a dozen Austin Spurs and other American-based supporters are heading over to White Hart Lane for this upcoming NLD. Oh yeah, this one is much more important than life and death. And, it all kicks-off at 4.45 am Pacific, so join LA Spurs at the Greyhound Bar -- Yids all over welcome, don't be late! Come on you, Spurs!
Follow LA Spurs, SF Spurs, THFC, The Greyhound Bar and our Olde Red Enemy on Facebook.