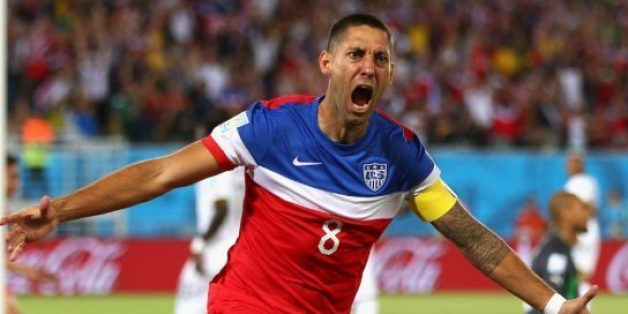 Golazzzzzzzzzzzzzzzo!
The "second round" of games in the group stage kicked off Tuesday with favorites Brazil being held to a thrilling draw by a very competitive Mexico and by a superman performance by its goalie Guillermo Ochoa.
But overall as the "first round" also wrapped up on Tuesday, oh boy, are we getting a lot of bulges of "the olde onion bag" as the English saying goes, as goals continue to rain in at World Cup 2014. Two of the most glorious strikes were scored by the U.S. -- the fifth fastest goal in cup history by captain Clint Dempsey and then by his young teammate and German-born John Brooks in the lights-out, exhilarating 2-1 win over Ghana on Monday.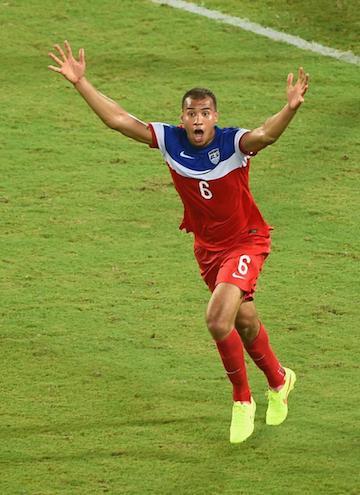 Golazo! USA's John Anthony Brooks celebrates his winner -- Getty Images
Oh yeah, after the first round of 16 games, involving all 32 teams, we are averaging three goals per match, which is apparently the best average since the 1958 World Cup, which was won by dazzling Brazil, led by a precious teenager Pelé. On June 19, 56 years ago in 1958, Pelé became the youngest player to play in a World Cup final match at 17 years old. He scored twice in the final as Brazil walloped Sweden 5-2 to clinch the first of now five world titles. Pelé's first goal has been cited as one of the best goals in the history of the World Cup.
Golazzzzzzzzzzzzzzzo, indeed!
But watching some of those first round games like Belgium versus Algeria, we can't help but feel we're watching the last vestiges of the two big European colonization waves from the early 15th to early 20th centuries. Several of the Belgian-born players have roots in Africa, from Mali (Dembélé), Congo (Lukaku, Kompany), and Morocco (Fellaini who scored in Belgium's opening game). Similarly, several of the Algerian players, although born in France, qualify for Algeria because of roots leading back to the former French colony in North Africa.
Additionally, German-born brothers, Jérôme and Kevin-Prince Boateng have Ghanaian roots, and while Jérôme chose to play for Germany, Kevin-Prince selected Ghana. And, many of the Brazilian players have a European heritage (Portuguese: brasileiros brancos).
Depending on whom you ask, this historical European colonization had positive, negative, and in-between influences on its native inhabitants. British comedian Eddie Izzard, who was born in the Colony of Aden to English parents, hilariously captured the very essence of historical colonization in his skit -- Do you have a flag? -- about British explorers arriving on the Indian sub-continent and asking the inhabitants if they had a flag. When the natives admit they didn't, the Brits moved their big flag into play and took over.
Politics aside, when it comes to football, the World Cup's national teams have always had an international flavor about them. For example, the U.S. team that shocked the world by beating England 1-0 at the 1950 World Cup in Brazil, had three non-U.S.-born players including captain Ed McIlvenny, who was English-born, and winning goalscorer, Joe Gaetjens, who was born in Port-au-Prince, Haiti to a German father.
That internationalization of players on national teams continues on today with the U.S. team. Its present squad has five German-raised players, including the aforementioned John Brooks, the Berlin-born defender whose winning goal was his first ever for the U.S. team, which next plays Ronaldo's Portugal (June 22).
But before that second round game, Spain looks for redemption against red-hot Chile on June 18 -- can La Furia Roja bounce back? Also, can the Oranje Power of Netherlands steamroll past Australia's Socceroos?
As for goals at the World Cup, as Oliver in Charles Dickens' Oliver Twist earnestly implores, "Please, sir, I want some more."
Follow Ashley Jude Collie's World Cup coverage at MadeMan.