"I am a forest, and a night of dark trees: but he who is not afraid of my darkness, will find banks full of roses under my cypresses." ―Friedrich Nietzsche
The philosopher's quote from his novel, Thus Spoke Zarathustra, is cited by author F.L. Jewels in her new Whispers of My Heart book of poetry. It's one of several prescient citations from the likes of Shakespeare, Rumi, Gibran, Marquez, and Anais Nin. Each quote prefaces one of Jewels' heartfelt poems, and several meditate on love -- about the fire of love, sharing in a collective love, and how darkness cannot hide love from the soul. But Jewels also warns not to dally when it comes to expressing one's love for another -- be it a relative, significant other or new love -- as her "Fight For Me" poem is prefaced by Buddha's quotation, "The trouble is, you think you have time..."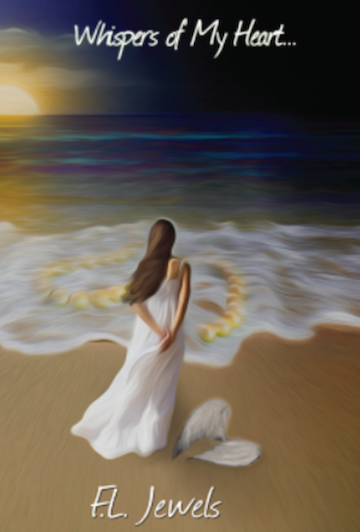 The thing is, he's right, time is ticking. And, given the fast approach of Cupid's arrows and Valentine's Day (February 14, just in case us forgetful lot need a prod), it's time to get busy to reach out to special loved ones.
Remember New Kids on the Block? Yeah, the mega-selling boy band who've sold more than 80 million records. Well, I was chatting to Jordan Knight about NKOTB going back on tour -- The Main Event Tour with TLC and Nelly kicks off May 1 in Vegas. Jordan promises fans that they're bringing all the goods in the round, and with all their hits, including their biggest hit "Step by Step" and its original B-side, "Valentine Girl."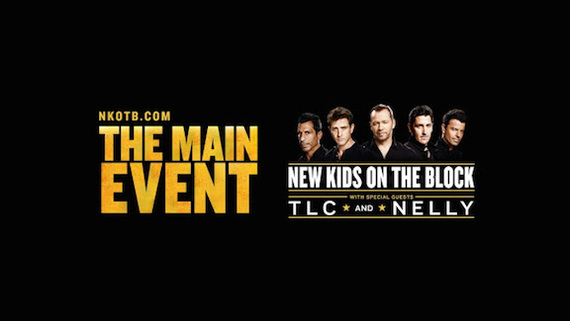 New Kids are doing some early promotion for this upcoming tour, including one tied into Valentine's Day, so Jordan and I had some fun coming up with personal touches to display your love. He basically suggested that it isn't about flashing the cash as much as it is about putting thought into any plans, and that often "it's really about thoughtful small things" that make a big impression, including: instead of just sending an e-card, how about creating a handwritten note or card with a quote from a great poet; or, sending flowers to her at work as a public display of affection; and, having her picked up for dinner in a horse-driven carriage, weather permitting. Jordan added, that while sending her for a luxurious facial, manicure, pedicure was great, he wondered if a more personal massage at home with oils and scented bath water, to the sounds of New Kids' "Valentine Girl" might be more impressive.
He also mentioned something incredibly romantic that he and the guys saw on tour in Cologne last year that reflected how young lovers seal their heart's desires -- attaching padlocks inscribed with their names onto bridges.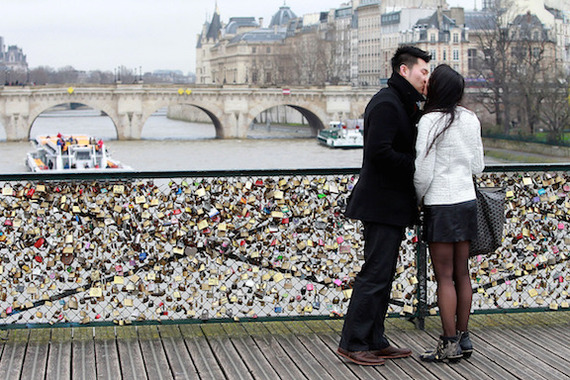 Padlocks of love on Ponts des Arts in Paris - Getty Images
The ritual's origins may actually have originated in Paris on its Ponts des Arts, a footbridge over the River Seine. Janine Ferguson, an L.A-based singer/songwriter/artist, who studied at the Sorbonne University, spent time exploring Paris, explaining:
With its panoramic views of this City of Light, Ponts des Arts is a unique meeting place for artists -- tres cool, very inspirational. But it's also home to thousands of padlocks adorned with initials, names and short romantic messages within inscribed hearts. I mean, thousands. Once you attach the lock on the meshed fence, you toss the key into the Seine to symbolize your undying love. I've walked across this bridge many times, and with the city as its backdrop with its magical sense of history and culture, the feeling is surreal, almost overwhelming. I felt inspired to write, and the bridge gives people hope for love.
Ferguson, whose most recent record, the eclectic Moorpark Street has a hypnotic, French language tune called "Incident At the Café," partly inspired by her visits to France, adds:
That year going to the Sorbonne was one of the best times of my life. I busked in the Métro, the subway, doing REM songs, and singing my heart out. Just immersing yourself in the stories of so many writers, musicians and painters is an uplifting and inspirational experience.
By the way, those fabulous French not only celebrate Valentine's Day, they also celebrate La Fête du Baiser ("festival of the kiss") on the Saturday after the romantic holiday, in Roquemaure near Avignon.
So, with February 14 fast approaching, get your thinking caps on, go attach a padlock with your loved one in some cool place in your town. Be creative, and you don't have to break the bank. For myself, I'm sending a handwritten card with a paraphrased line from Ms. Jewels' poetry book: "Do not be afraid (dear) heart/For you loved beyond love...And you will again."
Follow Janine Ferguson at Bandcamp.
Follow New Kids on the Block on Facebook.