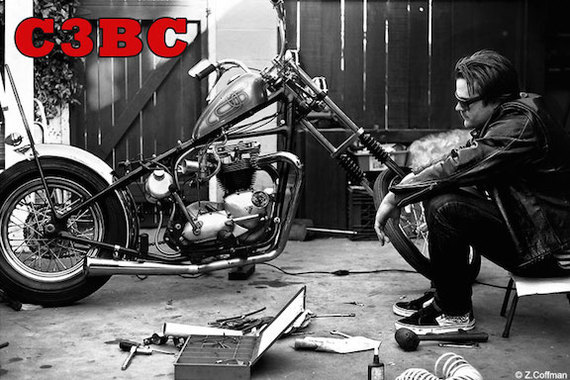 Spring is in the air and DIY custom motorcycle builders worldwide are getting ready to unleash their handbuilt, two-wheeled creations on "civilian" society at various underground shows and via online websites catering to the garage-built biker lifestyle.
Officially and to law enforcement, the illegal, 3600-mile, cross-country chopper chase called the "Stampede" does not exist! It's as rough and crazy as you think it could be, with badass biker enthusiasts from around the U.S., many who've been in the military, riding their garage-built 'horses' in a race to the "Smoke Out" Rally. Upon arriving in Rockingham, North Carolina, these "Stampede" bikers will join up with the rest of the 15,000 other counter-culture rebels attending this year's 16th "Smoke Out" party (June 19-20) inside the fenced-in compound.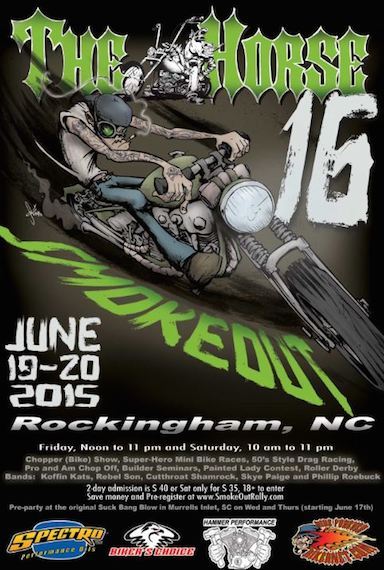 Inside, "It's like Mad Max Beyond Thunderdome," recalls film producer Zack Coffman who made the rousing, knock-your-balls-off documentary Road 2 Smoke Out, and who explains, "For the past fifteen years the Smoke Out has been the most hardcore event for this passionate subculture of garage-bike builders. It was an honor to be asked to make a film capturing that essence."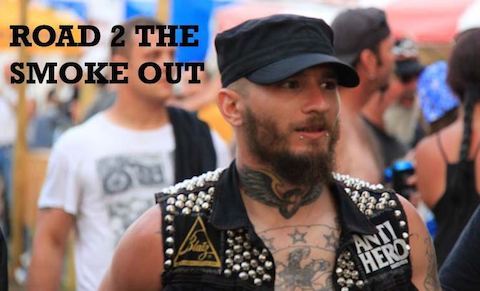 A badass biker enthusiast in the documentary, Road 2 Smoke Out

While the Smoke Out is considered one of the original events catering to this particular biker subculture, other similar events include: Born Free (Silverado, CA -- June 27-28), the Brooklyn Invitational Custom Motorcycle Show (Brooklyn, NY -- September), Dirtbag Challenge (San Francisco, CA -- November), Yokohama Hot Rod Custom Show (Japan -- December), and Chopperfest (Ventura, CA - December).

For example, the recent Handbuilt Motorcycle Show, which brought together new works by over 100 of the country's top builders and craftsmen, also featured celebrity customized motorcycles, like Triumph of Westchester, N.Y. completing the rebuild of a Bonneville owned by TV personality Jessi Combs (All Girls Garage).
And then there's the fourth annual Choppertown "Backyard Build" Bike Contest (C3BC), a global online event where DIY builders worldwide, who've been slaving away all winter working on their custom creations, can submit photos and videos (from April 14-28) of their handmade, garage-built bikes via the Choppertown website.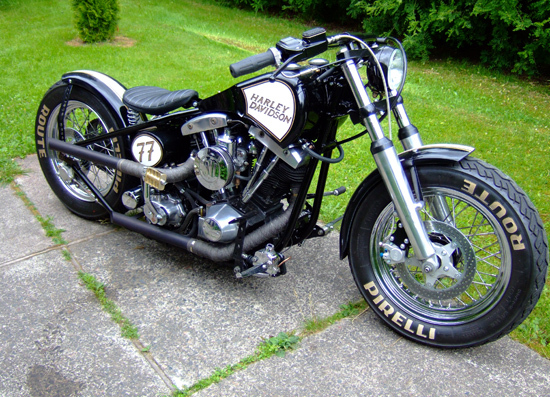 A past C3BC "Backyard Build" contestant
The C3BC ends the last week of April, with winners in 6 categories (Harley Bobbers, non-Harley Bobbers, Harley Choppers, non-Harley Choppers, Cafe Racer/Vintage, and a category simply titled "Random Insanity") earning primo prizes like new helmets by Biltwell Inc., gift cards for killer chopper parts from Lowbrow Customs, T-shirts from chopper mag Dice, and a package of underground biker movies from Choppertown.

Along with Coffman, filmmaker Scott Di Lalla directed the award-winning Choppertown: The Sinners film which followed a group of freedom-loving greasers called the Sinners who criss-crossed California meeting old friends and gathering parts to build their own backyard beauty.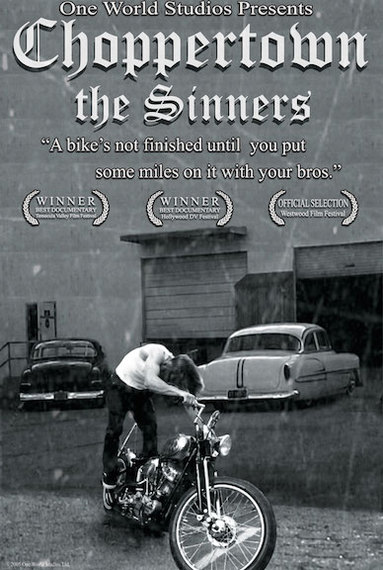 As Choppertown celebrates the 10th anniversary of its filmed release this year, Di Lalla says of the C3BC:
We originally made the documentary film, Choppertown: The Sinners and also its companion Choppertown: From The Vault, to celebrate a way of life and a way of thinking that means something to us and a group of very special guys. The contest is a way for all of us to further share that passion with each other globally and celebrate the dedication and craftsmanship that goes into building a bike in your garage, shed, or backyard and it's a tangible, personal representation of that passion.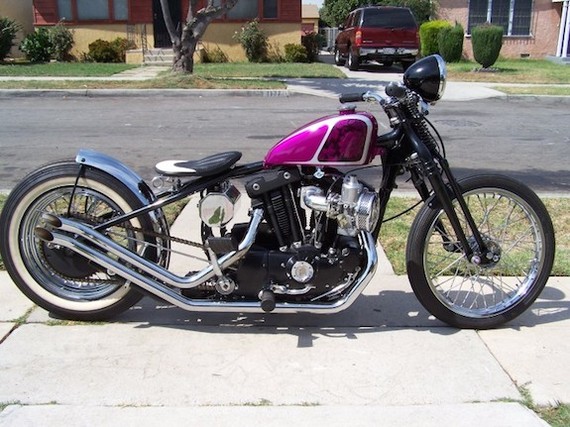 Another past C3BC "Backyard Build" contestant
Bikers from the U.S. to Sweden to Japan spend the entire winter cooped up in tool sheds and garages working on their homebuilt skoots getting them ready to ride when the weather gets warmer. Traditional and underground biker events have always been the gathering places to show off and admire each other's work, now the web is increasingly making it possible to share their love of iron and metal flakes worldwide.
Follow the Smoke Out on Facebook.
Follow Choppertown on Facebook.
Enter the C3BC contest April 14-28 at the Choppertown Blog site.