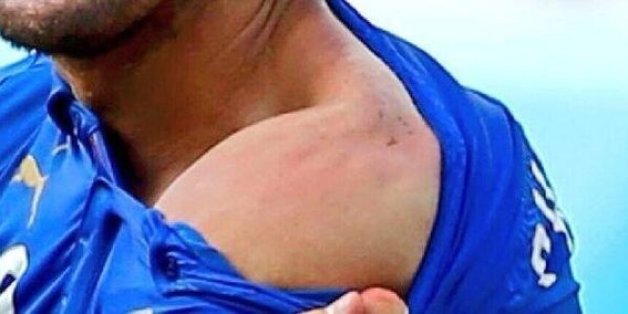 Tuesday's highlights included: Costa Rica 0-0 England (the Ticos of Central America win Group D); Uruguay 1-0 Italy (Luis Suárez at it again, as South America's La Celeste KO's Italy); Colombia 4-1 Japan (South Americans easily top Group C); Greece 2-1 Côte d'Ivoire (with Samaras' stoppage time PK winner).
Four Groups have now finished opening round play, with eight teams including six from the Americas advancing -- Brazil, Mexico, Netherlands, Chile, Costa Rica, Uruguay, Colombia and Greece.
In the process, England captain Steven Gerrard claims that the number of young players with the hunger and desire to play for England's national team is rapidly decreasing because of the money in the professional club game. Well, England didn't show much hunger as they go home without a single win -- ouch! Italy's coach Prandelli resigned right after his team got done by a thumping header by Uruguay's captain Godin -- that smarts! And, Spain no longer rule international football -- the King is dead, long live the new King.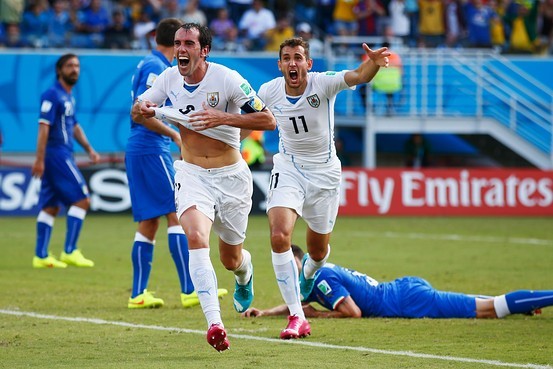 Uruguay's captain Godin helps KO Italy -- Getty Images
But the real talk of the day's games and until FIFA takes action is Luis Suárez's apparent bite of Italian defender Chiellini. This is the third time in his pro career that Suárez has chomped down on an opponent, as I observed in my recent MadeMan.com story:
"OK, the pest scores goals. He was top scorer for Ajax in the Dutch Eredivisie. He was the English Premiership's top scorer last season for Liverpool when he also won the Player of the Year award. He's Uruguay's all-time record goal scorer. He has thunder in both boots, has major hang time and heading ability, his free kicks are insane and dribbling skill so good he could nutmeg a mermaid. And even though he's a father of two, who married his childhood sweetheart, Luis Suárez has a way of getting under your skin. He's been accused (and/or found guilty of) head butting a ref, exaggerated simulation (flopping), racially abusing a fellow player and biting opponents. That really happened, just ask Chelsea's Branislav Ivanovic. But he keeps knocking in goals in wherever he plays -- and has already scored the most hat tricks in Premier League history."
In Uruguay's second game, Suárez scored two brilliant goals to effectively KO England. Unfortunately, in his nation's third game, he struck again with his teeth. He should've been red carded, but wasn't, and then La Celeste got its winner shortly after. Italy has the right to feel aggrieved. It remains to be seen if FIFA bans Suárez from the rest of the tournament or chooses to stick its head into the sand.
Next up on June 25, Argentina versus Nigeria, Iran versus Bosnia, Switzerland versus Honduras, France versus Ecuador. And then on June 26, it's the massive "final" for American fans as the U.S. takes on Germany to secure advancing to the KO round. Bring it on, and as Hemingway wrote: "The world breaks everyone, and afterward, some are strong at the broken places."
Follow Ashley Jude Collie's World Cup coverage at MadeMan.