Jaunty Andrew J. Fenady, the award-winning writer/producer of dozens of TV shows and movies, including The Man with Bogart's Face (1980) and Chisum (1970) with John Wayne, has a rousing new novel being released on April 1 by Kensington books. The Range Wolf, which is Owen Wister and Edgar award winning Fenady's 11th Western novel, takes the classic Jack London 1904 novel, The Sea Wolf, and inspirationally transports it to the post-Civil War West.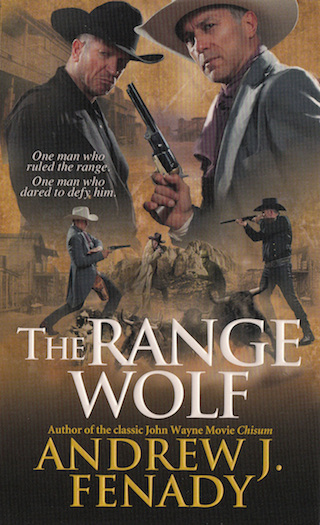 The Range Wolf follows the story of tyrannical, Nietzschean-quoting, self-made man Wolf Riker (Larsen in London's novel) and dilettante Christopher Guthrie (Van Weyden in The Sea Wolf). In Fenady's richly updated story, their paths cross during a stagecoach hold-up and then merge on a brutal cattle drive to Kansas, where you either "change" or "die." Fenady says his story has a surprise ending that's never been used before. "I feel it's a much more satisfying finale to the saga."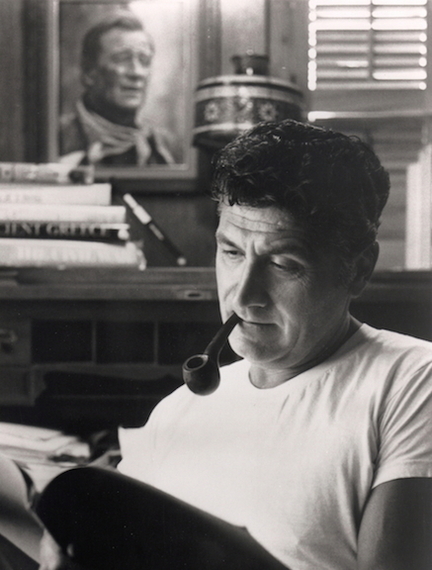 Andrew J. Fenady worked with John Wayne back in the day
Fenady, who has won the Golden Boot award (1995) for his storytelling contributions to the Western genre and can spin yarns till the steers mosey on home, suggests that Westerns are our form of mythology: "Star Wars was a Western. Instead of stagecoaches, they had spaceships. You can take almost any plot and turn it into a Western. For me, I thought, we have two of the most vital and challenging characters in the history of literature, so why use them just at sea. Take this dilettante from the east and go west to find out what it's really like. But surprise, surprise, it's nothing like he thought."
Guthrie meets Wolf, this brute of a man, who's also an intellectual but whose raison d'etre is summed up in the John Milton line he also espouses, "Better to reign in Hell, than serve in Heaven." And then Guthrie has no choice but to become part of the cattle drive where he also falls in love with a beautiful woman.
From silent versions to Edward G. Robinson's take as Wolf Larsen in the 1942 classic movie, there have been several takes on London's great novel. In fact, Fenady, himself, produced his own cinematic version, The Sea Wolf, starring Charles Bronson as the nautical Wolf in 1993.
But what Fenady also does differently in his new novel is to delve further into the heretofore mostly unexplained relationship between Wolf and his equally charismatic brother Dirk. Fenady explains, "It was never really explained in the book or any movie version. Now Wolf has sent his kid brother to college, then the two came out West with money Wolf had saved and they built a huge ranch together. But things split them apart -- one had sympathy for the North, the other for the South in the Civil War -- and then they both fell in love with the same woman. Now Dirk becomes another vital character, and you've got major conflict and the reason why one brother wants to kill the other."
One excerpt also sets up Riker's thrilling two-step with Guthrie:
But we'll see how -- and if -- you survive on this drive. I'll be interested in the change.

In me?

Ah yes. There will be a change, there has to be. Even as there was a change between my brother and me, a man who might go to any length to see this drive fail. To kill me if it comes to that, just as I'll kill him if that time comes.

Wolf Riker seemed to stagger slightly in sudden pain. His thick fingers now rubbed at the scar on his forehead as if trying to squeeze out the pain. I did my best to ignore what was occurring.

Guth.

Yes, Mister Riker.

You'll change...or you'll die.
Fenady grew up watching his heroes like Gary Cooper and John Wayne at movie matinees in Toledo, Ohio. He even rode around on a broomstick he called "Tony" named after the horse of Hollywood's first Western megastar Tom Mix. When he made his own move west to Los Angeles, he fell in love with the big skies, ranches and farms, and the Pacific. By 1969, after he'd established himself in Hollywood as a successful TV and movie writer and producer of such hit series as The Rebel and Hondo, Fenady got to work with John Wayne, writing and producing Chisum. It was The Duke's first feature after winning his Oscar for True Grit, and Fenady explains, "He was the tall strong, independent All-American. But he was also very kind and was almost symphonic in the way he greeted you."
Up next for prolific Fenady is another Western novel, but as he quips, "They say there are only six or seven plots. But there may be only one plot -- somebody loses something, and you go from there!"