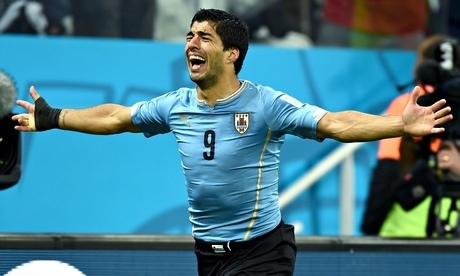 Friday scores: Costa Rica 1-0 Italy (another gigantic upset win); France 5-2 Switzerland (Les Bleus are presently destroying other teams not each other); Ecuador 2-1 Honduras (every South American team still has a shot at the knockout round).
This great World Cup 2014 of shocks and beautiful, counterattacking football continued on, in its three Friday games, with even more treats being offered up this weekend -- Germany vs Ghana on June 21, Belgium vs Russia, and Dempsey's USA vs Ronaldo's Portugal on June 22.
On Thursday, two former World Cup winners went mano a mano with Uruguay beating England by the odd goal in three (2-1). If it had been a cricket game on Thursday, Uruguay's Luis Suárez just about single-handedly bowled out England with his two goals -- it was made official on Friday when low-ranked Costa Rica upset four-time winners Italy 1-0 in group play, a result which put the final nail in England's coffin. By the way, if Uruguay beats Italy in the final day of Group D play on June 24, the Azzurri also go home... along with other former winners, Spain and England!
What made Thursday's loss even more galling for English fans and players is that Suárez plays for one of England's most famous clubs, Liverpool. On top of that, in the recently concluded regular season, Suárez was named England's Player of the Year. That's right English football's MVP just knocked out England's national team from the World Cup. It would be like pro basketball's Manu Ginobli, also of South American origins, being named MVP of the NBA, then jamming in the winning basket to personally knock out Team USA at the Olympics. That would hurt, right?!
Well that's what happened when Uruguay beat England 2-1 and effectively eliminated 1966 winners England from the tournament by an electric two-goal performance by dynamic Luis Suárez. Uruguyan striker Suárez, once nicknamed the "The Cannibal of Ajax" for biting an opponent, scored 31 goals for his club team Liverpool in their glorious but ultimately unsuccessful bid to win the English Premiership title for the first time in 24 years.
So to knock out England, and also bring his fellow club teammate and club captain Steven Gerrard to tears, really, really hurt. No one could make this script up, as it was Gerrard's inadvertent error and header that put Suárez into the clear to thump in his winning goal for Uruguay. In trying to console his club captain but national rival, Suárez said to Gerrard after the game, "I told him to keep going. He's the best player I've played with on the pitch. This is an unlucky moment for him. I don't like it when he hurts like this... But it's an amazing moment for me!"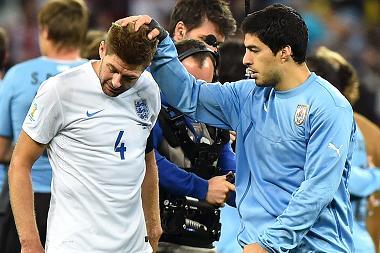 Uruguay's Suárez consoles his club teammate & England captain Gerrard - Getty Images
Talk about a kick in the proverbial, by someone, who despite his outstanding footballing skills, is despised when he displays gamesmanship and on-field cheating -- Suárez's unsporting and previous crimes and misdemeanors have included stomping, racist abuse and biting. Even all that aside, to be embarrassed on the field of battle by someone who's received your highest individual player accolade, well who wouldn't want to just pull your hair out?
But for England, who last won the World Cup in 1966, this loss was just another in a long list of kicks in the teeth since then. We're talking England here, the home of organized football. In 1409, England's King Henry IV gave us the first documented use of the word "football" when he issued a proclamation forbidding the levying of money for "foteball." England was where the modern global game of football was developed and first codified in 1863 in London. The first official international match took place between Scotland and England on 30 November 1872, and was played under the Football Association rules. And 1988 saw the creation of the English Football League, becoming the first of many professional football competitions. For these reasons, England is considered the home of the game of football. Although, many consider Brazil the home of the spirit of beautiful football.
Now onto USA vs Portugal on Sunday. US team captain Clint Dempsey, who used to play against Suárez in the English Premier League, broke his nose in a winning cause in his US team's dramatic late win over bogey team Ghana on Monday. But inspirational leader Dempsey apparently won't wear a mask when his team takes on Cristiano's Portugal, who are desperate for a win. Whoever says soccer players ain't tough guys, should go one on one with Dempsey some time!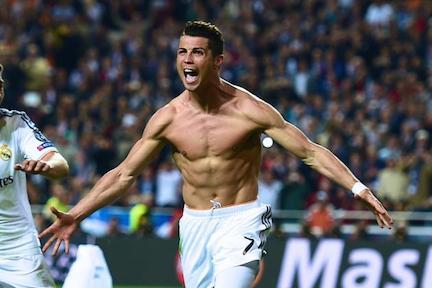 The USA would love to wipe the smirk off Ronaldo's handsome mug - Getty Images
As for England and its mourning fans, to paraphrase Shakespeare from King Lear, "As flies to wanton boys are we to the (footballing) gods, they kill us for their sport." Ouch, indeed!
Follow Ashley Jude Collie's World Cup coverage at MadeMan.