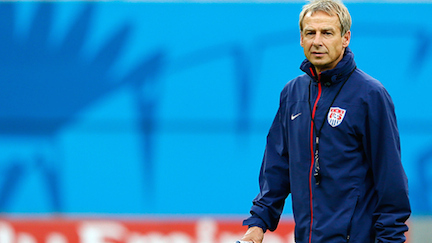 Wednesday highlights: Argentina 3-2 Nigeria (two-goal Messi inspires dodgy Argentina, and Nigeria first African team to advance); Switzerland 3-0 Honduras (the Swiss advance courtesy of Xherdan Shaqiri's electric hat-trick); France 0-0 Ecuador (Les Bleus top Group E).
And, on Thursday June 26, the growing bandwagon of fans of the USA will hold their collective breath as team USA goes head to head with Germany for Group G supremacy.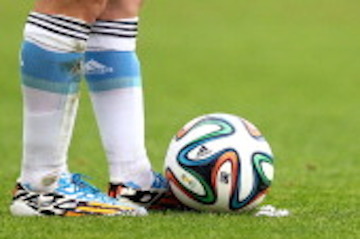 Messi's magical left foot on the ball - Getty Images
But first, my take on Messi is -- no biting or flopping or simulation or gamesmanship like Ronaldo, Suarez, Robben and several of the other superstars have shown! And, long time, and award-winning Brit journalist and author Norman Giller adds about magisterial Messi:
We need to judge Messi over a full career, but he is up there with the very best who've played the game. He reminds me so much of Jimmy Greaves (record goal scorer for Tottenham and for England) when in full flight, the same low center of gravity, the acceleration, the ball control and passing it into the net. And Jimmy was also humble like Messi. Of course, Messi does not have a Bites Yer Legs Stiles or a Chopper Harris trying to kick him up in the air every time he collects the ball. I feel privileged to watch him.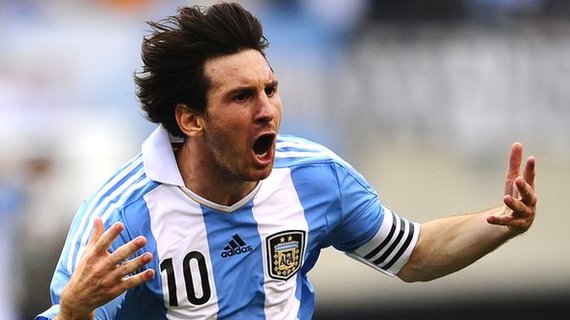 With 4 goals so far, Messi leads Golden Boot race with Neymar - Getty Images
Now, back to that titanic struggle tomorrow. During USA training camp sessions at Sao Paulo FC's headquarters, there's an international cacophony of words and expressions as the team prepares for the mother of all soccer battles. Several of the players like Clint Dempsey (formerly of Tottenham), Tim Howard (Everton), Geoff Cameron (Stoke), Brad Guzan (Aston Villa), and Jozy Altidore (Sunderland) will shout out some English colloquialism, the type of thing you'd hear on the pitch during every Premiership game -- gaffer, touchline, clean sheet, nil-nil, and under the cosh. Then there's several players like Bedoya who have Latino roots.
But what's most intriguing is, what's with all the German being spoken? Well, their animated coach, Jurgen Klinsmann is German-born, although he married an American and has lived in Southern California for years. So not surprisingly, there are five German-raised American players on his squad -- John Brooks, Tim Chandler, Fabian Johnson, Julian Green, Jermaine Jones -- and they've made significant contributions in the first two games. Brooks scored his first goal, the winning goal against Ghana. Jones hit a screamer and the opener against Portugal.
That game was the most-viewed U.S. soccer match of all time with 18.2 million viewers on average watching on ESPN, with the record viewership surpassing the previous high of 17.9 million viewers for the 1999 Women's World Cup final (USA vs. China) on ABC. And, as this USA team continues to grow and capture the imagination of the American viewing public, it's obvious this team is not only doing it on the pitch...but its international flavor may be resonating with the melting pot that is America.
At bars and restaurants across the USA, fans with foreign roots are cheering on the USA team -- their home nations may be #1 but the USA is their adopted team, and they all say a similar thing: "My roots may be from elsewhere, but the USA team is right there in my heart, as well!
Now about that USA vs Germany game, it's huge, the anticipation is ginormus, and the ratings may go through the roof for a weekday game. After the heartbreak of conceding an equalizing goal "at the death" against Portugal, this resilient USA team is ready to go. As Klinsmann says, "You want to show the world you're the best soccer players in the country, we were that close (to winning and advancing). But it is what it is. We move on. Now we've got to do it against Germany. We recharged our batteries, and the players are eager to go! It's all good with us!" Captain American Clint Dempsey adds, "We're still looking good in the group."
A draw for the USA gets them into the knockout Round of 16. A win gets them the second placed team in Group H, thus probably avoiding dark horses Belgium. Three-time winner Germany are one of the tournaments favored teams, but coach Klinsmann, who both played for and coached the German national team, knows this is no time to play cautious.
So here's to leaving it all out there because as Hemingway once wrote: "Every man's life ends the same way. It is only the details of how he lived and how he died that distinguish one man from another."
Follow Ashley Jude Collie's World Cup coverage at MadeMan.