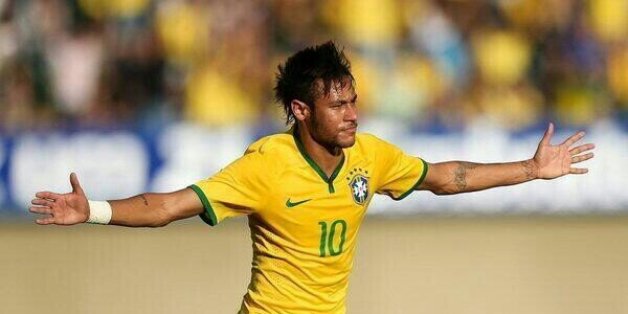 The soccer gods must be smiling down on World Cup 2014, with bright, sparkling contests, a cascade of wicked goals, and a dash of controversy. It's as if the spirit of Brazilian "jogo bonito" has permeated the tournament and inspired the players to put on a show. Most of the big individual guns have started off with a blast with van Persie, and his stupendous header, to Neymar, Balotelli, Messi, and Müller, all scoring in their team wins. The first week's "true grit" award goes to USA's Clint Dempsey who also scored a dramatic goal, got his nose broken later, but still captained his team to an opening game victory. If this turns out to be the greatest show on Earth, we can only raise our voices and paraphrase Walt Whitman -- O me, O life... bring it on!
After close of play on Tuesday June 17, all 32 teams will have played their first game. Here are some quick observations. With deadly Dutch duo, Robin van Persie and Arjen Robben, "Oranje" power is back after humiliating reigning world champions, Spain -- the orange-clad and mad Dutch fans mockingly chanted "olé" at the dejected champs.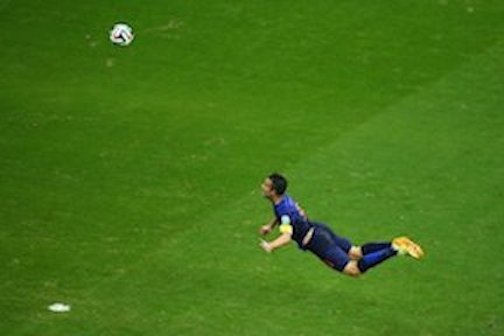 Flying Dutchman Robin van Persie - Getty Images
Three former World Cup winners have lost already -- Spain, Uruguay, and England -- ouch! Almost a quarter of all the goals scored so far have been from set pieces, underscoring the importance of corners and free kicks.
Seven teams from the Americas (north, central and south) won their initial games including Brazil, Mexico, Chile, Colombia, Costa Rica, and Argentina, with the USA beating their longtime nemesis Ghana. Overall, that doesn't bode well for the European teams who've never won the title on the Americas' soil. Argentina's Lionel Messi, perhaps the most talked about and best football player on the planet -- hello, is that Portugal's Ronaldo in the wings shouting and preening, "What about me?" -- scored Argentina's winner getting his first finals goal and dropping that giant monkey off his back. Consquently, we millions of football nuts around the world got to see that brilliant smile back on the little magician's face.
Hotshot candidates for the top scorer Golden Boot already include Müller, who won the award in 2010 and booted in a hat-trick to kick-start his 2014 campaign, along with van Persie, Robben and France's Benzema, all with two goals each. And, Brazil's Neymar, another contestant for Golden Boot and best hairstyle, also scored two, one from a controversial PK call, involving possible "simulation," and got his country's glorious hometown quest for the cup underway. But the best goal celebration so far has been Colombia's sideline group dance party -- infectious! And for something completely different, England's physio, Gary Lewin, dislocated his ankle celebrating his team's goal ending his World Cup, early -- the lesson being, leave the celebrations to the players, mate!
Some of the bad has included some awful officiating calls, especially in the first two games. Critics said refs could be guilty of deciding the results of the matches, not leaving it to the players. Fortunately, both the teams that should of won, did prevail. And on the red card scene, Portugal's Pepe got his walking papers for an alleged but stupid head butt -- go to the back of the class, pal!
Coming up, more of the good stuff. On June 18, Spain the shaken world champion seeks redemption when it faces Chile with La Furia Roja's Xavi pleading: "I would ask the fans to support us on Wednesday. This is life or death. There is a lot at stake. We could be heading home." Spanish teammate Alonso added, "The game against Chile is a final for us now."
Other big upcoming games include: two former winners Uruguay vs England (June 19); USA vs Portugal (June 22); two other former winners Italy vs Uruguay (June 24); and then USA vs Germany (June 24) where the former Germany coach Jürgen Klinsmann is now the US coach -- will Klinsmann sing the Star-Spangled Banner as well as hum Deutschland über Alles?
As the great American poet Whitman inspirationally wrote: "That you are here--that life exists and identity/That the powerful play goes on, and you may contribute a verse." As the second week of this truly world event and shared sporting communion kicks in, here's to all of us contributing a part.
Follow Ashley Jude Collie's World Cup coverage at MadeMan