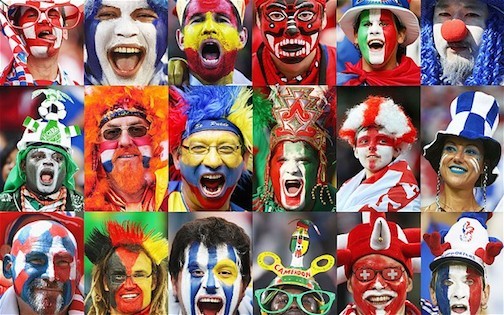 On the long weekend, three former World Cup winners battled it out on Friday: Germany 1-0 France (resulting in Germany's record 4th successive semis appearance); and then Brazil 2-1 Colombia (Neymar's Seleção advanced but he's out); that was followed on Saturday by three teams who've never won the championship playing along with former winner Argentina who beat Belgium 1-0 (surprisingly, La Albiceleste's first time in the semis in 24 years); and then, Netherlands 0-0 Costa Rica (Oranje defeated the Ticos in a PK shootout in the most dramatic QF match).
So get ready for Tuesday and Wednesday. Find and adjust your best seat, get your handheld or tablet ready to tweet and interact with friends and other fans around the world, 'cause here's the mouth-watering World Cup semi-final line-up which includes two South American teams for the first time since 1970: weakened host Brazil (without injured Neymar and suspended captain Silva) play juggernaut Germany on July 8; and, Argentina (with magical Messi) play Netherlands (with dynamic Robben and Robin duo) on July 9.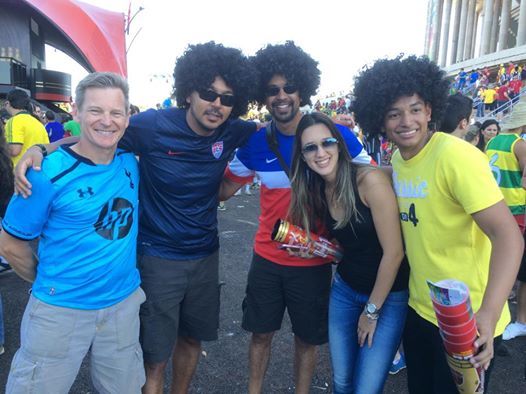 USA & Spurs superfan Bruce Peters (left) with fellow fans outside Maracanã
The headlines heading into these possibly very tight clashes offer up a smorgasbord of the good, bad, and intriguing: Brazil's talisman Neymar is out of the tournament with injury; former World Cup winner Maradona called for superstar Messi to receive better team support -- Messi will need it even more with winger di Maria now ruled out with injury; with 15 goals so far, Germany's supersub Klose needs one more goal to become World Cup all-time scorer; now that Colombia has been eliminated, James Rodriguez dreams of playing for Spanish club, Real Madrid; and, did Dutch late substitute goalie Krul, who saved two penalty kicks in the shootout against Costa Rica, push the boundaries of sportsmanship with his intimidating, in your face antics?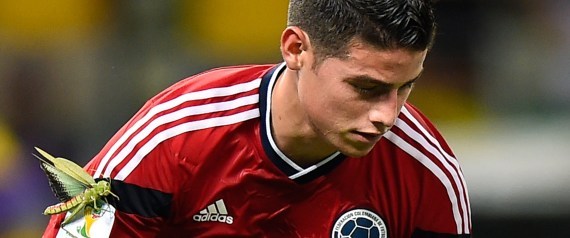 Lucky grasshopper may help Colombia's James win Golden Boot - Getty
But here's one other headline: Golazo, what happened to all the goals?
After 136 and many scintillating goals in 48 group play matches, the 8 second round matchups produced only 18 goals. Overall, average goals per game went down to 2.2 from 2.83 in group play. Then in the QFs, there were only 5 goals for the 4 games -- a 1.25 average!
Surprised? No, I was expecting this to happen, that the exuberant, free-flowing football that has captured our imagination and the subsequent goals and joyous celebrations would dry up as the knockout stage took over. But for what reasons? The drama has certainly not subsided with 5 of the 8 round of 16 matches going to extra time, and two going to the dreaded (for the players) and hold-your-breath (for us fans) PK shootout.
First, the decrease in goals could well be because of the better overall quality of the teams involved. The keepers, as witnessed by USA Tim Howard's magnificent goaltending display in a losing cause against Belgium where he made a record 16 saves, may well be raising their game, as are the defenders in front of them. Additionally, teams are now understandably playing with a tad more caution. Win or go home means they no longer have another game to turn things around in the event of defeat like in group play.
The negative side of the dramatic win or go home scenario is that teams become afraid to play their natural game. There is so much pressure on South American teams Brazil and Argentina that, the individual brilliance of Neymar and Messi notwithstanding, both teams have so far failed to bring unfettered jogo bonito -- the beautiful game, the type of mesmerizing skillful, breathtaking football that fans dream of seeing.
But as pragmatic Germany coach Löw put it: "You can't always play fantastic football at a World Cup. You've just got to leave the field triumphant, and that's what we did." At this stage, win at all costs trumps all.
The leading contenders to be cock of the golden roost in the Golden Boot race include: James Rodriguez (with 6) leads but he can't add to his tally; but Germany's Mueller and Messi (each on 4) and Netherlands' Robben and Robin van Persie (on 3) look like the best bets to possibly KO Rodriguez.
As for sheer drama, so far there've been 11 second half stoppage time goals and 28 goals scored by subs late on, so there may be more late dramatics in store! So, here's to superstar players and perhaps some lesser lights subs, igniting the rocket's red glare over the last 4 matches of this wondrous World Cup.
So how much is at stake? As the late, legendary British coach Bill Shankly put it once: "Some people believe football is a matter of life and death, I am very disappointed with that attitude. I can assure you it is much, much more important than that."
Vamos!
Follow Ashley Jude Collie's World Cup coverage at MadeMan