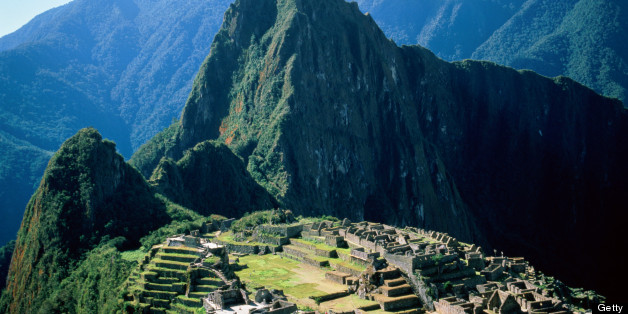 I've jumped out of a plane, kayaked into the Antarctic Ocean, bungee jumped off a cliff, hiked a glacier, and scuba dived after about seven minutes of training.
I don't have a death wish and I may not actually be afraid of heights or water, but when you contemplate doing something that could go terrifyingly wrong, it doesn't matter how much of an adrenaline junkie you are -- a little bit of fear always creeps in. I know I'm not invincible, but living even just a little bit on the edge makes me feel more alive.
I spend my days in a cubicle, but even more so in my own head brainstorming ideas for work, over-analyzing my social life, and wondering what the future hold. Even New York City can feel small when you're consumed with the minutiae of your day-to-day. That's why I'm always game for a once-in-a-lifetime activity -- for a minute, when I'm so far from the normalcy of my daily life, I feel like I can do anything. And nothing -- no fear, no second thoughts, no physical issues -- could hold me back. When I'm sitting at my computer, stupefied by the screen's glow, it's those flashes of color, those OMG-I-can't-believe-I-did-that moments that bring me back to life.
This March, I hiked to Machu Picchu in Peru. Since American vacation time is pretty limited, my friend and I chose the Salkantay Trek 3-Day Challenge -- a shorter, faster version than the typical hike up the Inca Trail. We started in Mollepata, trekking more than half of the 40-plus miles across the Salkantay Pass -- at an elevation of 15,000 feet -- to Aguas Calientes, the closest town to Machu Picchu. We were warned to acclimatize in Cusco for a few days (we didn't), and we knew the trek would be tough (it was). But we're both fit and we think we know everything, so we thought we'd be fine. But by hour three, the altitude was so intense my lungs felt ready to burst -- I could barely take 20 steps without panting. By night one, blisters made it nearly impossible to walk. By day two, on our hike down from the peak to the valley below Machu Picchu, my knees were buckling from the pressure of walking downhill for so long. And by the time I reached Aguas Calientes, my body felt so wrecked, I nearly cried as we limped into town.
The next morning was supposed to be the most exciting part of the trip -- reaching the peak of Machu Picchu! But I felt like I was going to die. As planned (thank god), we took the half-hour bus to beat the crowds to the top, but I would have ridden a llama at that point if it meant I didn't have to walk. My body had let me down. Traveling, trekking, and adventure were my escapes from the normalcy of my daily life. And on a trip where I wanted to push myself the limit -- at a time when I needed to get as far from normalcy as possible -- my body finally pushed back and said 'you can't do everything.'
As we slowly limped through Machu Picchu, clouds covered the famous Inca city, which just added insult to injury. I'd spent the last 24 hours gritting my teeth, literally pulling myself up step by step using 500-year-old rocks, and I couldn't even see the ancient city in all it's glory?! Despite feeling bitter and nearly broken, we still decided to make the extra hour-long climb to the Sun Gate, where the views of the whole site were supposed to be phenomenal. What else were we supposed to do? I wanted my moment. On our way, it started raining. Of course. And when we reached the peak, I cried. With my head between my knees, which were so sore I couldn't straighten them, I actually cried. I couldn't even appreciate that I had made it to the top -- all I could think was how much pain it had caused.
And that's when it happened -- in a movie-perfect moment, the fog dissipated and the city came into view below us. A few feet from the edge of the cliff, we stared down the dizzying drop into the Urubamba River and the Sacred Valley. Clouds still clung to the nearby mountaintops, but everything that had been so gray came into focus -- the terraces were greener, the paths clearer, and the stones brighter. Spread out below me was an entire city that had remained hidden for nearly 300 years. This was my moment. This was what I had hiked over 30 miles for -- to feel, even for a moment, like I was standing on top of the world.
I won't lie and say the bliss of that moment made my pain disappear and everything ok again. Every step down that absurdly high mountain was excruciating, and I couldn't walk normally for a solid week afterwards. But as I crashed into a real bed that night, after a re-humanizing hot shower, I pictured myself back on top of that mountain and realized that I had been looking at the whole adventure all wrong -- my body hadn't let me down. It may have been agonizing, but I pushed past the pain for the -- dare I call it--ecstasy of that incredible view. Instead of waiting for the sun to come out at the same level as most tourists, I went after my moment, and -- though it didn't feel this way at the time -- in the end, I refused to let my body defeat me. From a less pain-addled perspective, I could finally accept that I had conquered my pain. If anything, that makes me even prouder of myself -- instead of settling for the same halfway moment the other tourists got, I kept going. And now, back at my computer, that still keeps me going.