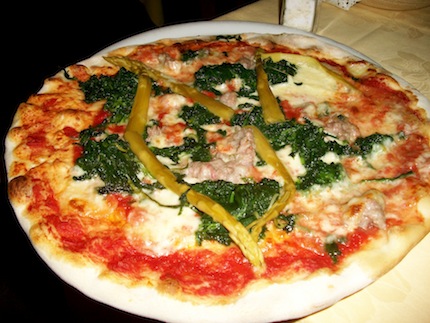 I cannot describe to you how great this pizza was! I have been meaning to tell people around world about the best pizza I have ever eaten, and now I finally can.

It was quite the pizza....

Well, I got the best pizza ever at a restaurant located in a suburb called Mestre, which is outside of Venice, Italy. The restaurant is called Corte Sconta. My sister and I accidentally came across it after landing in Venice, Italy, with no idea as to what good restaurants were in the area. Our hotel suggested Corte Sconta and I can definitely tell you it was the best food I have ever tasted in my life.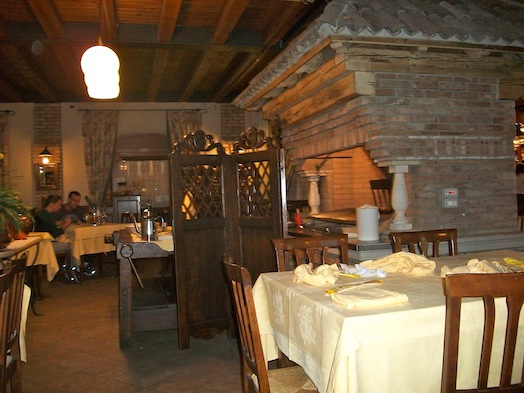 Corte Sconta is the epitome of the perfect Italian restaurant that I wish every person in the world could have the opportunity to have a meal from.
I remember this little cute little villa place, never imagining that it have could be so cozy and beautiful inside. It had the perfect, authentic Italian atmosphere that my sister and I had craved upon coming to Venice, Italy.
What the restaurant even more delighted was the service. Everyone was so friendly and welcoming. The chef even brought us out sample food. He also invited us to sit with him and his guest just to engage in conversation and learn more about different cultures around the world.
I truly loved how this restaurant had such a great family-like atmosphere. It truly made me appreciate the culture of Italy and how families took the time to share quality moments with each other...I wish the United States was more like that...
In fact, I wish the food of the United States was more like Italy's! Imagine having the freshest, warmest, cheesy, and mouth-watering pizza that you have ever had. Imagine this, because this is exactly the type of pizza I had at Corte Sconta.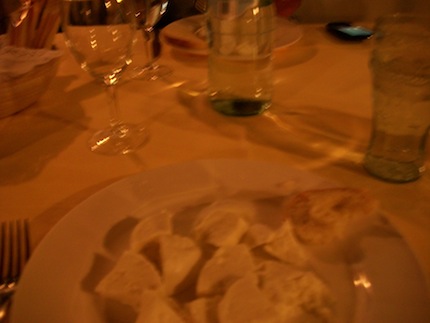 Yet the pizza wasn't the only thing that was amazing...all of the food was good. The cheeses were so fresh and tasty...the salad was also so fresh and pure... and I could just go on and on. My sister and I were so full upon leaving this restaurant. I felt like somewhat had to pull the Willy Wonka on me and roll me back to my hotel ☺.
As I reflect back on this experience, I truly am grateful for it. I think it definitely made me see the world in a different place and to really value and understand how every individual is connected, regardless of where you come from. I feel like we all just truly want to live life and enjoy the wonderful moments that we have together. They are moments that truly take your breath away and truly make you realize how life is worth living.
I hope that you will not only have the opportunity to explore the beautiful city of Venice, Italy, but that you will also come across this restaurant amidst your travels. It is one of kind and a place that I still can call home, even if I am more than 5,000 miles away...