In a time where stories about dysfunctional families rule, author Kelly Corriganhas pulled away from the pack and written a love letter to her family and living in 'the middle place,' or as she defines it, "the sliver of time in life when parenthood and childhood overlap." The Middle Place is Kelly's elegy to this period: to calling home when she became engaged, gave birth to her children and then, to tell her parents she was diagnosed with breast cancer.
Now living cancer-free, Kelly, along with her dad, George 'Greenie" Corrigan, talk about the snapshot of time her book encapsulates, the questions she hopes her writing will raise and how important it is, if you're so fortunate, to still be able to call home and "thank god you're someone's daughter."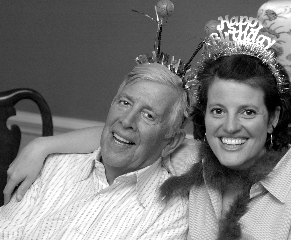 When were you first aware of being in the "middle place" and what inspired you to write about it?
Six months into having my daughter, I realized I was in this middle place. Everything I was feeling after my daughter's birth compelled me to call my mother and tell her how sorry I was for everything. I remember saying to her, 'I didn't know. I didn't know how much you loved me and how attached you were. I didn't know how much it hurt you when I was hurt. I could have spared you so much agony.' I feel really bonded to my mom now; this is the closest we've ever been. I find myself making the same choices she made raising us. Before you become a parent, you just cannot believe someone loves you the way these people love you. And that's the heart of it. Your husband may love you, your kids may love you, but there is no one who will ever love you the way your parents love you. And you don't know that until you're a parent.
I sat down to write something about my Dad, for my Dad while he's sick [Greenie is currently facing his own battle against cancer] and in case he doesn't get better. And I wanted to get our story down on paper in case I didn't get better, so my kids would know where I came from and who this person was and why he's so special.
Your writing has a lyrical quality that feels specifically Irish. Was this a style of storytelling you grew up with or did this distinct voice emerge over time as you wrote?
Greenie: We're a storytelling clan. When all the Corrigans get together, we trade stories. There are a lot of big time extroverts. Some of the jokes are the dumbest jokes ever, but it's all in the telling.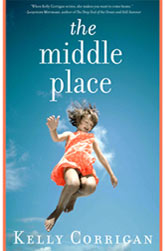 Kelly: When we get together and you tell a story with all the Corrigans, about 40-50 people, around you gotta take center stage. You have to own your story, have a punch line, talk in accents, gesticulate and you have to carry the crowd with a story. Clearly, we're not a family for introverts.
Because some of the story relies on your early childhood memories, did you have any family members reading through it to fill in the blanks?
Some things I got completely wrong and I had to cut them. My whole life I remembered a story about a Stanley Cup playoff game that we had four tickets to and they would let me go because I was a girl and they said I wouldn't appreciate it. But I pushed and I begged and they caved and let me go ... and I fell asleep! That was the whole story the way I remembered it in my head. I wrote the whole chapter and sent it to my Dad. He read it, called me and said, 'Lovey, we didn't let you go to that gave, it was your brother, Booker that got to go and he was the one that fell asleep.' I was so crushed because I had really thought that was me AND I had to trash the whole chapter!
In the book, you take the reader through your battle with cancer. Were you writing as you were undergoing treatment?
I didn't write that much while I was in chemo, but I wrote when Greenie got sick and when I was going through surgery and radiation. It was really structured writing. It was the first time I realized I really enjoyed writing. I also think the emails I was writing to friends throughout my treatments had a lot to do with the book. They provided a great diversion for me and I got a ton of feedback about my writing. It made me think maybe there was more to it.
Greenie, do you have any plans to write a book?
Greenie: No, but as a matter of fact, I gave Kelly the title of her next book, The Castle on Clear Spring. Clear Spring Road is where I grew up. I'd tell Kelly my stories about growing up in a family with six kids living in a three-bedroom house, but she would write it.
Kelly: But living in that house with so many people underfoot made something beautiful, that family is unbelievable. I marvel at it all the time.
Is there one message you hope readers will take away from The Middle Place?
What I hope is that people who have lost their parents are able to talk about it more. For me, when crisis hit, I called home, but where do other people call? What is it like to live in a world without your parents? And what does it feel like, after all that time of being the center of somebody's world, what does it feel like to not have them there? Memories of your parents aren't always enough to sustain you, people need to talk more openly about their parents and their past, it helps to inform their future.