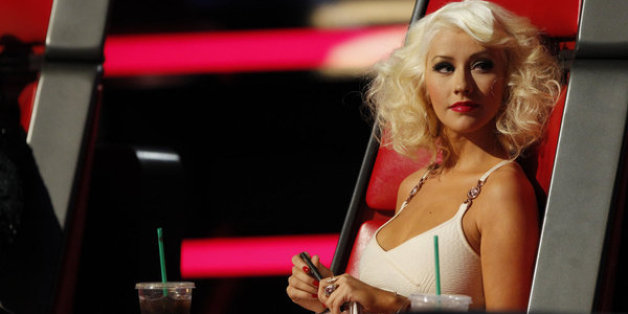 Note: Do not read on if you have not seen Season 5, Episode 13 of NBC's "The Voice" titled Live Shows, Part 1"
They've been tested through fire, and on Monday night's episode of "The Voice," most of the contestants delivered the goods live. For many singers, this was their Olympus -- and America was treated to the best display of controlled talent and vocal precision that we've seen this year.
The judges didn't have a negative thing to say on last night's episode -- that's because they're handing the reins of power to us viewers. The Top 12 contestants, as voted by America, will advance through the next round. All the same, it would have been nice for the judges to guide voters more than they did last night. When everybody is "amazing," are we just voting for who has the nicest smile? It's also a bit unsettling to watch Christina be this nice for two hours straight.
If you've texted, bought an iTunes single or voted online, let us know who you think did best in the comments. If you think Adam Levine's suit made him look like Pee Wee Herman, please let me know I'm not alone.
Without further ado, I'm ranking last night's contestants on their performances.

James Wolpert:

Other performances were louder and more dynamic, but the Apple store geek stopped hearts last night with his cover of Joni Mitchell's "A Case Of You." I just got tingles watching it again, and the judges felt the same way (especially since Adam barely kept him after his almost-unbearable performance of "More Than A Feeling" last week). His coach felt justified. "I knew there was something in you," he told James. "It was so elegant, I could not possibly be more proud of you." I felt the same way.

Tessanne Chin:

When a slow song comes on, who makes the audience wave their hands back and forth in unison? Does anybody do this in reality, or is it a move completely developed by singing reality show producers? Tessanne sang Jimmy Cliff's "Many Rivers To Cross" and reduced most of her field of competitors to runners-up. Basically, she's so freakishly talented that I penalized her for not moving me to tears this time. But she's so freakishly talented that I'm having a hard time envisioning her not winning this thing.

Will Champlin:

Before last week's knockout round, I thought it was crazy that "Son of Chicago" was still in the competition. Champlin, who says his wife is currently battling a brain tumor, came back for a riveting piano-accented performance (loved the background singers, too!). I think a few notes seemed off-key, but he finished beautifully. He and Wolpert both have the ability to sing other people's songs like they own them on stage. Stolen twice, he said "people are probably going to expect a lot more of me" to stay in the competition. He was right about the expectations -- he exceeded them.
Shelbie Z.

Her performance of "Fancy" (Reba McEntire made it famous, but you really need to hear the Bobbie Gentry version from 1969 if you haven't yet) made Blake say if he had awoke from a coma five years ago and saw Shelbie Z. on stage, he'd already think she was a country star. I cannot argue this. I love this woman, but I'm worried she's painted herself into a country-fried box that will hurt her, voting-wise.
Nic Hawk:

Nic Hawk's hips have more personality than every contestant on "The Voice." He just doesn't the vocal chops to outlast a Tessanne -- but he can rap AND dance AND sing while wearing the funnest outfits! Maybe we could just keep him around to perform for us on "The Voice" after he's kicked off. It also hit me last night that I'm really okay with never hearing Robin Thicke's "Blurred Lines" ever again.

Ray Boudreaux:

The first verse was underwhelming. Then Ray Boudreaux really started singing. Has he sang like this all season? That "straight from the water" bit of Marc Broussard's "Home" was swamp rock to the extreme. "You brought a realness I hadn't seen before today," Chrisina told him. Look out, America: Ray Boudreaux may not just be another pretty face.
Cole Vosbury:

This guy is totally the dark horse of season 5 (he's the one who sang "The Jefferson's" theme song during blinds.) His voice really has a lovely tone, but Cole didn't have the power to sing through about half of the lines on "Maggie May" (listen, and you'll notice the last lines of the sentence are always quieter and shorter than the rest of the sentence). I think this may have been a quiet and short finale to Cole's time on NBC.
Austin Jenckes:

Emotive singer Austin Jenckes couldn't have picked more emotional lyrical poetry to emote to, and the range of "She Talks To Angels" really put his voice on display. This is probably Austin's finest moment on "The Voice" to date. That being said, he has absolutely zero of Chris Robinson's charisma, which is why this Black Crowes song still came off like a downer.
Grey:

Adam, why did you make this woman sing a Paramore song? Pitchy, breathless, rushed -- this was Grey at her worst, and I'm afraid for this girl's chances. But the breakneck speed of this song did not suit Grey at all, and I really think she can't get all the blame for this pop-punk car accident we had to witness. It's sad that this song is called "Still Into You," and I'm really wondering whether America is still into Grey.
Preston Pohl:

Maybe Adam was drunk. Or maybe he's actually into sabotaging his chances and helping Blake win. Those are two of the only explanations for why he would make Preston Pohl sing "Nothin' On You" by Bruno Mars and B.O.B. I mean, Preston tried. How do you take a guy who gets compared to David Ruffin from The Temptations and make him sing a song this terrible? Preston's raspy voice when he was singing those "Nothin on youuuuu" lines sounded like he was battling an extremely unfortunate hernia. Poor Preston.
Get ready to watch more live performances from season 5's top 20 contestants Tuesday night at 9/8 Central on NBC.
BEFORE YOU GO