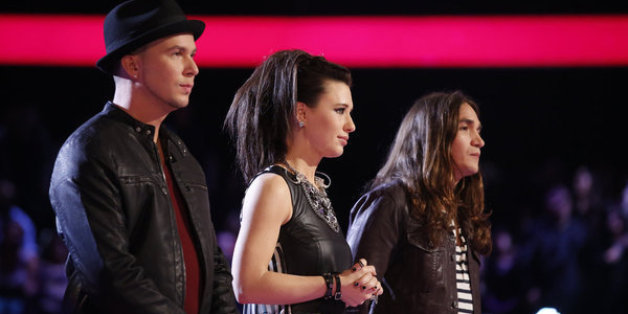 Note: Do not read on if you have not seen Season 5, Episode 17 of NBC's "The Voice," titled "The Final 10 Revealed"
This is what Carson Daly says about Instant Save, the new gimmick that debuted on Tuesday night's episode of "The Voice." On Instant Save, when we're down to the last three contestants on the show, viewers can now vote to spare one of these singers via Twitter.
Carson says it gives US control. Us, the viewers. Not the judges. There must be some smart supercomputers set up on "The Voice's" spaceship soundstage to tally who gets the most mentions on Twitter in 90 seconds. Carson Daly really wants us to like Instant Save. He pointed out, in kind of a vaguely Brave New World-esque fashion, that "The Voice" is really made just for you and I. "It's produced and developed for YOU!," he exclaimed. I typed "(and advertisers?!)" in my notes.
(Also, sorry West Coast fans! No instant save for you.)
Does a show featuring a live double elimination compelling millions of Americans to tune in a second night out of the week just to see the results actually need more drama? Let me know if Instant Save was an instant smash hit or just a way to make sure you didn't change the channel during the last 12 seconds of "The Voice."
As usual, Tuesday was kind of a melee, music-wise. Cee-Lo Green sang "Roam" by the B-52s with his singers. Adam Levine played drums and sang, "It's A Hard Day's Night" by The Beatles with his team, leading my boyfriend to point at Adam on the television and yell, "You're not as good as The Beatles! You have no business singing this song!" Sara Bareilles sang her single, "Brave," with the season's female cast and the guys did Grand Funk Railroad's "We're An American Band."
"The Voice" is starting to look like a bit of a popularity contest, with "Sweet Caroline" Pennell and Matthew Schuler always the homecoming king and queen. Pennell and Schuler, the top 2 vote getters last night, are also massively talented. I do think Pennell's "Wake Me Up" on Monday night fell a little short of her usual magic. Matthew Schuler has not yet disappointed me -- or anyone, probably, ever. Talk about an All-American!
Many of us questioned whether Blake had a chance to win without a country singer after the top 12 were revealed. The answer was simple -- just have Austin Jenckes sing 'em. Jenckes' Travis Tritt cover was a personal win for the emotional singer-songwriter. Tessanne Chin, possibly the most naturally-gifted singer on this show, was another easy pick. Upstart Jacquie Lee's bluesy chops won the season's youngest competitor a slot in the top 10. And Cole Vosbury slid in with his genre-stretching cover of Miguel's "Adorn" -- a well-deserved nomination, I say.
Quipped Blake Shelton, "Tuesdays are why I drink so much." Facing the bottom 3 every week has to take a toll on your heart and liver.
After Adam reassured Will during Monday night's episode that he'd refrain from picking apart his subpar performance, I thought Son of Chicago would be in peril. America disagreed. They also saved James Wolpert and Ray Boudreaux from the depths of the bottom 3. Anyone who's read one of my previous recaps knows that I'm utterly shocked to see Ray Boudreaux make it this far. America, what is his secret? Has he bewitched you with some Cajun country voodoo?
It was down to the bottom 3.
Cee-Lo's long-haired vet, Jonny Gray, smooth singing soulster Josh Logan from Team Christina and the wildwoman herself, Kat Robichaud. Cee-Lo was pretty mad that both Jonny and Kat were in the bottom 3. I was pretty mad that Kat was there, too. I know she's kind of a weirdo, but weird/great performances should outshine just singing a banal song without exposing any emotional pathos.
Jonny Gray was cut first, and took it like a champ. Farewell, Jonny. Find a real band and start touring! Down to Kat and Josh Logan, once hilariously summarized by a HuffPost commenter as the guy who's always showing up to open mic acoustic nights at the local coffeehouse. True? False? In any case, the smooth-crooning Logan will have more time to perfect his falsetto. He became the last and latest casualty of "The Voice," as America frantically Tweeted to save Kat Robichaud for one more round.
Did America correctly Instant Save? And what are the judges actually judging right now, anyway?

Watch "The Voice" Monday night at 8 p.m. EST on NBC.


BEFORE YOU GO