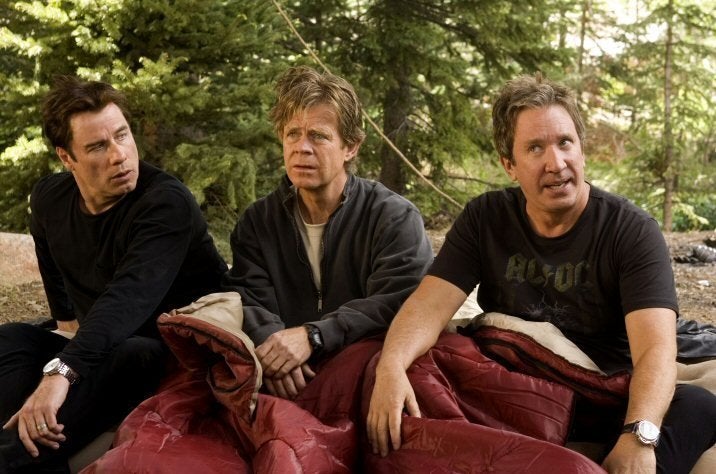 Post conference call and mid-afternoon protein refuel (what appears to be akin to a lone microwaved turkey sausage link sits on a paper plate on the coffee table between us), Todd Lieberman, one half of the dynamic producing duo that runs Mandeville Films with David Hoberman, listens attentively as I rattle off his recent box office successes, insistent that all he ever looks for is "a great story."
"A boss and an assistant have to pretend to be married in order to get what each of them wants."
"Beverly Hills Chihuahua?"
"A chihuahua gets lost in Mexico and on her way, finds her heritage and finds herself." Todd infuses this canine plight with a wry gravitas.
"Wild Hogs?" I arch my brow, a diplomatic dare.
"A bunch of middle aged guys, weekend warriors, end up going against a real Harley (Davidson) gang."
He stares briefly across the pristine grounds of Walt Disney Studios in Burbank, California, thoughtful. "Each movie has a very simple, clear concept...and then each one has an underpinning of emotional realism that allows you to follow these characters and relate to them in a way that's not too broad."
"Eight Below?" I switch gears away from comedy to see if this increases Todd's difficulty level.
"A guy leaves behind his best friends, the sled dogs, and then they get snowed in, and he does everything he can to try to go rescue them."
After graduating from the University of Pennsylvania and cutting his teeth in the film industry working at Summit Entertainment, a company focused on sales and distribution for foreign territories, and later serving as Senior Vice President at Hyde Park Entertainment prior to joining Mandeville, Todd made an early name for himself with his good taste and gentlemanly way of conducting business, heralded as one of the "35 under 35" people to watch in the business by The Hollywood Reporter in 2001.

"As producers, we are salesmen to the studios who are buying the projects, we are salesmen to the actors we are trying to get involved, the director we're trying to get involved, and then we're salesmen to the general public, saying, 'Here is a product that we made. We would like you to buy it,'" he concludes, clearly outlining the refresher for the Sales & Marketing 101 course you slept through or never signed up for in the first place because you never had a hip professor like Todd who mapped it all out so effortlessly.
These pat one-liners that succinctly summarize movie plots are great in that they allow no room for confusion or question marks, but in this sound byte attention deficit social networked-over manic culture, are we sacrificing creativity in favor of the pants pocket fulfillment of consumerism? Are we glossing over unrealized full artistic potential as we reach for our 3-D glasses on the dashboard of dulled senses?
"I think the business as a whole has gotten more 'business-like,' where studios are more like corporations than they are freewheeling, creative outposts," he says, like an honest motivational speaker/self-help guru who recognizes that self-awareness (especially in Hollywood) is the first step in breaking the pattern of behavior.
"Stockholders and the bottom line mean a lot more today than they did several years ago. The kinds of movies people are green-lighting and spending money on -- it's less and less that a studio is going to take a risk on something, and that's probably good business because they are spending so much money on these things to make them, and so much money to market them, that they want to hedge as best they can, make sure there's a real audience for it (the movie) out there. "
Eagerly anticipating the outcome of the May upfronts, which will determine if Todd and David's first helming of a television series where fictional documentarians follow and film Detroit homicide police, 187 Detroit, will get picked up, and simultaneously weighing in on final edits of the feature film The Fighter, a drama about boxer "Irish" Mickey Ward's unlikely road to the world light welterweight title under the tutelage of his half-brother Dicky, directed by David O. Russell and starring Christian Bale, Mark Wahlberg, Amy Adams, and Melissa Leo, Todd has a full plate.
"Even though it's harder to get movies made, that's not to negate the fact that we are still creative in them. The Fighter was financed independently," Todd shares. It's worth nothing that The Fighter took approximately 6 years to get made, so all of this moviemaking magic rarely happens overnight, lest some tabloid wand-waving flair lead you to believe otherwise.

"I see more caution now than not. I'm sure there are rogue players out there, but I think for the most part, people are being a lot more fiscally responsible. I can't blame them because we're in this for two reasons: 1) is to make a good product and 2) is to make money. It's a business, but I think you probably see fewer mavericks today then you did prior."
Sensing student and struggling independent filmmakers worldwide collectively slumping their shoulders in discouragement, ready to scoff at their pure intentions and love for the cinema, Todd is soothing as he delves deeper into his qualification of moviemaking as a business.

"Nothing is surprising, every movie is different. David's been doing this for 30-35 years or so and he'll say to me, 'I've never seen that happen before.' As the business shifts and things change and people say we're going to make fewer movies, or we're going to make more movies, movies still get made. In a year where we have Avatar, with groundbreaking technology, the biggest box office success of all time, we also have a little teeny movie that wins the Oscar called The Hurt Locker. So in a time when it would seem like nobody's making movies like The Hurt Locker, or shouldn't be making movies like The Hurt Locker, that exact movie wins the Oscar. So people can make broad statements about the business and here's what's happening now or here's what's changing...but it seems like in the midst of all that, all different kinds of movies still manage to get made."

Not every producer is as hands-on as Todd. "I like being there from the start to the finish because you know, on a movie something big could happen in an instant, and that could be the instant you're not there. In a scene between Sandra Bullock and Ryan Reynolds (in The Proposal) that just wasn't sitting right comically, "You get in there and kind of work the scene to make it work better, and we did some on-the-fly rewriting with the writer as we said, 'Well, that's not exactly working right.' We'd get in there and we'd talk about how to rework the scene with Sandy and Ryan's input. It was really collaborative, very fun. It was really rewarding."
Developing Jungle Cruise for Walt Disney, brainstorming ideas and sifting through a myriad of diverse material, Todd abides by a philosophy, "We never say 'die' here if there is something we like."

He smiles after a brief break from our chat to tend to family matters involving his two young sons and confides, "I like to go to movies because I like to be entertained. Ever since I had my first kid, it's been really difficult for me to go see movies that aren't fun. I certainly can't see graphic horror movies anymore. I get queasy now with a lot of blood. I can't watch movies that have a blatant disregard for humanity."