The dust has settled and the winners of the annual AskMen Watch Awards, as chosen by our readers, have been determined. Our horological experts nominated 50 different watch models across five distinct categories, and suggested brands for the coveted Brand of the Year prize, and your votes did the rest.
Here are some of this year's winners (check out AskMen for the complete list):
First Watch That Matters - Nomos Metro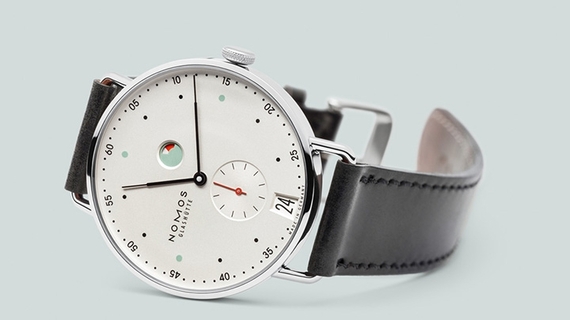 Voting Category: First Watch That Matters
Nominating Judge: James Bassil
Nomos makes great, affordable watches because they don't try to make them affordable. That's to say that they don't check their ambitions in order to keep costs down. The proof: the 2014 Metro model, that uses the company's new "swing system" escapement. That's an in-house, mechanical movement -- typically out of the reach of first-time buyers on a budget. Nomos has it priced at just over $3,500.
A lot of watch companies offer models in this price range. Not many offer ones with custom movements. And only Nomos offers ones that serious watch nerds drool over. As my fellow judge Elizabeth Doerr phrased it, Nomos offers "the best price-performance ratio in the watch industry." The Metro is highly credible, in addition to being elegant and built to last. Put that in the context of a company that keeps making better and more interesting products (even the Watch Snob nominated their Lambda in his category), and you've got heirloom potential -- and this year's best First Watch That Matters.
Heirloom Watch - Patek Philippe 5078R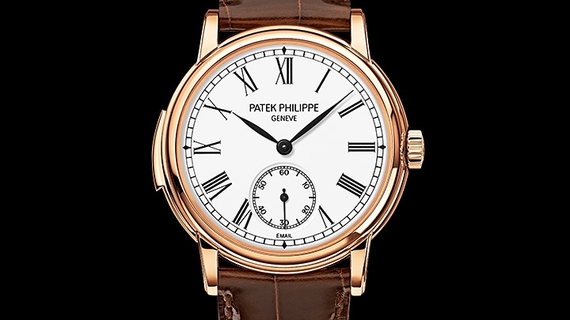 Voting Category: Heirloom Watch
Nominating Judge: Jack Forster
The Patek Philippe 5078R is a minute repeating wristwatch, made by Patek Philippe. That alone should be enough reason to make it conclusively one of the most heirloom-y watches you could possibly imagine, but now that the dust's settled -- vox populi, vox Dei -- it's worth looking a little more closely at why.
If you're going to consider a watch for an heirloom, it's worth considering what you don't want. You don't want something disposable; you don't want something fashionable; you don't want something that lacks gravitas or that's not, within reason, the best of its kind. It's also worth considering what you do want -- something of value, against that day when some descendant will have to flee across international borders and perhaps need a, shall we say, compact high-value negotiable financial instrument.
The 5078R ticks every one of those boxes definitively. It's an absolutely classic design, and at 38mm it could have been made anytime from yesterday to almost the dawn of the wristwatch era itself. It's made to the highest standards of finish Patek Philippe can muster (which is saying something) and it's delightfully uninterested in impressing anyone other than a knowledgeable owner, which in this day of luxury goods whose main value is their utility in conspicuous consumption is especially charming. It is, in a word, a connoisseur's watch -- a thing of great, discreet beauty whose appeal is in direct proportion to how much you know.
It is also, like almost all Pateks nowadays, apt to hold its (very) high value well, if not increase in value over time, and as a weregild of your noble house you could hardly ask for better. It says something that the price of acquiring one notwithstanding, the dollar value is far from the most interesting thing about the watch.
Technical Marvels - A. Lange & Söhne Richard Lange Perpetual Calendar Terraluna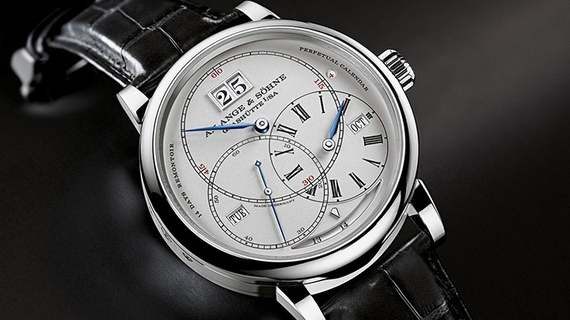 Voting Category: Technical Marvels
Nominating Judge: Paul Boutros
The selection of the A. Lange & Söhne Richard Lange Perpetual Calendar Terraluna as this year's top Technical Marvel is no surprise. Mankind has always been fascinated with astronomy. The observation of day and night, the varying positions of the sun and moon in the sky along with the cycles of the moon were, at one point in history, the only way for humanity to keep time. As the most astronomically oriented watch in the category, the Terraluna's superb and accurate indications of the poetic, planetary motions on the caseback side of the watch certainly delighted the readers of AskMen.
These are mesmerizing and exquisitely crafted representations of the earth, moon, and sky using three rotating disks made of solid gold integrated seamlessly into the movement. The earth disk completes a rotation every 24 hours while indicating the time across 24 different time zones. The sky is illustrated with a detailed map of the northern hemisphere that, along with a moon phase disk, completes a full 360-degree rotation once every 29 days, 12 hours, 44 minutes, and 9.6 seconds. In other words, the moon phase is accurate to within 1 day over 1058 years. Heavenly!
Inside, the in-house Lange caliber L096.1 with perpetual calendar is a technological tour-de-force. Fourteen days of power reserve are provided from a full wind of the two mainspring barrels. All this power is precisely controlled for improved timekeeping accuracy. Lange incorporated a remontoir mechanism that ensures constant force is delivered from the mainspring, regardless of how much, or how little, power remains. In Lange's typical execution, every component is immaculately hand-finished, including the traditional hand engravings found on the balance cock that secures the escapement. Comprised of 787 parts, the Terraluna's movement is housed in either an 18 karat white or pink gold case measuring a masculine 45.5 mm in diameter, with a thickness of 16.5 mm. The regulator-type dial, with the hours, seconds, and minutes presented on three separate but overlapping sub-dials is both unusual and visually appealing. Apertures for the perpetual calendar indicators -- the day on the lower left, the month on the lower right, and the large date at 12 o'clock -- are positioned elegantly within each sub-dial and sized relatively and appropriately for each. With the power reserve indicator almost forming a narrow bridge linking the seconds and hours sub-dials at 6 o'clock, the result is a stunningly attractive, harmoniously balanced dial people can't help but fall in love with.
Check out the original article for the Vintage Watches winner, the Watch Snob Approved winner and the winning Brand of the Year.