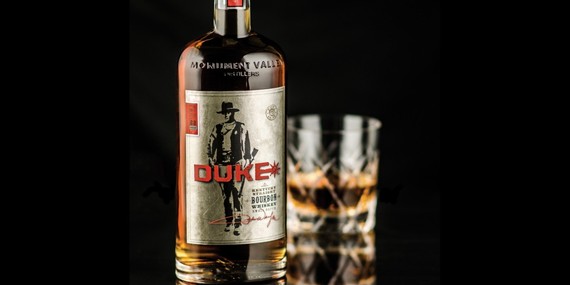 Robert Haynes-Peterson is one of AskMen's favorite writers. He scribes about spirits, cocktails, wine, and, when he has time, luxury lifestyle. His monthly column, This Month In Booze, is way classier than it sounds. It profiles the hottest newly released spirits, from the biggest manufacturers to the most indie craft distillers. Liquor is a something of a long game, but after reading This Month in Booze, you'll be itching to get a 16-year-old bottle of hooch the same day it hits the market.

Seriously, this is getting crazy. At this point of the year, we're generally dreaming about margaritas and G&Ts (and mint juleps, of course, during the Kentucky Derby). But it seems that brown spirits are going to continue to have their year. From specialty bourbons and "North American whiskeys" to extra-aged rums, spirits producers are going to pursue this rabbit trail until there's not one drop of amber liquid left in any cask filled before 2005. We can live with that.
BOOZE NEWS AND TRENDS
Visitor Centers and Halls of Fame
This year, three super-cool visitor centers are opening at venerable destinations for fans of distilled spirits. The Wild Turkey Visitor Center, which opened in April, replaces a small 19th-century house/makeshift tasting room with a contemporary design featuring views of the surrounding distillery and farm, a Wild Turkey Wall of Fame, and, of course, whiskey to taste. Meanwhile, Bulleit Bourbon parent company Diageo has announced plans to upgrade and convert part of the historic Stitzel-Weller distillery (where a component of the much-coveted Pappy Van Winkle Family Reserve was produced) into a visitor center. The goal is to highlight Bulleit, but also Diageo's new expanding craft whiskeys, like its Orphan Barrel series. And of course there will be a gift shop, scheduled to open this summer.
Meanwhile, Beefeater Gin opens its long-awaited visitor center on May 22nd. The distillery represents the only major London dry gin actually produced in London city limits, but it had little to offer the casual visitor until now. More than just a tasting room, the ticketed experience starts off with a walk through Covent Garden, pointing out Prohibition-era secret watering holes, a sensory exploration of the botanicals used in the gin, an exhibition of archival materials, a tour through Beefeater's stillhouse and a complimentary gin and tonic.
Drink Better At Home
It's taken a while, but home delivery of wine, spirits and beer has finally entered the 21st century. This past year has seen a spike in sites specializing in getting alcohol from pixels to your glass in a few easy clicks, starting with Caskers.com, a highly curated, guy-targeting collection of fine spirits. It's now been joined by apps like Drizly and Minibar. Two new players are arriving who might be in a position to change the game for the every dude. Merchants of Beverage, a San Francisco-based service inviting us to "drink better at home," offers (among other perks) crafted cocktail kits providing all the ingredients you need for specialty drinks or fancy gifting. They hope to launch by June. New York-based Qwiker Liquor is offering same-day delivery, working with local shops in New York, D.C., LA and Chicago and looking to expand to other major cities across the country. Store inventories are frequently updated, and you can place your order up to 30 days in advance.
What Is Happening With Citrus?
You may have noticed there's a lime shortage going on, thanks to a perfect storm of bad weather, crop disease and Mexican drug cartels putting the screws on local farmers. Wholesale prices have skyrocketed and bartenders are removing "non-essential" limed-up cocktails from menus (you can still get your mojitos and margaritas... so far). Some are opting for citrus alternatives: lemons, where they work, but also pineapple juice, cucumber and jalapeños. Tequila Don Julio even rounded up a list of lime-free cocktails with which to celebrate Cinco de Mayo (Meyer lemons sorta work in a margarita). Things are getting so bad, Chilled Magazine is even suggesting using lime fragrance sprays from Demeter. The colognes -- Lime, Frozen Margarita and Gin & Tonic -- aren't built for drinks, but at least will help you remember, fondly, what limes once smelled like dragged along the frozen rim of your glass.
NEW RELEASES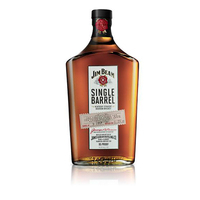 Jim Beam Single Barrel: JB stepped up its game big time this year with the release of its "Make Your Mark" ad campaign featuring Mila Kunis. But it's not just slogans and famous actresses. This year marks the first time Beam has released a single-barrel offering. The relatively high-proof Kentucky straight bourbon is a deep, golden amber, rich in oak, vanilla and spice notes. The bottle features a label noting the barrel number and bottling date and is ideal to consume neat or on the rocks. Even cooler, if you can make it to the Beam's American Stillhouse in Clermont, Ky., you can even bottle your own. Fans should keep an eye out for the very elegant Jim Beam Signature Craft expression coming up this fall. 47.5 percent ABV, $35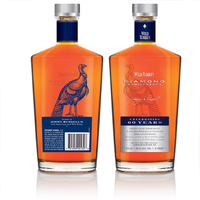 Wild Turkey Diamond Anniversary: Master distiller Jimmy Russell has been making Wild Turkey bourbon (and other goodies) for 60 years. Do you have anything in your arsenal that can trump that? No. You don't. That's why 2014 is the Year of Jimmy Russell and why Wild Turkey produced this most excellent limited edition bourbon. A blend of 13- and 16-year whiskeys, crafted by Jimmy's son Eddie (who's been himself distilling for over 30 years) to honor Dad. What are you making your dad for Father's Day? Spicy and full-bodied, this is not a small bourbon, yet it's still best drunk neat (the way Russell says he drinks all his whiskey) or with a little water to open things up. 45.5 percent ABV, $125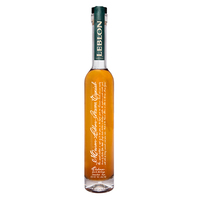 Leblon Cachaça Reserva Especial: Most cachaça -- a Brazilian spirit not unlike rum -- that gets to the U.S. is unaged or lightly aged. But as with good rum, Cachaça (made from fresh sugar cane rather than molasses) plays well with wood. This special project from distiller Gilles Merlet sits for two years in New French Oak, and the result is an aromatic and pungent spirit, rich in herbaceous notes, grass, pine nuts, and honey. While it sips nicely on its own, we threw it into a Caipirinha with brown sugar, and it was freakin' amazing. 40 percent ABV, $30 (for 375 ml)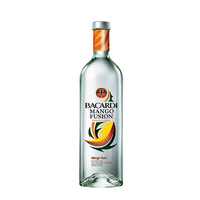 Bacardi Mango Fusion: Peach and mango seem to be the hot expansion flavors of 2014. Here, Bacardi adds its aromatic fruity rum to the mix. Tasting like ripe mangoes with a hint of orange, it pairs nicely with coconut and orange flavors. Bacardi launched the new flavor at an NYC Tribeca Rooftop with DJ Envy, tattoo artist Mister Cartoon and cocktails like the SneakerHead (Mango Fusion, ginger beer, bitters, and a squeeze of lime). 35 percent ABV, $15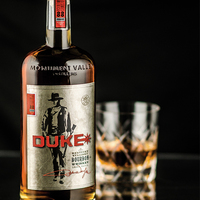 The Duke Kentucky Straight Bourbon: For a certain generation of men, John Wayne was the be-all, end-all tough guy. Were he around today, he'd probably still kick Jason Statham's ass in a bar fight, or at least at slugging whiskey. Turns out Wayne (who was fond of his drink) left behind a well-stocked bar with an emphasis on bourbon and tequila, according to his son Ethan, who handles the estate and licensing. "We wanted the products representing my dad to include great, American-made stuff: the pocketknife, the handcrafted leather, the bourbon," says Ethan Wayne. "But I also wanted a craftsman at the level appropriate for my dad, and who could bring a historical connection." He teamed with California winemakers and distillers Jason Woodbridge and Chris Radomski to create this very limited Kentucky bourbon, sourcing barrels representative of what the Duke was drinking, and updated to today's sophisticated palate. Keep an eye out for this stuff, because once it's gone, it's gone. 44 percent ABV, $35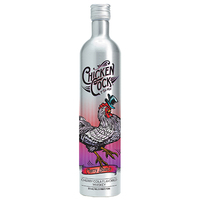 Chicken Cock Cherry Bounce: The Cherry Bounce, a drink George Washington's wife Martha is known to have enjoyed, was made by cooking down cherries in sugar, then throwing them in a jar of whiskey to infuse for several months. Fun-lovin' flavored whiskey specializers Chicken Cock (itself a revival of a 19th century brand) has given the classic drink a Southern BBQ update by creating a cherry cola infusion. Packaged in a quick-chill (and unbreakable) aluminum bottle, you can drink it as a cold shot or mix with cola. 35 percent ABV, $20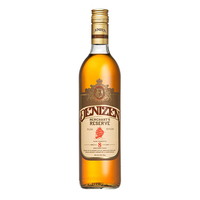 Denizen Merchant's Reserve 8-Year Rum: Inspired by the flavorful rums Trader Vic once used in his classic Mai Tais in the 1940s, Merchant's Reserve is a blend of Jamaican and Martinique amber rums and specifically designed to "free the flavor of the Classic Mai Tai," says owner Nick Pelis, "which I felt had been butchered over the years." Pelis reached out to rum cocktail historians, and learned Tiki demi-god "Trader" Victor Bergeron Jr. initially deployed a J Wray Nephew 17-year, then concocted a blend of Jamaican pot still rum with Rhum Grande Arome from Martinique. "Luckily for us, the only distillery in Martinique that produces this unique, strongly aromatic molasses-based rum is still operating." 43 percent ABV, $30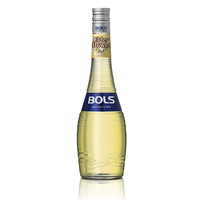 Bols Elderflower Liqueur: It's been called the bartender's ketchup for the crowd-pleasing ease with which it finishes off a cocktail. The category's been dominated by (and essentially invented by) St. Germain for a few years now. But along comes Bols with its own liqueur crafted from the "cream-colored, honey-scented blossoms of the elder tree." Those blossoms only last a few days during early summer and give the liqueur its distinctive sweet-and-floral character, ideal for blending with sparkling wine and crushed mint, and it comes in quite a bit cheaper than that other brand. 15 percent ABV, $18
This article was written by Robert Haynes-Peterson for AskMen.