This article was written by Emma McKay and was originally published on AskMen.
On a crisp late January evening in Paris, in a sprawling bar, Le Perchoir, spanning several stories high above the streets of the 11th arrondissement, pro kiteboarder Youri Zoon ambles in for his interview. As we talk, the bar fills up with a who's who of Parisian cool, posing for photos and sipping bespoke cocktails: fashion industry savants, women in faux fur and big felt hats, avant-garde musicians. We're here to celebrate the 30th anniversary of Biotherm Homme, a high-end French skincare brand (disclosure: I was there as a guest of Biotherm Homme).
Youri's passionate about his sport, and his enthusiasm shines through in his lack of canned responses. We talk about kiteboarding more than we do moisturizer. As the face of Biotherm Homme's Total Recharge line and the subject of the brand's new 360-degree Oculus Rift video (shot using six GoPros strapped to his head), Zoon's life exposes him to all the punishment that wind, salt and sun can bring. Between his extreme activities and frequent air travel, Zoon's skin is no stranger to fatigue and dehydration -- this guy legitimately needs cold weather skin care.
Biotherm Homme's choice of Zoon over a more recognizable celeb or model got me thinking about the kinds of men who've appeared in grooming campaigns over the years. How do brand ambassadors reflect men's evolving attitudes toward grooming? I decided to take a closer look at some of the most iconic faces from the past 30 years of marketing grooming products to men. I've included men's underwear ads in this roundup because, as intimate and personal products that haven't always been marketed directly to men, they follow a similar trajectory to grooming ads, addressing men's appearance-related aspirations through a focus on the male physique of the moment.
Putting Men In The Picture
In 1985, when Biotherm Homme's first product, an anti-wrinkle cream for men, launched, only about a quarter of all men's products were actually purchased by men, so marketing campaigns for men's grooming products inevitably targeted women.
Women were still the focus in 1990, when Chanel launched a campaign for its new men's cologne, Egoiste, in which the male subject never actually shows his face. The ads represented a shift for the brand. Arie Kopelman, then-president and chief operating officer of Chanel, spoke to the New York Times in 1991 about the campaign, explaining that, "The focus has always been on the women's products. Until now, we've never put any marketing power behind the men's fragrances."
Mark Wahlberg for Calvin Klein, 1992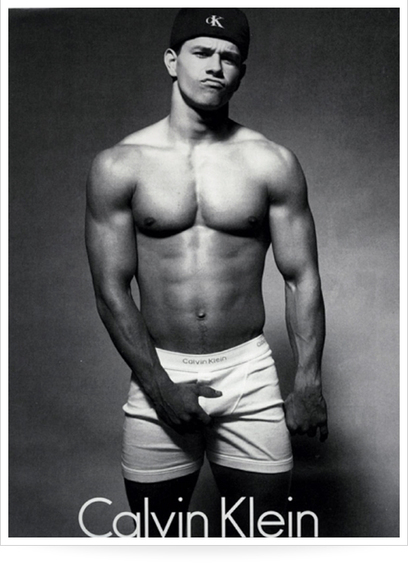 In 1992, long before Bieber ever slunk around in CK boxers, Calvin Klein introduced Mark "Marky Mark" Wahlberg into its campaigns, and the rapper/actor's abs as captured by the late legend Herb Ritts helped sexualize -- and popularize -- something as previously mundane as men's underwear. Then-Calvin Klein Senior VP Neil Kraft, who was behind the Wahlberg campaign, recently explained to AdAge: "[Wahlberg] appealed to women, he appealed to gay men and he appealed to men who wanted to be him." The campaign had a massive impact on the men's underwear industry, boosting sales "exponentially."
Tyson Beckford for Polo, 1993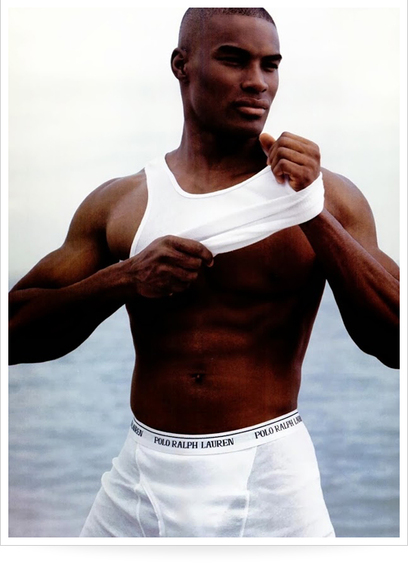 With their Tyson Beckford campaigns, the all-American Polo Ralph Lauren brand introduced a face and a muscular, sculpted physique who could play Marky Mark's game while giving the alpha male a distinctive new look. Beckford helped define the '90s, to the point that in 2014 he was named by Vogue as the No. 1 male model of all time.
Larry Scott for Acqua di Gio, 1997-2007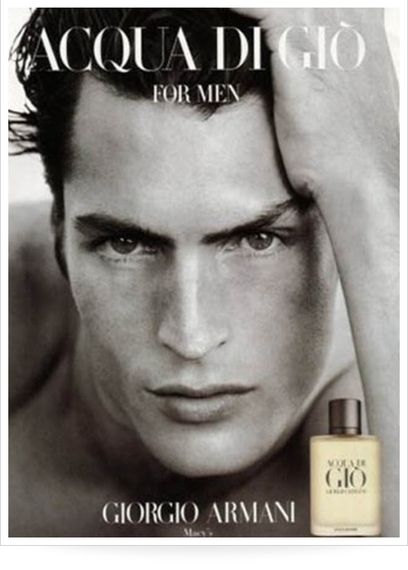 Larry Scott was the face of Armani's Acqua di Gio for a decade. He pioneered the now-iconic "wet guy" look, and it's been a go-to for marketing men's fragrances ever since. We don't really know if he's been rolling around on a beach, if he just surfaced from a deep dive or if he just stepped out of the shower, and it doesn't really matter -- we see the wet guy up close, with beads of water trickling down his face. He must smell good.
David Beckham for Armani, 2008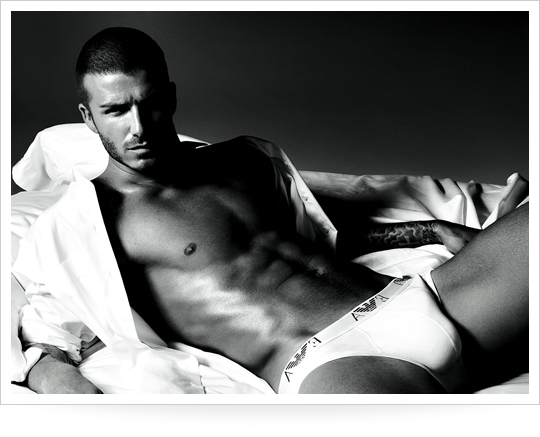 David Beckham was the face of Armani, and just about everything else, in the late 2000s. "The biggest metrosexual in Britain," according to the man who coined the term, was also husband to a woman successful in her own right, a tattooed father and a legendary retired soccer player. Appearing in ads for Pepsi, Samsung, Adidas and Burger King, H&M and more, he represented the male ideal on an international scale: accomplished and attractive, with rebellious sex appeal. His signature scent, Intimately Beckham for Him, which launched in 2006, was one of the first male celebrity scents on the market.
Clive Owen for Bvlgari Man, 2010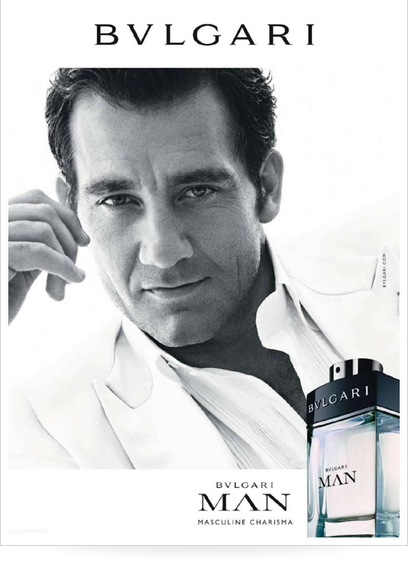 With its campaigns featuring Clive Owen, who had appeared in ads for Lancôme's Hypnose Homme just three years earlier, Bvlgari Man also drew upon the actor's power as a credible influencer. His poses in these ads are relaxed; they present him as a multidimensional, interesting guy, somebody you could see yourself having a drink with.
Isaiah Mustafa for Old Spice, 2010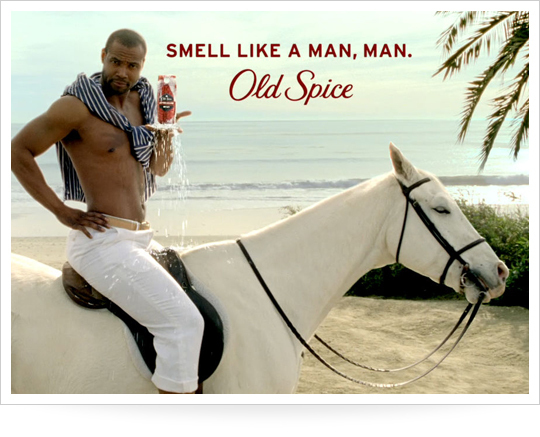 Isaiah Mustafa's Old Spice ads helped usher in the viral internet era with a memorably big splash of aftershave. The zany ads got people talking, and that meant they were talking about Old Spice -- a brand many guys previously identified with their grandfathers -- again. Brut retaliated that same year with its "Slap a man in a towel" "Brut slap" online campaign, in which a man somewhat resembling Mustafa, wearing a towel, could be slapped via a click of a mouse.
Michael Phelps for Head and Shoulders, 2012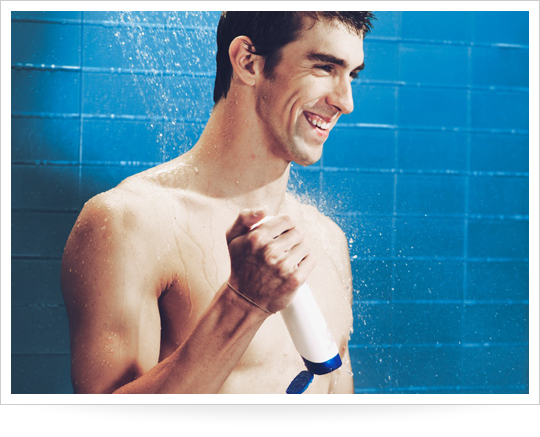 In recent years, companies began to select athletes over models and celebrities to promote men's grooming products, and these athletes don't all resemble David Beckham. As men who actually sweat, smell and expose themselves to the elements on a regular basis, athletes provided a more authentic opportunity to connect with men around the topic of male grooming needs.
At the Biotherm Homme party in Paris, Bixente Lizerazu, a current face of Biotherm Homme and a retired champion soccer star, explained to me how he witnessed grooming catch on in locker rooms: "It happened gradually, little by little, first of all in the changing rooms after training sessions, suddenly you noticed guys using creams. At first it was a little bit funny, or awkward, but it changed." Brands seized on the opportunity to connect high-performance athletes with their products, especially when the opportunity was the 2012 Olympic Games, an event that had the entire world's attention.
Ryan Lochte for Gillette, 2012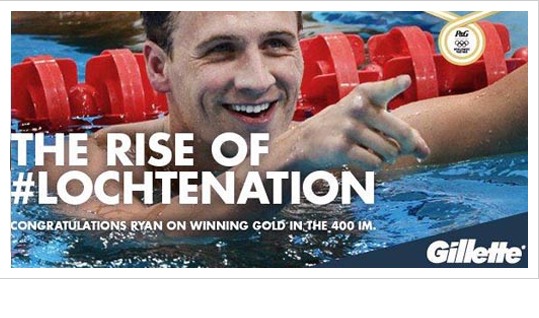 Michael Phelps and Ryan Lochte were just two of 150 top athletes sponsored by P&G, the parent company of brands like Gillette and Head & Shoulders, at the London 2012 Olympic Games. Like the Old Spice example, this Gillette campaign is the unmistakeable product of a viral internet era, hashtags and all.
Dwyane Wade for Dove Men+Care, 2013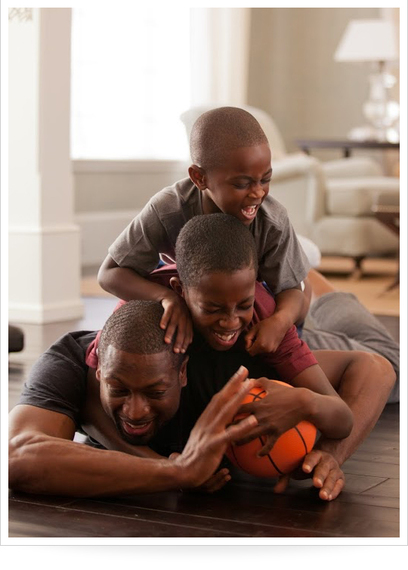 In 2013, as consumers tired of the "doofus dad" archetype they'd been served for years, brands took realness and relatability to a whole new level. Dove Men+Care worked with NBA star Dwyane Wade and ESPN college basketball analyst Jay Bilas for 2013's "Real Moments" campaign, presenting an image of hands-on fatherhood that speaks to modern guys. Dwyane Wade appears at home, with his kids, a natural setting in which he's not being presented as a useless dad or an unattainable hero, taking the locker-room endorsement to a place that really hits home.
Juan Betancourt for Tom Ford, 2013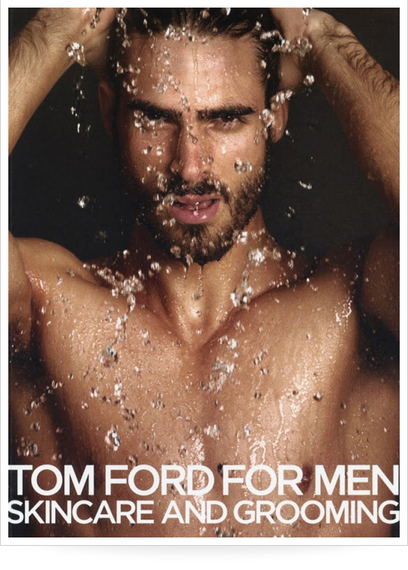 The interesting thing about model Juan Betancourt in this 2013 Tom Ford ad is that he has a facial hair. In 2013, we were deep in a "peak beard" moment (and it isn't over yet). The interesting thing about this ad campaign is that, although this particular image recalls the "wet man" look we're so used to seeing in men's grooming ads, other images in the campaign show Betancourt actively grooming himself -- wearing a clay mask in one image, applying an under-eye cream in another. "For the first time ever," Josh Meyer, CEO of Brickell Men's Products, points out, "starting in 2013, men spent more on skincare products than they did on shaving products." No question about it: men's grooming has gone mainstream.
Jonas Kessler for John Varvatos, 2014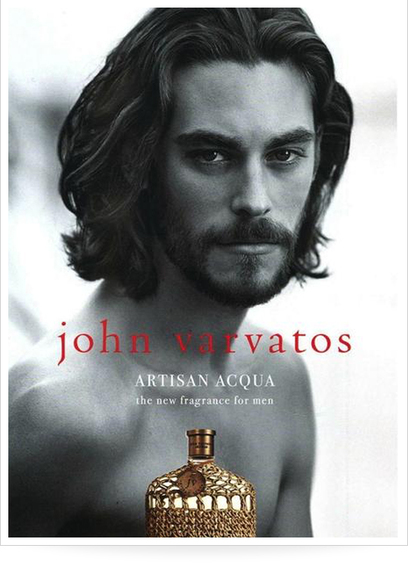 In this ad, part of his 2014 campaign for John Varvatos, the bearded Jonas Kessler may be shirtless, but his frame is not nearly as "ripped" as a Wahlberg, Beckford or Beckham. The diversification of the kinds of images used to sell men's grooming products reflects the diversification of the market in general. Explains Meyer, "The larger an industry, the more fragmented and specific it gets."
Whereas just a few years earlier, men might have been self-conscious to admit any involvement with grooming products, at this point, men are legitimately interested in the benefits of looking their best. They want to look "well-groomed, tan, [with] less wrinkles, fuller hair, [have] no [or] less acne, smooth silky skin and anti-aging options," according to Larry H. Oskin, president and founder of Marketing Solutions, a marketing agency specialized in the beauty industry. As Meyer points out, "younger men (ages 25-40)... grew up using hair gel and other 'metro' hair products for men, so using skincare is a natural evolution."
Check out the original AskMen article to find out which how men's grooming is being represented in ads in 2015.