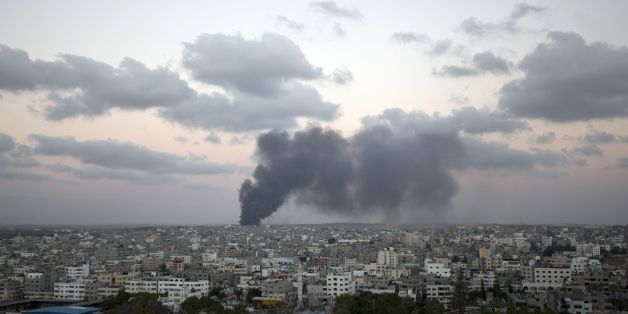 What would the U.S. do if it were attacked by Canada or Mexico? So goes the refrain of those seeking to show the supposed inevitability of the war in Gaza. Yet this framing glosses over the underlying reality of the continuous occupation. Gaza -- as is the West Bank -- is not a sovereign nation. It is occupied territory: Israel controls its land crossings, airspace, territorial waters, the population registry, and it can invade whenever it wants to.
In times of war, it is critical to challenge the logic of those who paint the violence as "inevitable," and also to treat as newsworthy those citizens who actively challenge the conventional narrative from within Israel.
"Israel is on the attack; not the defense." This is the title of an op-ed by Yehuda Shaul in the Israeli newspaper Haaretz. Shaul, whose essay refutes the thinking that interprets the so-called "Protective Edge" Operation as a war of necessity, is one of the founders of Breaking the Silence -- an organization of veteran combatants who served in the West Bank, the Gaza Strip, and East Jerusalem.
Since 2004, the veterans associated with Breaking the Silence have exposed, by way of testimonies, the daily ugliness of the Occupation. Their objective is to break the silence within Israeli society about what precisely it sends its young persons to do in the occupied territories. They harass, they loot, they humiliate, they engage in collective punishment. All these practices are authorized in the name of "security."
The veterans from Breaking the Silence struggle with their experience of moral collapse sanctioned by military orders, on the one hand, and with their return to Israeli civilian society, where the ramifications of the occupation of another people are silenced, on the other.
"In order to become civilian again," according to Breaking the Silence website, "soldiers are forced to ignore what they have seen and done." What these courageous veterans have realized is that they could not simply continue their lives "as usual" and that they needed to generate an open and honest public debate about the Occupation of Palestinian people and territories.
Almost five decades of military occupation have transformed Israeli society, and the young veterans call it by name. That racism, hatred, ethnocentrism, and devaluing of Palestinian lives have reached new levels is not surprising. On Saturday July 12th, 2014, a group of Israeli protesters against the current Gaza massacre was violently attacked by right wing ultra-nationalists shouting "death to the Arabs" and "traitors" as well as obscenities to their fellow Israelis. The police, witnesses and participants recounted, did not protect those activists protesting the bombardment on Gaza. Did such culture of impunity emerge over night? It never does.
Yeshayahu Leibowitz (d. 1994) known by some as the "conscience of Israel," already knew Israeli society was heading down that road after the attack on Kibiyeh on October 14th, 1953. Israel attacked the Palestinian-Arab village of Kibiyeh in response to a hand grenade that killed, the day prior, a mother and two children in their sleep in the Jewish town of Yehud. In the aftermath of Kibiyeh, 50 Palestinian villagers were killed and 40 houses destroyed.
In reflecting on the first occasion of publicly discussed and condemned form of collective punishment against Palestinians, Leibowitz, a deeply observant religious Jew, offered profound reflections:
"We must ask ourselves: what produced this generation of youth, which felt no inhibition or inner compunction in performing the atrocity when given the inner urge and external occasion for retaliation? ... The answer is that the events at Kibiyeh were a consequence of applying the religious category of holiness to social, national, and political values and interests -- a usage prevalent in the education of young people as well as in the dissemination of public information ["After Kibiyeh (1953-4) in ed. Eliezer Goldman Judaism, Human Values, and the Jewish State (Cambridge, MA: Harvard University Press, 1992), p.189]."
For Leibowitz, Israel was not holy and thus was not beyond criticism. It would not surprise him that one executive officer of a division brigade recently wrote to his soldiers to persevere in Operation Protective Edge because it amounts to a defense of God against God's enemies. He was a firm critic of the curious alliance between religious and secular Jewish Zionists, an alliance that has enabled the settlement project in the territories occupied in 1967. Accordingly, he would have interpreted the officer's religious justification as an outcome of "the transformation of the Jewish religion into a camouflage for Israeli nationalism."
"Counterfeit religion," Leibowitz continues, "identifies national interests with the service of God and imputes to the state -- which is only an instrument serving human needs--supreme value from a religious standpoint ["The Territories (1968)" in. ed. Eliezer Goldman Judaism, Human Values, and the Jewish State (Cambridge, MA: Harvard University Press, 1992), p.226]."
Six decades after Kibiyeh and 47 years of Occupation, Israeli leaders openly incite for the inevitability of killing and collective punishment as well as the desirability of an exclusively Jewish society. Leibowitz's prophetic words reverberate strongly today with shocking but not surprising open expression of genocidal intentions and aspirations.
But what might those of us who think about peace-building do while Gaza is burning down to the ground? Let's recognize voices of dissent -- social and political actors who let universal conventions of human rights as well as their own conceptions of Jewish values and memories challenge the boundaries and meanings of their Jewish-Israeli identity. They do not come from outside. Nor do they disengage from identification with Israel by philosophizing or theologizing Zion out of Jewish identity. Rather, critique from within and on the ground invites reframing what it means to be a citizen and rethinking whether humiliating, constraining the movement of, shutting down water supply for, uprooting olive trees, demolishing houses of, and killing Palestinians is what was meant by Jewish self-determination. Are there other paths for this sociopolitical and cultural project? Leibowitz had a few ideas that were substantively Jewish. Likewise, Breaking the Silence refuses to remain silent and blind.
On the eve of the ground invasion of Gaza on July 17th, 2014, activists spent the night at the center of Tel Aviv reading testimonies of soldiers from Gaza -- testimonies that challenge the logic of inevitability underpinning the aerial and ground assaults on a place that is already one of the most impoverished and desperate places on earth. Let's not call it "defense" but "offense"; let's talk openly about the occupation in the midst of Israel's communal drive for "solidarity" and "uniformity." Breaking the Silence, along with other organizations such as Combatants for Peace, Rabbis for Human Rights, Betzelem, Adala, the Association for Civil Rights in Israel, and New Israel Fund, challenge the logic of inevitability. These voices must be heard.