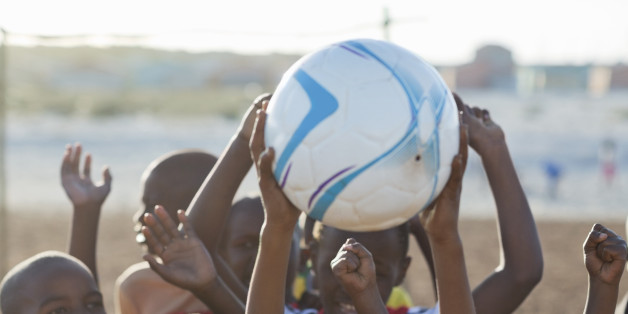 When the late Fred Rogers appeared before a senate hearing to defend PBS' funding, he articulated before some of the nation's most powerful political players his motivation for his famous program Mr. Rogers' Neighborhood:
"I am constantly concerned about what our children are seeing on television."
One can only imagine what the children of vast areas of the Muslim world see every day on their television sets.
They are exposed to not just fictional violence on movies and shows which kids around the world call entertainment, but get live-action 24/6 coverage of devastating sectarian and ethnic conflict within their own communities. Far too many others personally witness this barbarism or are even the targets of such atrocities.
One can only imagine what the collective impact of this is having on the neurological, social and emotional development of hundreds of millions of Muslim children.
Reshaping Communal Relations and Inspiring the Youth
Yet what if we could fight back against the forces of bigotry, hatred, and intolerance in a powerful way -- by planting an indelible image into the minds of young Muslim children around the world?
Kids around the world adore three types of celebrities: movie stars, music artists, and athletes. What if we could bring a broad range of these personalities in the Muslim world together for an event celebrating diversity while showcasing unity, strength, and peace?
Imagine: A massive charity soccer exhibition or even a mini-tournament, bringing together players all over the Muslim world. Players from Iran, Iraq, Saudi Arabia, Turkey, Egypt, Algeria, Tunisia, Morocco, and other Muslim countries will share the field alongside their superstar brothers playing in Europe. Movie stars and music artists around the Muslim world will also be invited to attend and perform. Floodlights, camera, action: The Salaam Games.
The impact would be virtually limitless on so many levels:
1. Ushering in a Futbol Revolution
Coming off the heels of an incredibly exciting and talent-revealing World Cup, the Salaam Games will be produce unprecedented benefits for the overall development of the game. For instance, Egyptian legends such as Essam Haddary and Mohamed Aboutrika played in the EPL -- the Egyptian Premier League -- or other regional clubs for the entirety of their careers. While many of these players chose to play close to home, far too many simply never got the opportunity. Now with greater exposure to the profoundly rich and largely untapped soccer talents in the Muslim world, players such as Chelsea's Mohammed Salah are rapidly being "discovered" and snapped up by elite clubs throughout Europe.
Hosting a groundbreaking exhibition match will accelerate this process by giving newcomers throughout the Muslim world a chance to play with the world's best and prove themselves. The Salaam Games will benefit coaches and scouts for the world's biggest clubs as they work to diversify and strengthen the world's elite leagues -- while developing professional soccer as a viable career option as well as opportunity to attain quality education for millions of kids dreaming of a salvation from poverty.
2. Capturing the Muslim World's Rich Tapestry
Yet this event has a deeper purpose for both nonMuslim and Muslim audiences. One of the myths that we Muslims find ourselves debunking time and again is that all Muslims are Arab or Middle Eastern, and like all Arabs/Middle Easterners are Muslim. Rather than relying on statistics or repeating this fact until we are blue in the face, why not prove it beyond a shadow of a doubt before the whole world?
By combating ignorance through myth-busting, the Salaam Games will be a powerful inoculation against the forces of bigotry, intolerance, and fear. Such a display will also produce some mind-blowing soccer for those fortunate enough to witness it in person as well as fans around the globe. Benzema, Ozil, Khedira, Nasri, Dzeko, Abidal, Yahya Toure, Dembe Ba and countless other Europe-based legends, plus homegrown players throughout the Muslim world who will know this is perhaps their best opportunity to shine. Perhaps even America's own Bilal Abdul "Bill" Hamid can represent the growing spirit of US soccer abroad while further showcasing the athletic talents of the American Muslim community at home. (Disclaimer: Proud DC United fan here)
The salivating talent on showcase is enough to make any true sports fan jettison their Islamaphobic, xenophobic, or bigoted preconceptions in order to witness the glory on the field.
3. Defeating Hatred Through Unity
Soccer players are idolized by kids ever since they learn to walk and talk. Those who make it to the highest levels in Europe become demi-gods. If adults and children alike throughout the Muslim world see their national heroes play alongside players from other sects and ethnicities, it will set an indelible impression on their mind:
"I can't possibly hate people from [insert sect, ethnicity, nationality], because my hero is playing alongside them!"
As the name implies, the model will be our Jewish cousins' Maccabiah Games. Soccer players across the Muslim world will be invited to play along with players based in Europe, Latin America, the US, and elsewhere. There should also be an accompanying junior match and/or tournament featuring local youth players and kids from all of these countries.
This event is designed to be a product of the Muslim World, including all of its ethnicities, nationalities, and religions. Indeed nonMuslim players throughout the Muslim world such as the Iranian national team's first Christian captain Andranik Teymourian will be prominently represented in order to use the power of sports to improve interfaith relations and uplift the profile of religious minorities throughout the Muslim world.
Indeed the entire theme of the event will be designed to forge unity and harmony. Teams will completely mixed with regards to the nationality, ethnicity, and religious/sectarian identities of the players. Movie stars and music artists from across the Muslim world will also be invited to perform, and the themes of their performances will incorporate ideas of respect, peace, compassion, and harmony.
The Salaam Games can defeat suspicion and hatred in an enduring way which no book, sermon, or edict ever could.
4. Creating An Immediate Humanitarian Impact
Beyond serving as a powerful symbol for peace and unity, the Salaam Games will be designed to mitigate some of the horrors of conflict. Guests of honor will include victims of sectarian, ethnic, and nationalistic conflicts around the Muslim world. Organizers and partners of the Salaam Games should also establish a compensation and assistance fund to compensate both the invited guests as well as other victims who have not already received sufficient assistance by their governments, international bodies, or NGOs.
Yet not only will the Salaam Games recognize and assist these victims, but the entire event will also be designed as a charity exhibition from its conception. All proceeds from ticket sales, advertising, merchandise, and broadcasting rights slated for a most-worthy cause: Aiding communities of Syrian, Palestinian, and Iraqi refugees. In addition to the proceeds, all partners -- from FIFA and multibillion dollar corporations as SABIC, Turkish Airlines, Etihad Airways, and NGOs such as Qatar Foundation, and Kuwait Development fund to local businesses -- will participate with the understanding that there will be a mandatory 2:1 aid-to-operational costs ratio. For every dollar spent to fund or promote the event in any way, two will be instantly earmarked for immediate disbursement to the Red Cross/Red Crescent, UNRWA, UNICEF, Islamic Relief, and other international organizations and agencies operating within Syria or any of its neighbors hosting refugees.
To check against corruption and labor issues, the Salaam Games would only be held in a city and venue which is already equipped to handle such a global event. My suggestion for the innagural event: Istanbul's storied Turk Telekom Arena.
How beautiful it would be if an event showcasing sectarian and ethnic harmony can also help mitigate some of the horrors resulting from the very lack of these concepts in a meaningful and tangible way. This project would bring together a wide variety of NGOs, corporations, businesses, and governing bodies across the Muslim world to create an unique and unprecedented multinational charity project -- yet another groundbreaking innovation made in the Muslim world.
5. Beyond Soccer: Creating a Globally Replicable Model
Perhaps the greatest beauty of this model lies in the adaptability of its simplicity. Rather than being confined in its utility and relevance to the Muslim world, or even within soccer, it can be readily adaptable and replicable in a variety of regional sporting contexts. A global cricket tournament can be held to unite South Asian nations (who have long been in conflict with and distrusted each other) along with other commonwealth cricketing nations. A baseball tournament can showcase unity amongst Canada, the US, Central America, the Caribbean, Japan, as well as Korea and China where baseball is rapidly increasing in popularity. A basketball tournament could unite countries on three different continents as the sport continues to takes off in Europe and Asia. Badminton in East Asia, Sepak Takraw in Southeast Asia... the possibilities are endless. As long as the teams are mixed, each of these tournaments would potentially yield all of the aforementioned benefits of the Salaam Games.
6. Practicing What We Preach: Inspiring Real Change
In order to affect actual change in socio-cultural attitudes, activities should be coordinated in tandem with the exhibition. Days out of the weeks leading up to, during, or even following these tournaments can include a range of activities. For instance, one day can be designated as "Visit Another Religious Sanctuary" day in which the general public is encouraged to step out of their socio-religious comfort zone and engage with others in a meaningful way. Likewise, to reinforce the emphasis on humanitarianism and community empowerment, another day can be designated as Sadaqa ("charity") Day in which everyone is encouraged to not only donate money and goods to charity, but to also offer pro bono services within their communities.
Even while witnessing every imaginable political conflict and strife, the Muslim world has produced some of the greatest discoveries and innovations in human history. It has given rise to the world's greatest civilizations, many of which are eternally preserved. In today's no-less turbulent world, the Muslim world can produce yet another spectacle for the ages-while fostering meaningful, positive changes around the world.
7. Creating a Shared Humanity
A sports tournament by itself, no matter how well intentioned, boldly conceptualized, and well-organized, cannot bring about world peace. Yet the Salaam Games can foster greater understanding between the peoples of the world. It can help mitigate some of the horrors of war through stimulating greater humanitarian aid while exorcizing its invasion of impressionable minds of our children. In the 21st century, "tolerance" is such a low-bar. We should be striving for mutual understanding, respect, and love.
By itself, nothing can work miracles. Yet the Beautiful Game may just help us get there, one heart and mind at a time.
Dedicated to Aitazaz Hassan Bangash, the 276 girls kidnapped by Boko Haram, the youth of the Arab Spring, and children in underserved communities everywhere.
If you are excited at prospect of turning this vision into reality, please share via social media with the hashtag #TheSalaamGames