After Sunday's NFC Football Championships, the big story wasn't the Seattle Seahawks' spectacular comeback, it was cornerback Richard Sherman's "outburst" in a post-game interview about San Francisco 49er Michael Crabtree. Sherman's outburst has been the subject of Twitter wars, public scorn and heaping praise in the past 24 hours. Whether you love his antics or hate them, there is something you can learn from him to get ahead at work: self-promotion is a key to success in any career.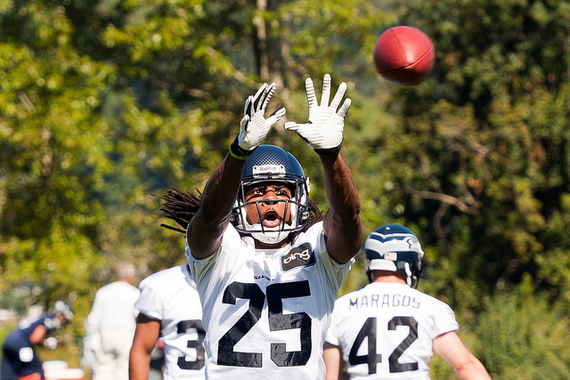 Photo credit: Mark Samia/flickr
We all know that teamwork is essential to career success. But you have to stick up for yourself as well. If you don't tell your co-workers, your bosses and the whole world what an incredible person you are, it's just too easy to fly under the radar. You don't need to hog the spotlight, but being too humble at work can be just as damaging to your career as being a self-centered jerk. This is especially true when it comes to salary negotiation. People who ask for raises, negotiate their salary and document their successes publicly are the ones who earn more money.
Think of some of the most successful business people in recent memory -- Steve Jobs, Jeff Bezos and Richard Branson -- none of them are famous for being shy or humble. They're proud of their achievements, and they're not afraid to tell you all about them. While they may be the subject of controversy, they're certainly successful. Need more evidence? Two words: Kanye West.
Self-promotion is especially important for women, who are often socialized to be humble and accommodating to their peers. PayScale has proven that the gender wage gap isn't a result of women being paid less for doing the same jobs as their male counterparts (except in executive roles, where the pay gap widens); it's the result of fewer women working in high-paying fields and advancing to executive roles. If women want these high-profile positions, they need to take a cue from the outspoken likes of Richard Sherman and start telling everybody how amazing they are.
If this list of inspiring successes isn't enough to make you start showing off your accomplishments, here's another thing to think about. Take a look at your favorite social media feed, whether it's Facebook, Twitter, Instagram or anything else. These platforms are just streams of people bragging about how fabulous their lives are. Studies have shown that this trend can damper your own self-esteem, but why not use it as fuel to inspire you instead? If you feel comfortable telling the Twitter-sphere every time you walk into a fabulous restaurant, why does it feel so strange to tell your boss what a good job you did on your last assignment?
Back to Richard Sherman, our new career advice guru. Sure, he faced some criticism after his spirited outburst. But as the dust settled, his defenders grew louder as well, calling him "Everything That is Right About the NFL" and a "smack talk poet." He made the biggest play of the game Sunday night and secured his team a place in the Super Bowl. And he graduated second in his high school class and has a degree from Stanford, so it's hard to accuse the guy of being dumb -- read his eloquent response in Sports Illustrated for further evidence. And at the end of the day, his name is a lot more well-known than it was last week.
So take a note from Richard Sherman and start asking for the recognition you deserve. What do you think makes for appropriate professional self-promotion? Join the conversation on Twitter or in the comments section.