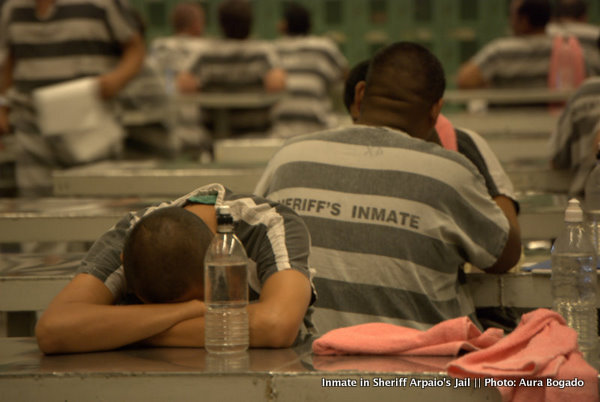 Even in its current scaled-back version, Arizona's SB 1070 and the Obama administration's response to it has already given us an indication of the schizophrenic and flawed approach the federal government will likely take once it finally moves forward on Comprehensive Immigration Reform. Although US District Court Judge Sandra Bolton placed a temporary injunction on some parts of the legislation before it took effect late last week, her decision has proven to be a distraction from the true problem at hand in Arizona. Bolton's ruling, meanwhile, has done nothing to stop Maricopa County Sheriff Joe Arpaio's unique brand of enforcement against immigrant communities. Only dedicated civil disobedience has thus far been successful in interrupting Arpaio's infamous "sweeps," which target brown people for deportation.
Some immigrant advocates lauded Judge Bolton's decision that law enforcement officers cannot be mandated to inquire about immigration status in the course of a traffic stop or detention. Bolton also temporarily blocked the portion of the bill that would have required all immigrants carry proof of their status at all times. Additionally, Bolton's ruling allows anyone, regardless of their status, to solicit work in public.
But it's important to remember that Bolton's decision has rendered the entire state of Arizona a trap against not only undocumented immigrants but against their advocates as well: The fractured ruling still makes it unlawful to simply give a ride to any undocumented immigrant -- and the law allows for impounding the car anyone doing so. Local lawmakers are now barred from creating "Sanctuary Cities," prohibiting measures that protect the nation's most vulnerable immigrants from being separated from their families and communities. Under the new legislation, private citizens will now be able to sue cities they believe are not enforcing federal immigration law. It also instructs the state to cooperate with the fed on undocumented immigration.
The now splintered SB 1070 will further criminalize people with long ties to their local communities and mirrors an already broken federal immigration system. Legally, immigration is a civil matter administered through paperwork at the federal level. Increasingly, it is becoming a criminal matter handled by rough-and-tumble local law enforcement.
Local police officers and deputies already inquire about immigration status throughout Arizona's largest county, Maricopa, where Sheriff Joe Arpaio has made immigration his top priority -- even over serious crimes like rape and murder. Arpaio, who operates from his Phoenix headquarters, has been aided in his peculiar obsession against brown people by a contract with the federal government called 287(g), which invites local officers to enforce federal immigration law. Drivers in Phoenix have long been deemed "reasonably suspicious" of being undocumented simply for looking Latino. These drivers are subsequently questioned about their immigration status, and those who cannot produce paperwork proving they are in the country legally are turned over to federal immigration authorities -- but not before being dragged through the pits of Arpaio's notorious jails. Regardless of Bolton's ruling, Arpaio's brand of enforcement, which targets brown people regardless of their status, will continue with the federal government's blessing.
President Obama has failed to end Arpaio's discriminatory practice with the swift ink of an Executive Order -- rather, his administration choose to renew its 287(g) contract with the Sheriff just last year. Federal lawmakers have consistently failed to bring immigration to the floor, and Judge Bolton has failed to issue a complete injunction against SB 1070.
In lieu of executive, legislative and judicial fairness, hundreds of people have traveled to Arizona to join countless others in civil disobedience against Arpaio's tactics, which they say sows seeds to terror and splits families apart. Last Thursday, a group of activists managed to stall one of Arpaio's planned immigrant hunts for several hours. Referred to as "crime suppression sweeps," the Sheriff's operations do little to stop actual crime -- instead, the increased traffic stops serve as a way to instill fear in the local immigrant community. Because the three branches of government have utterly failed to address the issue of immigration in a just way, 12 people put their freedom and their bodies on the line on Thursday, blocking the entrance to Arpaio's jail. Deputies had to put their sweep on hold to subsequently arrest the dozen people who stood up for humanity, at a time when the federal government seems unable -- or unwilling -- to do so.
Without a mass pro-immigrant movement that takes a stand for basic civil and human rights, what's taking place in Arizona is only a preview of the final version of Comprehensive Immigration Reform that will soon come to a city near you: increased enforcement against suspected immigrants and criminalization of the undocumented and those who advocate for them. In Phoenix, people have blocked roads and chained themselves to jail entrances to block dubious immigration enforcement. Advocates in cities around the nation have marched and created their actions to denounce Arizona's SB 1070. Perhaps federal lawmakers will stand on the side of justice, and heed and honor what everyday people are doing to stop Arizona's harmful practices.