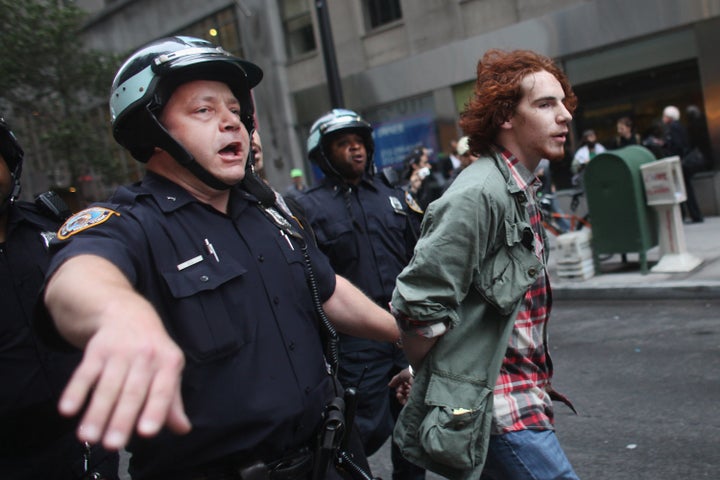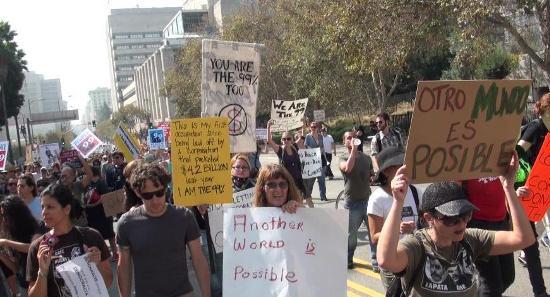 Image: Aurelia Fierros
Occupy Los Angeles, the local affiliate of Occupy Wall Street continues to gain momentum, as unionized workers and several immigrant rights groups have formally joined forces with the movement.

About 250 additional activists and immigration advocates, including the Coalition for Humane Immigrant Rights of Los Angeles (CHIRLA), are now part of Occupy LA. With this move, starting Wednesday, the Angelino Latino community -totaling 4.7 million in the whole county - has gained representation within the pressure group.

Their demand for social justice includes full rights for immigrants, and to put an end to deportations that have reached a record of 400-thousand people this past year, despite Obama's campaign promise of immigration overhaul.
The local Occupy movement has been voicing other causes also common to the Hispanic population: high unemployment levels and the real estate bubble that has left thousands without a roof; to mention a few.
Hundreds of workers, veterans, and labor organizations have marched and rallied against the so called "corporate greed" since Oct. 1st, when the movement installed an encampment in the City Hall's lawn. Occupy LA has grown steadily to about 400 tents and an estimate of 700 people staying there each night, according to organizers.
Occupy Wall Street has been heavily criticized and in some cases depicted as a pro-socialism revolt, sponsored and fueled by left-wing ideologues. According to the people who have joined, nothing is more distant from the truth.
The facts are that, the Occupy movement is an expression of deep dissatisfaction with Washington politics and policies, which have resulted in privileged benefits to those who have control over the financial system and the markets, while the middle class is becoming extinct and the working class continues to sink in poverty, as shown in recent Census data.
Analysts highlight the fact that OWS has no specific agenda, no plan to become a political institution and warn that both components are needed to accomplish any sort of impact on politics or on policy. In those terms, they also say that the Occupy movement and all of its 'satellites' are destined to fade away. It's early to be that conclusive.
While conservative opponents admit that the movement is growing quantitatively across the United States, also argue it lacks a list of clear objectives; which, they consider, sends an ambiguous message that attracts all sorts of people within the ideological spectrum, increasing proclivity to extremism and violence.
Despite its critics and lack of leadership, those who have joined the movement say OWS purpose is very clear to them: sending a message to their representatives and to the president himself, that they are tired of the passivity and the simulation of Washington.
They also want to send a message to their detractors: Occupy protests are not comprised by a bunch of angry in-debt students, noisy anarchists, disoriented hippies or countless 'freeloaders,' as they are being tagged by those condemning the movement.
For those who have paid a visit to any of the Occupy encampments across the country, they might have noticed that, yes, some hippies, homeless and even some communism promoters, hang out on those sites; but is also true, that the vast majority who have joined the movement are blue collar workers, laborers and even -at least in Los Angeles- some real estate agents, protesting against Washington policies and the Wall Street gamble.
Andrés Herrera, is a 45 year-old Latino from Boyle Heights and he joined Occupy LA to give voice to a portion of society that he says needs to be represented in the movement. "I am a veteran and a convict," he explained. "I have no rights and it is nearly impossible for me to get a job. I am also part of the 99 percent."
"My message to corporations is to give people another chance. You guys got another chance. I had no opportunity to say 'no' to the president and 'no' to Congress to not bail you out. So how can you not give me an opportunity to get bailed out? Give me a chance," claimed Herrera.
Mayra Rios, also a Latina resident of the city of Ontario, joined Occupy LA because she feels unrepresented in Congress.
"Here we have all the special interest and lobbyist and politicians all they want to do is to get reelected, so they represent the one percent, and nobody is representing the 99 percent; so I feel unrepresented in Congress and it pisses me off!"

Other Occupy Los Angeles demonstrators also said they're tired of their eroding wages, the lack of opportunities, their no-longer affordable mortgages and credit cards' soaring interests. They want to see a real change in Washington, demand laws that protect the electorate and claim affordable housing, job creation, fair wages and now also immigration reform. In general, people who have joined Occupy LA expressed discontent toward politicians and the corporate culture in Washington, Wall Street, and in the whole nation.