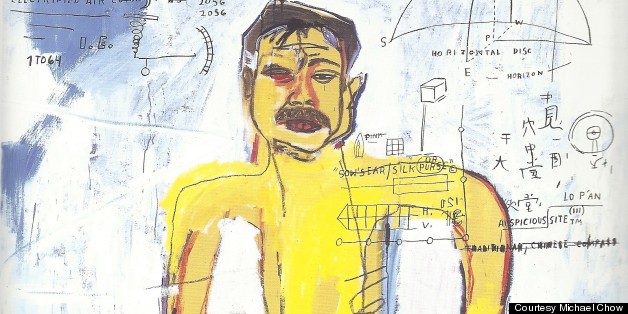 When Jean-Michel Basquiat was still sleeping on friends' couches in the 80's, Michael and Tina Chow were helping him survive. They purchased his paintings. They commissioned him to paint their portraits. They fed him and befriended an artist they believed in.
Few establishments were hipper in the mid-80s than Mr. Chow, on Manhattan's East 57th street. On a given night, one could observe the biggest stars of New York's exploding art scene there. Describing a dinner there attended by Basquiat, Andy Warhol, Keith Haring and Duran Duran's Nick Rhodes, Cathleen McGuigana observed for a New York Times Magazine cover story about Basquiat in 1985 that the restaurant's fine menu and "elegant cream-lacquered interior" placed it "light years away" from artist hangouts a generation before.
"But art stars were different then," she added.
It's been 25 years since Basquiat died of a drug overdose, but Michael Chow still remembers the young, tragic art star vividly. He reflected on the brief and bright life of his friend in a conversation with Jim Shi for Christie's, the art auction house. A May 15 auction of one of Basquiat's most famous works, Dustheads (1982), is expected to break a record for the artist, currently set at $26.4 million.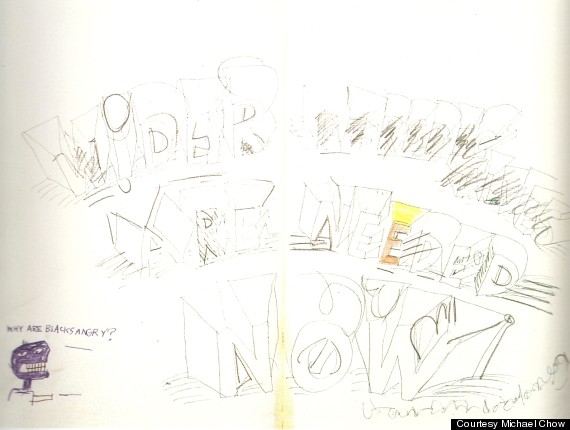 Jean Michel Basquiat
On Race
"Artists turn anger into beauty, into poetry. In Basquiat's case, his radar sensitivity on racism was very strong. I'd never met anyone so sensitive to it, and with good reason. No taxi in New York City would stop for him. He faced a lot of prejudices: There was the notion that black people could not be artists, and when you introduced him to non-African Americans, if he sensed even the littlest bit of racism, he wouldn't shake your hand.
On Sophistication
"He was an international painter and he wanted to be a worldly man. He was very curious. I remember when we traveled to Hong Kong and spent two weeks there and had a great time. I took him to my tailor and he went crazy, buying everything in sight. Then we met very prominent friends of mine who invited us to a very expensive restaurant at The Peninsula called Gaddi's. He immediately called the waiter over and quietly ordered the most expensive bottle of wine.
On Painting
"At the end of the day, we're talking about poetry, we're talking about magic, and we're talking about making paintings that speak. At the end, you just look at the painting and ask yourself, 'does it move me or not?' [Basquiat] had the charisma and his paintings were powerful. They moved you."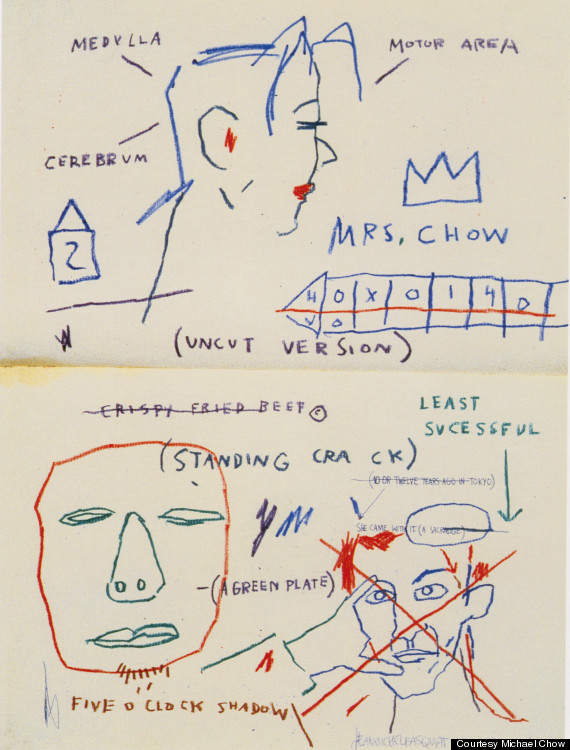 Jean Michel Basquiat
On Talent
"Most of the time when he painted, Jean-Michel didn't look at the canvas. Like Francis Bacon and a few others, spontaneity was the most important thing for him -- that organic mark. And yet he had this accuracy with anatomy and with truth, which is evident in his fantastic drawings."
On Ambition
"Of course he was very ambitious. He wanted to be the greatest painter in his category, and he succeeded, I think. He was a powerful, powerful painter."
On Friendship
"I didn't know this at the time, but I was kind of a hero to him for whatever reason. His calling card, in order to introduce himself to me, came in the form of a painting of myself that he left on my doorstep in 1985. And since I acquired it so easily, of course my first reaction was that I didn't treat it very well."
"Soon after, we fell in love with each other, so to speak."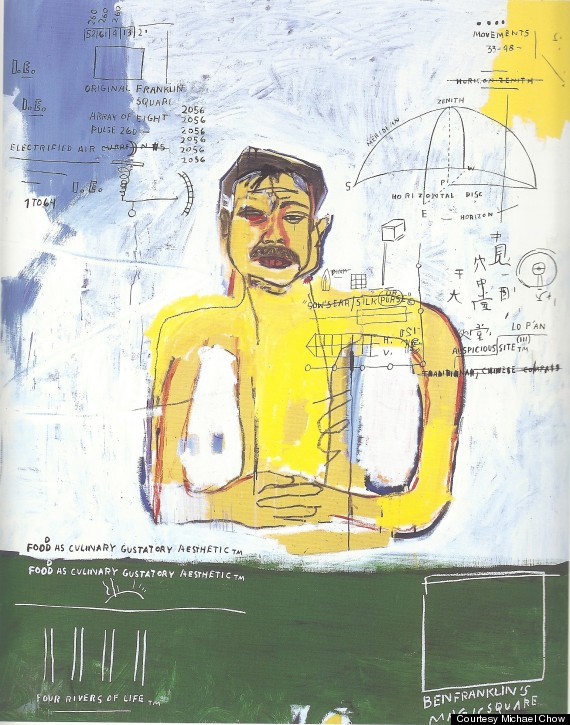 Portrait of Michael Chow by Jean Michel Basquiat
On Put Downs
"Even during the period of his greatest success, the establishment still did not acknowledge him. They were still putting him down all day long.
"But the more times you go down, the more you come back with a vengeance. Someone once said all artists have to get knocked down three times. If you can do this, like Muhammad Ali did winning three championships, then you become the greatest."
On James Dean... and Cuddling
"Like James Dean, one doesn't know what the future would have held for Basquiat. Some do very well, some don't do very well. Most artists, I believe, only have six golden years. After that, it's difficult to reinvent again. Jean-Michel had his six years. If I saw him today, I would just cry for five minutes and give him a cuddle. I can't put into words the impact he has had on me. In short, I loved him.
Stay connected to Christie's on Facebook, Twitter, Tumblr and Instagram.