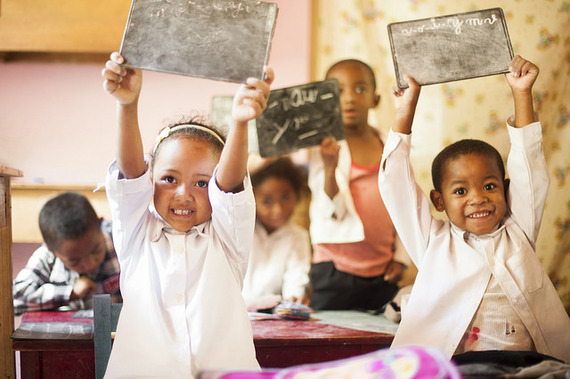 On June 26, 2014, leaders of the international community gathered in Brussels to make a clear and convincing statement that we must redouble our efforts to bring quality education to children in poor countries.
That was the day when the Global Partnership for Education, whose board I chair, held its Second Replenishment Pledging Conference. At the Conference, 85 donor and developing countries, civil society organizations, foundations, multilaterals and businesses pledged a combined total of US$28.5 billion in new commitments for global education for the period of 2015 to 2018.
The total far exceeded what we had hoped, sending a signal to the world that educating all the world's children ranks high atop the global development agenda. It gave the more-than-a-decade-old Education for All movement a boost of momentum that ought to propel action for a number of years to come.
Inspiring Example From Developing Countries
As important and exciting as that overall outcome was, perhaps the biggest story in Brussels was the performance of developing countries. Thirty-nine developing country partners of the Global Partnership pledged to increase the amount they spend from their domestic budgets on education, an important factor in the long-term sustainability of their education systems. Combined, those increases added up to US$26 billion, far more than the ambitious goal of US$16 billion we had set for such commitments - a truly remarkable outcome.
Through their actions, developing country partners are saying that they will make an extra and in many cases difficult effort to build their education capacity. They understand the power of education to transform individual lives and entire societies. They know that by educating their children, they are investing in moving their countries from poverty to prosperity, from weakness to strength and stability and from conflict to peace.
These developing countries are telling us they are ready to become more self-sufficient, even as they may still require the help of other countries and institutions for the next foreseeable years. The example they set is inspiring. It is a powerful message that the entire world should notice and emulate.
Strong Commitments From International Partners
Indeed, the rest of the world has taken note. As donor nations pledged a combined US$2.2 billion in development assistance for education, major foundations and civil society groups also committed to funding and technical support, and several global businesses weighed in to help with large pools of resources.
Altogether, these constituents of the Global Partnership - represented by more than 800 delegates at the Conference in Brussels - cast a vote of confidence in the power of education to lift the lives of millions of children.
Every nation and organisation that pledged will be held to account on honouring their commitment.
An Urgent Call to Action
The stakes could not be greater. More than 58 million children around the world are simply not in school and 250 million are not acquiring the basic knowledge and skills they should by grade four. That's a monumental challenge, which requires not only billions in funding but also a relentless focus on several important subsidiary challenges, as these seven calls to action prescribe:
Ensuring children in fragile and conflict-affected states - among the largest segments of the out-of-school population - get access to a quality education.
Continuing to pursue greater gender parity at the primary and secondary school levels, with a special focus on the most disadvantaged girls. Educating girls is one of the most productive steps a country can take to promote economic development.
Giving more children with disabilities the access they need to attend schools and learn. Too often these children are neglected and cast aside, even as they possess the same potential as others to learn and fulfill their dreams.
Lifting quality so every day at school is a day of learning and children leave primary school literate and numerate.
Training and supporting good teachers, many of whom are asked to devote their lives to bringing good schooling. Good teachers are in short supply and need encouragement to go to hard-to-reach areas.
Investing in early childhood care and education, which are proven to improve learning outcomes over time.
Strengthening accountability in education by improving data collection to heighten transparency and accountability of education systems.
June 26 was in many ways an important turning point for those of us who are working on the global education agenda. It told us that, in spite of some decline in development assistance for education in recent years, the international community is ready to inject new and needed energy into this mission.
And we do so with the extraordinary example of many developing countries, which are standing up to the challenge and beckoning others to do the same. Now we all must act, together.
____________
Julia Gillard, former Prime Minister of Australia, is Chair of the Board of Directors of the Global Partnership for Education, the only global multilateral partnership devoted to getting all children in school and learning.