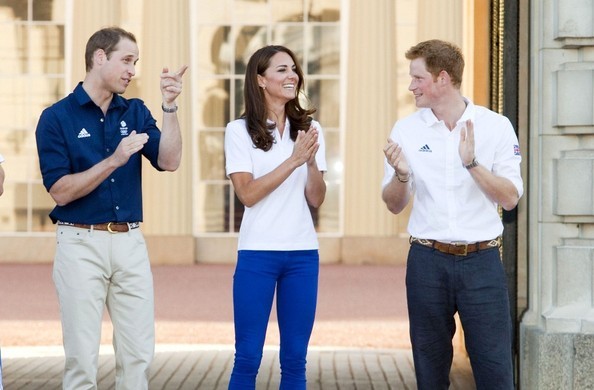 Congratulations to the Duke and Duchess of Cambridge on the birth of their baby boy, George Alexander Louis, future King of England. The international media attention on the pregnancy, birth, and now the young prince has been overwhelming. I am currently traveling in the Middle East and even here the local media is broadcasting live from London.
The media is focusing on the many subplots to this story which seem to be in abundance considering some of the historical dysfunctions in the royal family. One such angle which has been garnering some attention online is about William's absence in the days leading to the birth while his brother, Harry, served as some type of surrogate husband for pregnant Kate. Beyond the tempting gossip and sleaze that some media outlets are indulging in with this news, the role that Harry plays in the life of William, Kate, and now Prince George is a fascinating and personal story.
Harry's role in this young family's life is an important and unique aspect of the bond that has developed between William and Harry. This, in turn, can also inform our understanding of sibling relationships in general.
The relationship that has developed between William and Harry has been driven by two important and unique circumstances. First, their relationship has been motivated by the loss of their mother and at a young age. Studies on sibling relationships have suggested that with the loss of a parent at a young age a strong potential exists that siblings will develop a robust bond to in some way compensate for the parental loss.
Second, they are both brothers in an exclusive, and often pressured, royal club. In addition to the international media attention that their lives garner the mere fact of being part of the royal family and all that it entails creates an atmosphere that others cannot empathize with. William and Harry have a shared fate creating a symbiotic bond.
Hence it is no surprise that William and Harry have developed an intense sibling relationship over the years. Considering these dynamics Harry's current support of Kate and William is nothing but an extension of the intense sibling bond that exists between the royal siblings.
Fatherhood has the potential of intensifying brotherhood in cases where supportive brotherhood existed before the arrival of the new baby. When a positive sibling connection exists in a family, it can be relied on as a source of support during life transitions, including fatherhood. William and Harry are confirming what research on siblings has made clear: having a close sibling relationship is a crucial aspect of life-satisfaction and happiness.
Dr. Avidan Milevsky is an Associate Professor of Psychology at Kutztown University of Pennsylvania and a psychotherapist at Wellspring Counseling in Towson, MD. You can ask him questions LIVE on Twitter by tweeting him @PsycRefelctions or using the hashtag #siblingproblems on Thursdays at 5pm EST.