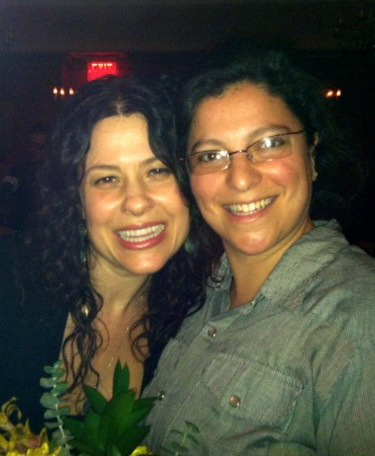 Too often, we focus on either the good or the bad, as if life were a binary framework, with only two main perspectives. In reality, an abundance of space exists in the gray areas between supposed opposites.
A few weeks ago, a friend came over on a Friday morning to help with some errands. I told her I was thinking of going from Philadelphia to New York for the weekend, but was not sure. It felt like there was too much to do; how could I go away?
"Turn off the computer, and pack your bags," she said, "You need a break. Everyone needs a break." Then she said the magic words, "I will be back for you in two hours to take you to the train station for New York" and she left.
In the Torah Portion of Va'era, after Avraham was circumcised, three angels greeted him at his tent. The angles come to help heal him and to inform Sarah and Avraham that they would soon become pregnant. Sarah and Avraham welcomed the guests with generous hospitality, washed their feet and baked their finest cakes.
The same Torah portion also contains the story of Sodom and Gomorra, about an evil land where violence, sexuality, idol worship, ego, anti-poverty and anti-mitzvah sentiments run rampant. G-d orders the destruction of the land and its people. Why? Commentator Nechama Liebowitz says that G-d declares Sodom's destruction not only because of the acts that occurred there but primarily because the horrible behaviors became part of the social norm. When a community accepts lies, bribes, stealing and cheating as social norms, when leaders and clergy lose sight of leadership, then according to the Torah, this warrants destruction.
Why would the story of Avraham and Sarah's generosity appear alongside the destruction of Sodom and Gomorra? Perhaps to highlight the wide range of possible human behaviors and to affirm that it is important for us to choose how to act. None of us are perfect but we can strive towards loving kindness.
I went to the Big Apple that weekend and had a fabulous time. Apparently the angels came to my tent as well as Avraham's. On the train to New York, I made a few calls and texts--and voila--I had a juicy line up of Shabbat meals and services to attend. I had a friend's place to stay on Manhattan's Upper West Side. Since it was Rabbi Shlomo Carlebach's 19th yartzeit, the weekend was filled with wonderful events, services, learning, meals, and music. At the renewal Romemu congregation, I also got to share in the celebration of Musical Directors and a baby naming. Walking down Broadway, the taxis, window shopping, and hot dog stands came alive. It is amazing how a little jaunt can give us a breath of fresh air; that is of course if we are willing to leave our own reality for a bit.
Reb Shlomo was a legendary musician and liberal Orthodox rabbi who lived from 1925-1994. He recorded over 25 albums and created thousands of songs that are used today in diverse Jewish communities world--wide. He was married to Neila and had two daughters, Daria and Neshama.
No matter how hard life gets, angels can still pick us up and lighten the way. At 1:00am when the shul helpers tried to sweep the crowds outside so they could clear the tables and start setting up for the morning, I marveled at the joyous schmoozing and sweet singing at 1:00 o'clock in the morning. Time faded, as discussions bubbled from renown heimisch teachers about life and upcoming classes and books. At Neshama Carlebach's concert in honor of her father's yartzeit, she sang 'Nachamu' which means 'to comfort.' May we be comforted in times of need.