Last Friday, the Philadelphia Orchestra and its music director, Yannick Nézet-Séguin visited Carnegie Hall for the third time this season, bringing with them the dashing French pianist Jean-Yves Thibaudet. Each time he wowed New York audiences and critics, and this time was no exception.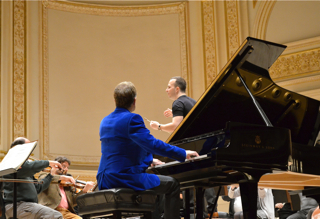 The sold-out concert started out with Gabriela Lena Frank's (b. 1972) Concertino Cusqueño, commissioned by the orchestra and premiered last October. Full of earthy tones from the string solos, piquant woodwinds and a general sense of colorfulness and liveliness, the 12-minute piece was vividly brought to life by Nézet-Séguin, who seemed to have great fun with it.
Next on the program was Ravel's Piano Concerto in G major. After hearing a rather sprawling Ravel la Valse from them a month ago, I was not sure what to expect, despite my high regard for the conductor. I was pleasantly surprised, however. Thibaudet played with a very light fluid touch, and the orchestra's accompaniment was brisk and very focused. The 41-year-old pianist really has that French thing nailed down -- that snobbishly nonchalant, relaxed vibe. The trills in the cadenza were not artfully contrived; they were remarkably relaxed and casual trills. It's not spectacular -- but it's inimitable and it's very, very, French.
The second movement was a dream -- while Thibaudet played without any fuss or artifice, Nézet-Séguin allowed the orchestra to play amply -- a generous sound that was warm and full but not soppy. The finale was quite fast, but the pianist played without too much drive -- in a good way. Here again, he played with a pointillistic touch, light and casual. I liked his approach with its lack of hard brilliant sound; a glassy clear sound a lot of pianists employ when they play Ravel.
For the second half, Nézet-Séguin and the orchestra played Stravinsky's the Rite of Spring, which they are soon recording with Deutsche Grammophon. That's a major feat for the orchestra that recently declared bankruptcy and had not had a major-label recording in over 15 years. It's probably one of the perks of having Nézet-Séguin as its music director -- the 37-year-old has a lot of staunch believers, among them the venerated recording company Deutsche Grammophon.
Nézet-Séguin presented a very impressive Rite of Spring at Carnegie Hall. He was well in control of every aspect of the orchestra; he had a hand in all the variety of colors, textures and moods coming from it. The one thing he lacked was a bold contrast between the melodic elements and harsh jarring elements, especially in the strings. Not that it wasn't melodic enough; quite the opposite. The woodwinds had great throaty melodies and the piccolo in particular had a shrill sound that really hit you in the ears; but the strings could have played with more of a grimace at times. The music is standard repertoire nowadays, but when it was written, it was jarring and brutal enough to cause a riot. It also wasn't easy to play at all. It would have been good to retain some of that harshness and grittiness.
I've little doubt it will turn out to be an excellent recording. While there are so many recordings of the Rite that it is nearly impossible to take a novel approach to it, Nézet-Séguin has what it takes to make it a first-rate performance. His most appealing trait is the keen aggression he has, tempered by superb restraint. Add to that his youthful enthusiasm and openness, his will to succeed and the friendly and positive mood he inspires in the orchestra members, you've got a winner. It's a formula other once great, now not so much, struggling orchestras with low morale probably envy and can try to imitate. Of course, conductors of Nézet-Séguin's caliber aren't easy to find. But if you can find one and rebrand both the conductor and the orchestra into a new energetic force that the city can be proud of, there's plenty of hope out there still.