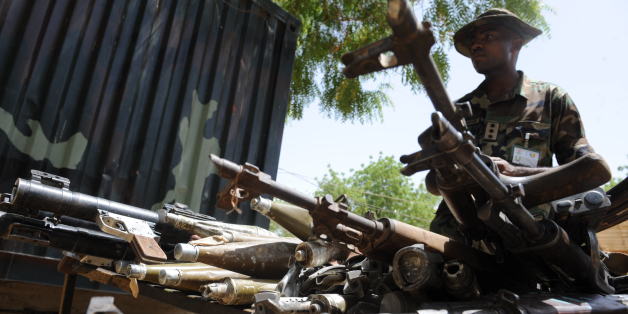 The dreadful kidnap of 257 schoolgirls from a secondary school in Nigeria has shocked and dismayed the world, rightly so.
More than 300 girls were kidnapped at gunpoint by terrorist group Boko Haram, whose name translates as 'Western education is sinful'; some girls managed to escape by jumping off the backs of trucks, but the rest are still to be found. We can only imagine how terrified they must be.
Our priority must be to find the girls. We should also denounce Boko Haram as extremists peddling a false notion of religion. I'd go further than that and refuse to call them Muslims.
Muslim tradition does not forbid women from being educated. Indeed, scripture encourages both sexes to seek learning. Boko Haram doesn't care about this; it uses the language of Islam just like the Lord's Resistance Army in Uganda used Christianity. Both use perverted religious dictum to control, terrorise and kill, to prey on children and to take advantage of weak governments.
Neither group truly represents religion at all.
In a video obtained by Agence France-Presse, a man claiming to be Boko Haram leader, Abubakar Shekau, threatens to sell the girls for as little as $12 into forced marriages or sex slavery.
CNN translates his comments in the video, in the local Hausa language, as: "I abducted your girls. I will sell them in the market, by Allah. There is a market for selling humans. Allah says I should sell. He commands me to sell. I will sell women. I sell women."
Nowhere in the Quran does it say you should kidnap young girls and sell them into slavery. In fact, it emphatically condemns any such action. Right-thinking Muslims should be furious at the attempt to invoke the name of Allah.
As Muslim human rights lawyer Arsalan Iftikhar says in his piece on CNN, "Hey Boko Haram, pick up a Quran and bring back our girls,":
the leaders of Boko Haram have clearly never read the Holy Quran, which states quite clearly that 'oppression is worse than murder' (2: 191) and that nobody 'shall force girls to commit prostitution' (24: 33).
The only hope to arise out of this atrocity is that both the Muslim and Christian world has united behind the cause. At a time where the media would like to portray Muslim as alienated, they have finally come together to reject extremism.
The hashtag #BringBackOurGirls has been tweeted more than a million times, uniting Nigerian housewives and celebrities, including Michelle Obama and Hillary Clinton. Protests have also taken place around the world, with Muslims and Christians standing side by side.
The al-Azhar Seminary in Cairo, chief religious authority for Sunni Muslims, has joined the condemnation of Boko Haram. Likewise, the Saudi Arabia-based Islamic Fiqh Academy, committed to the study of Islam, stressed to the Associated Press, "this crime and other crimes committed by the likes of these extremist organisations contradicts all humanitarian principles and moral values and violates the provisions of the Quran and Sunnah".
Boko Haram is the enemy of all Muslims, and we should treat it as such.
We must stand behind these young girls, and others like them, who only want a chance to earn an education and improve their lives. They are the truly brave ones.
As Malala Yousafzai, the Pakistani schoolgirl shot by Taliban insurgents, says: "These abducted schoolgirls are my sisters. It should be our duty to speak up for our brothers and sisters in Nigeria who are in a very difficult situation."
Indeed it should.
We owe it to those brave girls, and to Islam.
Dr Azeem Ibrahim is a Research Professor at the Strategic Studies Institute, US Army War College and an International Security Lecturer at the University of Chicago.