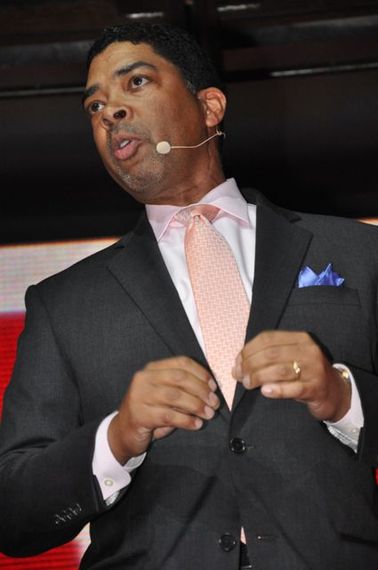 Photo Credit: REVOLT TV
Hip hop music has gone from a small genre of music that got no radio play to a cultural phenomenon that you can find traces of on every part of our planet. In the 30 years that hip hop has flourished, there have been key players involved in spreading it. Some of those are household names like Russell Simmons, Diddy, and Jay Z, but there has been a whole cast of behind-the-scenes players who have been monumentally important, yet have not received the same kind of public recognition. One of those men who have not received enough credit is Keith Clinkscales, the current CEO of REVOLT. This is a man who started Vibe magazine, was an executive at ESPN, where he helped start the immensely popular 30 for 30 series, produced the new hip hop documentary series The Message, and was also chosen as the CEO of Revolt, the network recently launched by the mogul Sean "Diddy" Combs. This past week I had a chance to chat with him about what his career has been like, and he had some amazing things to share.
Along with partner Quincy Jones, and a deal with Time Inc., Keith started Vibe magazine in 1993 as a sort of competitor to the pop-centric Rolling Stone magazine. There were already XXL and The Source in the hip hop space, but Keith felt they focused too narrowly on rap music. He wanted something that was broader, and had the cultural aspects of hip hop as well as R&B. Just going in, Keith knew that things were going to go well. He remembers the whole office listening to Dr. Dre's The Chronic as they were moving in, and there were just good omens all around. When asked if he felt impelled to portray the culture a certain way, or if he felt any particular responsibilities when taking the role he said:
Anytime you're dealing with culture you feel a responsibility because that is the foundation of our existence. Hip Hop has a very unique role, like jazz, as an indigenous American art form. And it's something that's important, and when we launched Vibe it was a complement to Rolling Stone; the other side of the Rolling Stone that wasn't being covered. And Rolling Stone had done a wonderful job giving credibility to music journalism. They had great writers, great editors, and great covers. That formula and journalistic premise they laid forward was what we came in and put our own vibe on.
Keith also spent time as an executive at ESPN where he did some impressive things. Early on, he was just happy to be part of the team where he helped start the magazine. Next was a content development group, where he was able to take part in a host of documentaries, culminating in 30 for 30 series. He felt he learned a tremendous amount there, and being able to work with ESPN allowed him truly work with the best. Keith truly believes that his experience working with ESPN prepared him to take on his new role as CEO of REVOLT.
In July of 2013, Sean "Diddy" Combs announced his picks for the top executives at REVOLT, with Keith being named as CEO. Over the past few years it has become more evident that the music business has transitioned into something completely new. Some people understood this and took it as a time to evolve, and no one has shown the ability to evolve and move forward like Diddy. Revolt TV was started as a way to be at the forefront of covering anything in regards to music in the most innovative of ways possible. Because the old-fashioned model is being thrown out, it's been allowing REVOLT to try some interesting things, which have already proven successful, and it could not be done without the direction of Keith.
This past May, Keith also unveiled the first of a documentary series that he founded based on hip hop called The Message. The basic premise was to show how hip hop has changed over the years, and to really make sure that it was documented in the most honest way possible, for the generations of people just now getting into the art form. It goes into various things such as geography, and how that was key in spreading the message from city to city. All of the most successful individuals from hip hop were included from Russell Simmons, Pharrell, Nas, Snoop Dogg, Kendrick Lamar, Rick Ross, LL Cool J, and that's really only the top layer.
Hip hop has gone from a genre of music to way of life. It's not so much a group of songs anymore, as it is a cultural movement that has been growing day by day, with no signs of slowing down. Something small that started in the Bronx now has powerful effects in all parts of Japan. As it continues, people like Keith will be leading the way behind the scenes, giving us access to something we all dearly love, so it's only right we find our way to give them the thanks they deserve. I'm excited for what is coming, and you should be too.