Written by Lauren Hartmann for Babble.com
I've always struggled with body image. It's just always kind of been a "thing" for me.
I was a chubby kid (like... real chubby). Then I sort of got taller and thinned out toward the end of junior high. Then I got chubby again in high school. Then my sophomore year of college, I lost 40 pounds. I looked dramatically different, but even then I remember still feeling "fat." I was 5'5″ and weighed 120 pounds and I felt fat. Even just writing that makes me sad.
I have only owned two bikinis in my entire life and they were only worn in situations where I was with my husband and I knew no one else would be seeing them. There are countless other situations where I made wardrobe choices based on the fact that, in my harsh opinion, I looked "fat" in them.
Then I got pregnant. I gained 55 pounds and a ton of stretch marks and let's not even talk about the boob situation. It's just... well... it's different, to say the least. But, you wanna know the weird thing? I'm actually OK with my body now.
I definitely went through some body loathing during that first year postpartum. My body looked and felt like it had been highjacked and I literally and figuratively did not feel like "me" anymore. But then a variety of things started happening that have kind of transformed my frame of mind.
Related: What post-baby bellies REALLY look like
First of all, I weaned my daughter. Don't get me wrong; I loved nursing and I was super sad when it was over, but once the fog lifted, it was amazing. My breasts were not solely utilitarian for the first time in 17 months and it felt good, like getting a little piece of my femininity back.
Then I started working out again in earnest. I discovered Barre3 fitness and it's been transforming not only my body, but my body image as well (see my posts about my Barre3 fitness journey over at my blog). Yes I have lost a little bit of weight, but not a ton. My body is changing though. I feel strong and I feel confident and I feel like "me" again. Am I at my goal weight? No. But, do I feel good about myself? YES! Because I am putting in the effort to make my body the best that it can be without obsessing over it, and I'm starting to realize that weight really is just a number on a scale.
So, in honor of this journey, I wanted to write a little letter to my "mom body":
Dear Mom Body,

I'm sorry. Sorry for all the times I loathed you and criticized you and forced you into terrible, shapeless sack dresses. I am sorry for all the times I gave up on treating you right because I "felt fat" anyway, and so I sat around lazily and fed you terrible junk. I am sorry for all the times I pointed out your flaws and for all the times I complained about you. It makes me sad to think about all the time I spent hating you, when really you have done so much for me.

Thank you, mom body, for helping to nourish and carry an 8 pound 7 ounce baby girl to term. Thank you for all of the wonderful endorphins and hormones you released to help me labor, birth and then bond with my daughter. Thank you for helping me to feed her with milk that you made. And you know those stretch marks? Thanks for those too. They are there because you grew to fit a human inside of me.

Thank you for strong arms to carry and cuddle and swing her and for legs that help me to run and play with her. Thank you for a face that she can pull in close for a kiss. Thank you for the wrinkles around my eyes, because they are there from late nights spent awake rocking my child and the laugh lines that are a sign that my life has been filled with joy.

Thank you, mom body, for all of the things that you are -- and for the things that you are not. Those are of no consequence to me anymore, because I have finally learned to accept and appreciate you. I want to continue to help you be the best you can be without obsessing over unattainable perfection in the hope that my own daughter will never have to write a similar letter to her body.

Love,

Lauren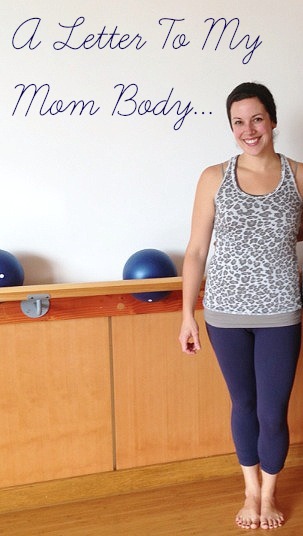 For 10 things you should NEVER say to a mom, visit Babble!

MORE ON BABBLE
20 things ALL women do but hate to admit
10 ridiculous things my bossy toddler says
5 reasons why I'm still breastfeeding my toddler