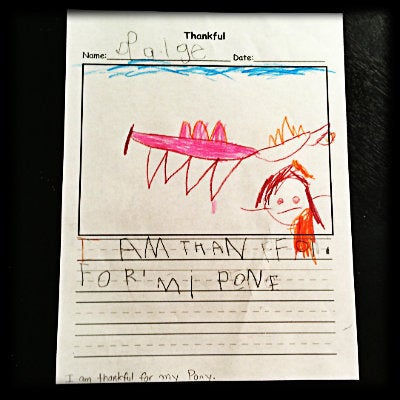 Every year my kids come home from school with loving, sweet, heartfelt letters and drawings.
"I am thankful for my Mom and Dad," the letters read.
It's wonderful, and I'm sure they mean it. But a part of me is a little sad because it's so obvious they've been coached. For the week before the drawings come home, they hang on the classroom walls. Every kid's piece is suspiciously similar. They are thankful for their house, their family, their mom and dad and siblings, etc.
Some well-meaning teacher read a story about what it means to be thankful, and they had a little chat and then they all sat down to draw, and guess what... They were all thankful for the SAME THINGS.
Here is where I sigh. Then I come up with a plan. I conspired with my son's teachers to ask the kids in his class what they were thankful for... without any coaching or stories or prompts whatsoever.
I wanted to see what they'd come up with on their own.
I'm not saying they are NOT thankful for family. I fully expected some kids to give the usual answers. But if you just flat-out ask your average 4 year old what they are thankful for, you're going to get some other answers. Like "Skylanders" (my son), and ice cream, and Disneyland.
For whatever reason I find the un-coached answers more charming, and authentic. I love how little kids are so in touch with their feelings -- the little things that make them happy. If you don't tell them what they are supposed to say, they tell you the first things that spring to mind -- that they are thankful for mac 'n cheese and hugs.
It's a nice reminder that the little things matter too.
So what were the kids in my son's class REALLY thankful for? I couldn't wait to hear....
PHOTO GALLERY
What Preschoolers Are Thankful For