Delta Queen, the renowned 1926 steamboat, bills itself as "Chattanooga's Most
Memorable Overnight Stay." It just might be.
The beloved boat, a fixture of America's rivers, was the last traditional vessel to carry overnight guests on inland waterways. It is now a historic landmark enshrined in the National Maritime Hall of Fame and a hotel on Chattanooga's vibrant riverfront.
After a long, tiring flight and an equally long dinner, I finally stepped aboard the Delta Queen and was shown to my room -- small, neat, cozy, with a bed that compelled me to hop in. Finding this hugely more appealing than joining my fellow travelers for an after-dinner cocktail, I happily surrendered to the pull of the pillow and began drifting off. Suddenly, abruptly, I was jolted by a face that appeared before me -- that of a woman -- gentle, soft-featured and benign. I couldn't explain the visage so I was left feeling unsettled and wondering what was going happening.
The next morning, I got an explanation. A guide began a tour of the boat by announcing that the Delta Queen has a resident ghost named Captain Mary Green. I asked if there was a photo of her and recognized her immediately. When I told the guide about Mary's visit, she was completely unsurprised.
"Happens all the time," she replied.
Mary was the first woman ever to be licensed to captain a boat and I learned that she lived in the room just opposite to my sleeping quarters. The Discovery Channel's Ghost Lab has done a fascinating story on her and I must confess, having Captain Mary B. Green visit me was the perfect welcome to Chattanooga.
A Contender
At one time, Chattanooga had the lamentable distinction of being the dirtiest city in America. Then, a turning-point. In 1992 The Bluff View Art District was born thanks to founders Dr. Charles and Mary Portera and a group of forward-thinking citizens. Today this area is home to a collection of cultural delights sprinkled atop a bluff overlooking the Tennessee River. There's an art gallery, specialty kitchens, gardens, fine restaurants, a coffeehouse, and a bed and breakfast inn.
This is, quite plainly, the city's future. It is also the reason the city is on an increasing number of travelers lists.
Into the Woods
Celebrating its 78th anniversary this year, the Great Smoky Mountains National Park is America's most visited park. It straddles the border between Tennessee and North Carolina and is one of America's 20 World Heritage Sites - a showcase for some of the most inspiring natural and cultural treasures that the Southern Appalachians have to offer. What a delightful photo op it was to wander in the morning light through the forest canopy's lush mountain wilderness. Water is a constant companion on this journey - cascades, rapids, and falls adorn the trails and the sound of rushing water is never far away. The air is cold, pristine, perfect, and when you're in the park, you inevitably feel energized. That mountain over yonder? I'll just climb on up and take some pictures. Planning a 4-hour hike? Count me in! You feel, well, really healthy.
Healthy.....ummmm...mustn't forget to stop at the Ole Smoky Moonshine Holler, that purveyor of liquid pleasure. Tasting your way through the woods is not such a bad idea. In these mountains, Tennessee's moonshine tradition runs strong. Scots-Irish ancestors brought their knowledge and skills of whiskey-making with them as they came to Appalachia. Conditions in the area were good for growing corn, but it didn't take long to realize a lot more money could be made from a gallon of corn liquor. Once the law began cracking down on the industry, the nature of these people and the rugged mountain terrain made way for the heyday of bootlegging.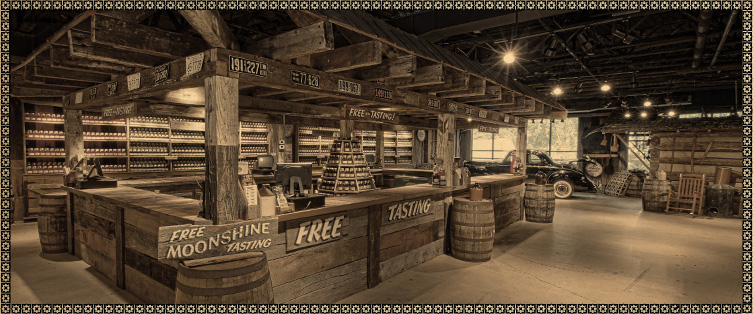 Out of the Woods
Besides forests, there's much in this part of Tennessee to experience, to learn, to discover. My visit was four full days and yet, upon leaving, I wished I had more time. There's the amazing little town of Sevierville, about 25 miles from Knoxville with a population of just 15,000. It calls itself "Your Hometown in the Smokies" and its offerings are many: amusement parks, mountain adventures, unbelievable shopping with over 120 high-end outlets, galleries, antiques, boutiques, flea markets and dining that ranges from down-home to international cuisine and authentic mountain cooking.
The village of Gatlinburg has mountain peaks rising higher than 6,000 feet and an aerial view of the Smokies aboard the Ober Gatlinburg Aerial Tramway, a 120 passenger, 15 minute, 2.1 mile tram ride up to the summit of Mt. Harrison. We took a nighttime stroll through the downtown area. Gatlinburg's Winter Magic program brightened up the night with millions of spectacular lights and Christmas displays. We received complimentary admission to some amusing attractions along the way and we shopped in a few of the more than 450 stores and boutiques.
And then there's the little burg of Pigeon Forge. It may be small, but its major attraction is grand. That would be Dollywood, known the world over and larger than life, exactly like the person it's named for. This park was given the International Applause Award for being one of the world's best theme parks with attractions, crafts, music, shows, special events and rides - lots of rides; at last count over 100 and the latest, the Wild Eagle, is a thrilling roller coaster that takes you soaring over the Smoky Mountains.
A Centenary Celebration
Taking a break from all the hi-jinks and frivolity of those irrepressible Smoky Mountain towns, one day we visited Arrowmont, a school of arts and crafts. Founded in Gatlinburg in 1912 by Pi Beta Phi, the first fraternity for women in the country, its mission was to discover, preserve, and promote knowledge and appreciation of traditional and contemporary crafts of the Appalachian region. Bill May, the Executive Director, further elucidates: "We don't try to tell the story of how art was... but rather what it is today."
This beautiful campus, nestled on a 14-acre hillside, mere footsteps from the Great Smoky Mountains National Park, feels like a world of its own.
Walking through classrooms offering education in ceramics, fiber, metals, jewelry, painting, drawing, woodworking and photography and admiring the students' art exhibits was exhilarating. The place pulses with creativity yet, equally important, Arrowmont offers students a time apart from the everyday; experiences here revolve around conversations, shared meals, evening lectures and quiet reading in the wood-paneled library. The entire place puts one in mind of a simple, peaceful Frank Lloyd Wright design -- inspiring in itself. The hours we spent there were seductive enough for me to make plans to return soon, take a class, and submerge myself in the imaginative and inspired ambience that is Arrowmont
Leaving Tennessee, I was overwhelmed by warmth and affection for a state that, prior to this visit, I had heard little about. I thought of the words of a Tennessee poem by Naval Admiral William Porter Lawrence, who described locals as "Strong folks of pioneer descent... simple, honest and reverent."
May I also offer a quote by that renowned personage of mystical bon mots, Miss Dolly Parton herself: "The way I see it, if you want a rainbow, you gotta put up with the rain."