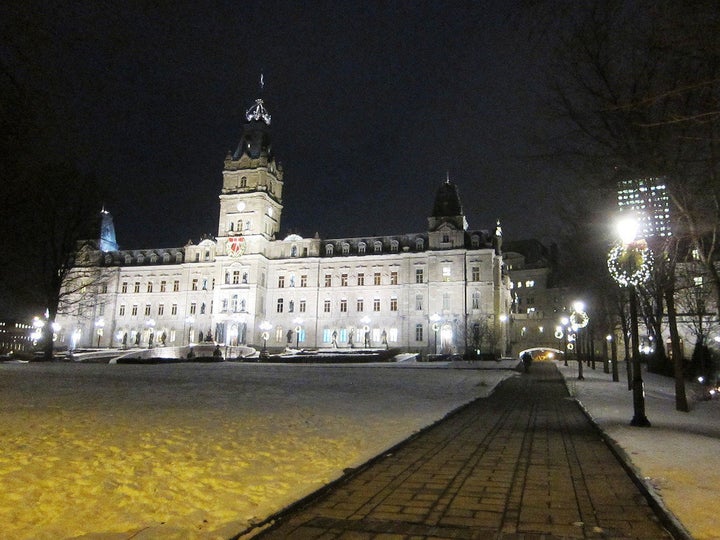 You're surrounded by 17th- and 18th-century architecture, cobblestone streets and encompassed by towering ramparts of a walled city. Strolling down a narrow alley, you find inviting shops: patisseries, epiceries and boulangeries. Are you in Dijon, Alsace or maybe even Paris? Mais non. You're in a city far more accessible but replete with all the charm of La Belle France. This, friends, is Quebec.
Quebec City is predominantly French-speaking which gives it a distinctive foreign feel. It seems at once old-world and yet very much today. One can understand why Conde Nast Traveler has named it third among the nine best cities in the Americas, and twelfth in the world.
Wonderful to visit any time of the year, Quebec is at its most seductive when the city is covered with snow, its warm lights beckoning from shops and restaurants. The Quebecois will tell you that perhaps the jolliest time to visit is when the city becomes one vast outdoor playground and hosts its annual Winter Carnival. It's when the city comes alive with sub-zero merry-making, including zip lines, night parades, concerts, snow sculptures, sleigh or dogsled rides and skating.
The Quebec Winter Carnival began when the inhabitants of New France, now Quebec, had a rowdy tradition of getting together just before Lent to eat, drink and make merry. Today, this event is the biggest winter carnival in the world and is celebrated annually at the end of January until mid-February. In 2012, the dates are January 27 to February 12. The two-week bash gets a million visitors each year from all over the world. Families are everywhere with wee kids pulled along on sleds.
Many Carnival-goers wear a traditional sash and the kids will definitely want one of the long red plastic trumpets that sound out constantly through the snowy streets. So, rather than fighting the crowds at a sweltering Louisiana Mardi Gras, be cool! Embrace and celebrate this frosty event just as our neighbors up north do. Most every Carnival event is outdoors so be sure to dress appropriately. The kiosks and other outlets in the city sell the Bonhomme mascot tag for $10 that gets you into most of the Carnival events.
Activities for Chasing the Chill Away
Besides Carnival, there's lots more to see and do in Quebec. Visit Vieux-Quebec (Old Town) high on the cliffs which overlook the St. Lawrence River and is designated a UNESCO World Heritage Site. Behind its stone walls there are world-class museums, historic sites and great shopping. Nearby, be sure to see the Notre Dame de Quebec cathedral with its bell tower dating back to 1647. You can ride a funicular down to lower town and Place Royale, the oldest part of Quebec City and the site where Champlain built the first permanent settlement in New France. For a special treat, take a horse-drawn buggy through quaint streets to the Plains of Abraham, a vast, flat, snow-covered area and watch cross-country skiing and snowshoeing.
Dining
Winter in Quebec is cold, to be sure, but its dining scene is downright sizzling. Since 1978, the owners of Restaurant Le Saint-Armour, Jacques Fortier and chef Jean Luc Boulay, have devoted themselves to gathering a passionate and thoughtful team in the kitchen as well as in the dining room (48, rue Saint Ursule, entrees from $40). Warm and welcoming, the award-winning Panache restaurant resides in a restored 19th-century maritime warehouse, a sophisticated blend of old and new (10, rue Saint Antoine, entrees from $35). From the start, Au Vieux Duluth's founders decided to offer unique dishes and generous portions of top-quality food at affordable prices. The restaurant very quickly gained recognition not only for its dishes but for its dᅢᄅcor, ambiance and exceptional customer satisfaction (579, Blvd. Wilfrid-Hamel, entrees from $25).
Hotels
No visit to Quebec is complete without checking out -- and hopefully checking into -- the Fairmont Le Chateau Frontenac, the grand castle-hotel in the heart of Old Quebec. There are 618 beautifully furnished rooms, a health club and an indoor pool. Also, the Frontenac just happens to be the most photographed hotel in the world (1, rue des Carrieres, from $185 a night). The Hotel de Glace is located just outside Quebec City. This crystalline snow bastion with cathedral ceilings is made entirely of, well, what else? Tons and tons of snow and ice. For the brave, consider spending the night in this magical atmosphere resembling the Narnia Ice Queen's palace (9530, rue de la Faune, from $508 a night including meals and cocktails).