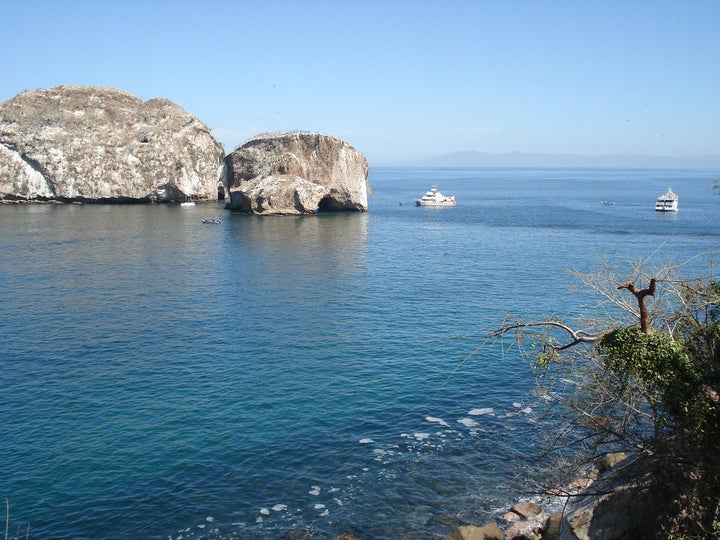 I was dangling from a steel cable suspended high above the jungle canopy in Puerto Vallarta, Mexico. As soon as I'd say the word, my guide would unhook me from the brake that kept me tethered and I'd fly 200 feet above the dense green Mexican rain forest on a 2,000-foot-long zip line. And -- comforting thought -- after this I would only have 11 more zip lines to go before I could once more board the 4x4 off-road truck that brought me here and return to my hotel to collapse (faint?) in bed.
That I, a person who tells anyone who'll listen that I'm "hardwired for cowardice," had signed on with Vallarta Adventures, whose tag is "One of the greatest adventures on earth," was out of character and, frankly, worrisome.
Nothing Adventured, Nothing Gained
I was visiting this magical town with a group of happy, devil-may-care, let's throw caution to the wind, fellow travelers who somehow coerced me into going along with this madcap plan. Shortly after signing the form that released the company from any responsibility in case of injury (or death!), I found myself speeding across the bay in a small boat before arriving at a jungle outpost and hiking along a dusty path to my next ride, a small brown mule who ambled up and down steep paths until we reached the aforementioned off-road contraption. Donning helmets, we then careened along dirt roads with gargantuan boulders and cavernous holes until we reached our final destination hidden in a virgin tropical forest in the Sierra Madre Mountains. Looming before us, the zip line platform that we were expected to ascend, assisted by young, muscular, bemused guides who feigned patience as each of us took our turn on the platform and stood gaping at the ominous view below.
Suffice it to say, throughout this adventure I never came to truly love those 12 zip lines. Although my guide explained how to hold onto the line above me, I couldn't master the light touch it required. This meant that mid-way, say 1,000 feet along on the line, I several times inadvertently stopped myself and had to be rescued, a guide coming out from the landing to pull me onto the next platform. After the second rescue, I gave up being humiliated and just let it happen.
Lest you think that all we did was zip line: No. This was only a part of our adventure. This six-and-a-half hour escapade also included rappelling down a sheer cliff, through a waterfall, right into a natural river pool (getting thoroughly drenched in the bargain) and traversing swinging rope bridges.
My trepidation aside, I've got to admit that this was one of the highlights of my Puerto Vallarta visit. After all, 90% of the adventure was up in the treetops, offering a unique perspective on an area of unspoiled, rich ecological beauty. Due to a fantastic and very competent staff of good-looking young men, after my first zip I always felt safe; excitement and butterflies were there, sure, but not fear. By the time I returned back to my hotel and replayed the day in my mind, a rather nice feeling overwhelmed me -- that of being fully alive and empowered!
Pretty Puerto Vallarta
There are three symbols that Puerto Vallarta is normally known for: the Malecon (boardwalk) around Banderas Bay, the mammoth seahorse sculpture on the bay and Los Arcos (the arches). On second thought, let me amend that to add a fourth symbol: unadulterated romance. You see, the town is also known for that glamorous couple, Liz and Dick, who lived here in an upscale part of town called Gringo Gulch when Burton was filming The Night of the Iguana in 1963. That definitively put this place on the map.
Downtown, the colonial heart of Puerto Vallarta is very walker-friendly with its quaint cobble stone streets, white washed houses, wrought-iron balconies and red tiled roofs. Here you'll find the historic Our Lady of Guadalupe Cathedral, flourishing arts and crafts markets, numerous galleries, restaurants and enough designer boutiques to fulfill any retail therapy urge. I enjoyed just walking around Bahia de Banderas, the deep blue bay, and discovering that this is a favored pastime of the locals. Families file onto the boardwalk each evening and watch the spectacular sunsets.
Swimming with Horses, and Other Cool Activities
Over the course of the next few days, our group participated in lots of very fun activities. We rode horses and had the chance to ride them into a river till they're submerged up to their necks. I passed on that (probably just adventured-out).
I did, however, experience a unique thrill on my horse Toby. As we strode slowly in line right behind our leader, it seems that his horse thought it would be cute to sit down on the sandy bank of the river. Copying the leader, as I've learned horses are wont to do, and before I knew what was happening, I found myself astride my guy as he plopped down on the sand as well! I was so stunned I didn't realize that Toby was just about to roll over -- onto me. The guide shoved me out of the way just in time. Although stunned and sandy I was none the worse for the abrupt sit-down.
One evening we set sail on the Marigalante, an exact replica of Columbus' ship Santa Maria, refitted now as a faux pirate ship. On board, food and booze flowed, the "pirates" put on a fantastic skit of a mutiny and an acrobatic show, and our view at anchor was the myriad colored lights of the city. Another day, a visit to Hacienda Dona Engracia and its tequila factory was informative -- and tasty. Infusion Orange or Chili Pepper tequila, anyone?
On our last night we saw "Rhythms of the Night," an astonishing folkloric spectacle on the secluded island haven of Las Caletas. After an hour's boat ride across the bay we reached the island, once the residence of the director John Ford and now a resort. There was a performance by "Indians" dressed in the native garb of their particular tribes, with pyrotechnics, music, dancing and chanting. Because all of this took place deep in the heart of the shadowy jungle and was lit entirely by tiki torches, the performance felt authentic and was utterly real.