This year -- 2011 -- has been designated The Year of Alabama Music. To Quote Berthold Auerbach: "Music washes away from the soul the dust of everyday life."
In light of this state's recent tornado tragedies, though it seems somewhat incongruous, this year may be the very best time for Alabama to immerse itself in its rich musical heritage and allow it to wash away the sad memories of the upheaval it's just gone through. Today, in famed music halls, nightclubs, and jam sessions, Alabama's musical legacy continues in song and celebration -- from Tuscumbia to Tuscaloosa and all around the state.

Greats of Yesteryear -- and Today
I visited Alabama for its special celebration just one week before the tornados hit. Our group took a Cook's tour of some of the major music sites including Muscle Shoals, Florence, Birmingham, and Montgomery, where diversity as well as African-American contributions to American music and culture are celebrated.
Our first stop was the Alabama Music Hall of Fame in Tuscumbia. Long a dream of the Muscle Shoals Music Association, the Hall of Fame opened in 1990. Inside, portraits cover the walls of all who have been inducted here -- Dinah Washington, W.C. Handy, Hank Williams and Sam Phillips, to name just a few. Mightily impressed by this assemblage of musical greats, it resoundingly brought home the important role Alabama has played in our musical heritage.
Among the Hall's fun memorabilia is the tour bus for the group ALABAMA; we clambered aboard and got a true feeling for their life on the road. Then we were given copies of the words to "Sweet Home Alabama" and ushered into a recording studio. To the actual Lynrd Skynrd music, we shamelessly belted out this wonderful song. I don't know if we should have been grateful or horrified, but we were each given a DVD of our efforts.
That evening, we returned to the Hall to see The Secret Sisters perform. The duo, Laura and Lydia Rogers, barely twenty-somethings, were discovered by T Bone Burnett. They charmed the audience with classics such as "Don't Ya Love Me?" and "Why Baby Why?" with their effortless harmony. The music is of rural America, roots-filled and timeless. By the end of this amazing concert, we were all on our feet applauding the sisters who are slated to be the next big thing before you can utter the words 'bless your heart.'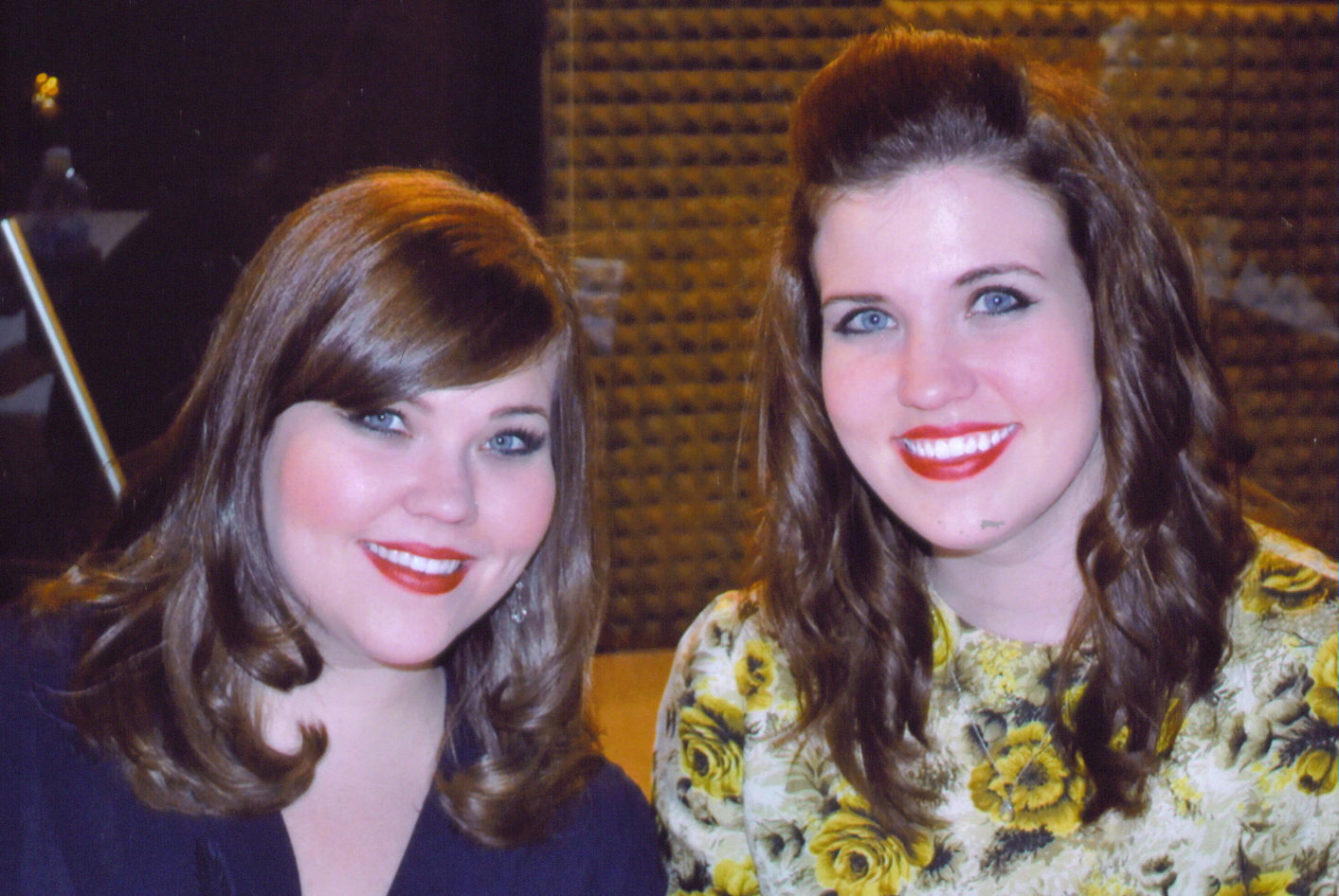 The Secret Sisters -- Laura and Lydia Rogers
A visit to FAME Recording Studios was also exciting, as we toured the very studio where such iconic music as Percy Sledge's "When a Man Loves a Woman" and the Rolling Stones' Wild Horses album was recorded. Founder Rick Hall regaled us with stories of Aretha Franklin, Duane Allman, The Osmonds, and Little Richard, all of whom recorded at FAME.
The last tour of the day was Ivy Green, Helen Keller's birthplace. Her life is chronicled at this, her childhood home -- a humble house that has been completely restored and which contains a vast collection of memorabilia from her extensive world travels. You can't help but be moved by the photos of Helen with her teacher, Anne Sullivan, by her old typewriter, and by the famous pump where Helen broke through her world of silence when she understood the word, "water".
The gardens are lovely and contain magnolias, live oaks, honeysuckle and English Ivy, for which the house is named. In these very gardens each summer, William Gibson's The Miracle Worker is performed. This year will be the 50th annual production held this month.

Father of the Blues
Over the next few days, we made other important musical stops. On to Florence and the home of W.C. Handy. A cabin of hand-hewn logs, furnished just as it was in 1873, the year of Handy's birth, is now a museum displaying the composer's trumpet and the piano on which he wrote "St. Louis Blues" and "Beale St. Blues". Each summer, a W.C. Handy Music Festival is held here (this year: July 23-31), including special church services, parades, lectures and jam sessions. This festival is the most popular and largest music event in the state.
The Alabama Jazz Hall of Fame in Birmingham is an art deco museum honoring great jazz artists with ties to the state, including Nat King Cole, Duke Ellington, Lionel Hampton and Erskine Hawkins. Here we met a most charming gentleman, Dr. Frank Adams, (himself a Hall of Fame inductee). Now in his 90s but embodying the verve and joie de vivre of someone decades younger, Dr. Adams entertained us with stories of the greats he's performed with. He told of a lifelong crush he harbored on Ella Fitzgerald and though the lady wouldn't give him the time of day, this never dampened his ardor.

Juke Joint Jumpin'
The formal definition of a juke joint is a small roadside establishment in the southeastern United States where you can eat and drink and dance to music provided by a jukebox. There's no jukebox at Gip's Place, one of the last authentic surviving juke joints in the country, but there are live, authentic blues. In this tin-covered shack found in the backyard of one Henry Gipson, an eighty-nine year old cultural phenomenon, the joint is jumpin' each and every Saturday night.
Mr. Gip has run this juke joint where great blues musicians have gathered since the 50s. The ramshackle club is gaily lit with thousands of Christmas lights and Mardi Gras beads dangling from the ceiling. On stage, front and center, Gip himself, twangs out hard-driving blues on the guitar. During breaks, he found time to greet all of us personally, even bestowing cheek-kisses to all the ladies.
This Country Boy
Montgomery is the home of the great Hank Williams. We toured his museum and found it a most moving experience. One of the first things we saw upon entering was Williams' baby-blue 1952 Cadillac on whose very backseat he died at the age of 29 (!)on his way to an Ohio gig. Hank Williams Jr. wrote a song called This Country Boy Can Survive. As I listened to the plaintive words, I couldn't help but wish that his father - a sweet country boy - had survived much longer, and then the world would have had the benefit of more years of his incredible talent. The collection of Williams' memorabilia is vast and complete - his rhinestone and spangle-decorated cowboy suits, his albums, his guitars and photographs. Our Hank Williams' homage ended at his gravesite in Oakwood Cemetery. The grounds surrounding the grave are covered with Astroturf, four tons of concrete and a cowboy hat resting forlornly atop his grave.
For sure, Alabama had its seductive way with me. I left with a deep acquaintance with the talented musicians of yesterday as well as the very-much-alive musicians enhancing the music scene there today; and not least, I was warmed and charmed by the kindness I felt from Alabamians throughout the state. Learning of the disasterous tornados just a week after my return somehow felt utterly personal and hurtful because Alabama had become a part of me.

Bama Rising -- The Continuing Recovery Effort
Neighbors continue to help neighbors clear debris and rebuild. Crews from across the U.S. are still coming to volunteer in whatever way they can. To date, the American Red Cross and the Southern Baptist Convention have served well over 100,000 meals in the affected areas and ALABAMA, the musical group, are spearheading Bama Rising, a benefit concert in Birmingham for Alabama Tornado Recovery. Among the many artists that participated were Brad Paisley, Martina McBride, Luke Bryan, Dierks Bentley and Darius Rucker.
The philosopher/poet Santiz wrote: "Music speaks what cannot be expressed, soothes the mind and gives it rest, heals the heart and makes it whole, flows from heaven to the soul." Hearts are healing, and in Alabama, music lives on!
If you go:
Alabama Tourism Department
www.alabama.travel