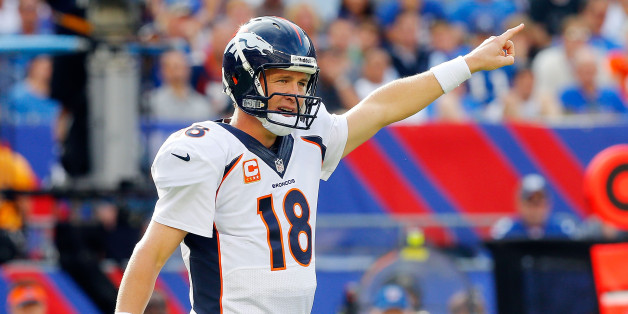 In making football picks for the NFL's Week 3 games, is it safe to believe that the league is settling down to "business as usual?" Will perennial "winners" start to establish their territories while recent dismal "losers" begin to fall apart? Aside from the absolute top and the absolute bottom of the National Football League, the answer is "no."
If Denver's Oline can find a system to protect Peyton Manning after losing LT Ryan Clady, the Broncos should continue their steady rise toward preeminence in the AFC. As long as Marshawn Lynch stays healthy, Seattle and their terrifying defense have no fears until they face the Niners again in December. At the other end of the spectrum: unless Jaguars star runner Maurice Jones-Drew can not only rise above his injury, but also play quarterback--Jacksonville has a long way to go, while there appears to be mutiny brewing on the Jolly Roger in Tampa Bay and Cleveland fans have seen the new regime sweep away both 2012 first-round draft picks in one (possibly) grand gesture. Wow.
Peyton Manning, Tom Brady and every other quarterback that experienced wide receiver drops in Week 2 are going to put Saint Marques Colston's clutch, tough and brave catch in the last seconds of the New Orleans/Tampa Bay game on a loop playing in their training facility. Yes, it was a perfect Drew Brees throw, but Colston literally sucked the ball out of the air and secured it with his hands and body for impact. The QB's might throw in a couple of Dez Bryant's grabs as well. We as fans sometimes give receivers a bit of a pass on drops early in the year. However, when compared to Colston and Bryant, a lot of other guys aren't up to par, as will be pointed out by a few franchise QB's in practice this week. Right, Tom?
On the other side of the ball, Osi Umenyiora enjoyed his first INT playing the new scheme in Atlanta and Tampa Bay LB Mason Foster is never going to let go of that touchdown ball.
Kansas City Chiefs at Philadelphia Eagles. The single most genuine moment I've ever seen from Michael Vick was in a Tuesday interview on NFL Live when he said, "I'm happy that he [Andy Reid] is happy...There's no one that love the game of football like Coach loves it and I've learned to love the game the way he does." Well, at least Vick can see that.
The KC defense should provide the best matchup thus far for the lightening fast Philly attack. This is as stout a unit as any in the league--no pun intended. Well, maybe a little. In fact, this contest will showcase a battle between the Eagles' second-ranked offense and the Chiefs' third-ranked defense (allowing only nine points per week).
You might be tempted to head to the kitchen during the Chiefs' O/Eagles' D portion of the game, but don't do it! This is when the winner will be decided, as Alex Smith tries to take advantage of a Philly defense giving up more than 360 passing yards per game. 'Iggles defenders that appeared surprisingly strong against Washington did not fare so well versus Philip Rivers and company. Smith may be no Rivers, but he has two good RBs at his disposal and a top-tier WR in Dwayne Bowe. However, both of KC's top TE's are questionable, which won't help his case.
Bottom line: between Vick, RB LeSean McCoy and deep threat wideout DeSean Jackson the Eagles' offense has some rather dazzling firepower. If the defense can hold steady, Philadelphia should win at home against a Chiefs' offense averaging less than 19 points.
Straight Up: Philadelphia
Against the Spread: Philadelphia -3

Green Bay Packers at Cincinnati Bengals. Aaron Rodgers hit his stride (and multiple receivers) in Week 2 against a perplexingly inept Washington defense. The former MVP slung the rock for 482 yards at more than 11 yards per attempt with four touchdowns. And, miracle of miracles, the Pack managed their first 100-yard rushing game in this century (not literally, it just seems that way). Ironically, the success came at the feet of James Starks, who was the starting RB during their Super Bowl stretch. Highly touted rookie Eddie Lacy sustained a concussion on his first carry and is doubtful for Sunday.
Cincy's young offense is stocked with talent, but they aren't yet a well-oiled machine. Expect WR's Mohamed Sanu and Marvin Jones to take another step forward versus a Green Bay D that ranks 30th against the pass. Star wideout A.J. Green hasn't played up to his ability these first two weeks, but he and Dalton will keep working out the kinks Sunday.
It's easy to think that the high-powered Green Bay offense will be somewhat stifled by the ferocious Cincy D at home and the Pack's ongoing O-line underachievement supports this view. However, Aaron Rodgers is back and there is none better when he's on a roll.
Straight Up: Green Bay
Against the Spread: Green Bay -1.5
St. Louis Rams at Dallas Cowboys. Various NFL pundits are suggesting that the Cowboys will be making more adjustments to their offensive line. I'm sure Mrs. Romo is happy to hear that. The Rams have two safeties listed as questionable. I'm sure 'Boys fans will be happy to hear that.
The best statistic in this contest is the Rams' 6th ranked run D. If they can shut down 'Boys' RB DeMarco Murray, it might give St. Louis a chance in Jerry's house. They might also chase Romo rather effectively (see above). Neither team can stop the passing attack very well, so expect a total score in the 50s.
However, if the Rams can't hurry Romo all game, he and Dez Bryant could make mincemeat out of a relatively weak St. Louis secondary. (Please don't tell Cortland Finnegan I said that.)
As for Monte Kiffin's newly aggressive Dallas D, this will be a test of Sam Bradford's improved play in 2013. Part O-line upgrade via pricey Jake Long, part offensive consistency for the first time and part under-rated WR's including speedy rookie Tavon Austin--Bradford has looked better this September. Let's see how he holds up against Kiffin's pressure.
Straight Up: Dallas
Against the Spread: Dallas -3.5
San Diego Chargers at Tennessee Titans. Can the Chargers keep neurosis away and win two-in-a-row on the road? Hmmm. It's a lot to ask. On the other hand, how can a Titans team with a safety in both of the first two games and a QB who barely completes 50% of his passes and averages less than five yards per pass be favored over an offense led by Philip Rivers? Did I mention the neurosis?
Both the Titans' offense and the Chargers' defense are inconsistent (being kind) so far this year and the contest will be between a San Diego O that scores over 30 points per game and a Tennessee defense allowing less than 20.
As if Jake Locker didn't have enough problems, talented Kenny Britt was benched last week after some ill-advised actions on the field. Gee, there's something new and different: Britt showing poor judgement. Does management truly think that this will be a "wake up call" to a man with more arrests than time in the league? Meanwhile, the Chargers are grateful that receiver Malcom Floyd's neck injury wasn't far worse--but he won't be playing this week. Eddie Royal--come on down!
Straight Up: San Diego (what can I say? I'm an optimist.)
Against the Spread: San Diego +3.5
Cleveland Browns at Minnesota Vikings. Mouths are hanging open all over the AFC North after the Browns traded the 2012 No. 3 overall draft selection to the Indianapolis Colts for a first round draft pick next year. RB Trent Richardson was carrying the fading hopes of the Cleveland faithful and it looks as if he's carrying them right out-of-town. In practically the same breath, Brian Hoyer becomes the starting QB, replacing injured Brandon Weeden and leapfrogging Jason Campbell on the depth chart. Guess the new GM and coach have seen all they want to of Mike Holmgren's last draft class. Wow.
Hoyer will benefit from the return of WR Josh Gordon and rumor has it that the Browns are working out mature rusher Willis McGahee. It will be different on the Cleveland offense, but will it be better? Well...
Speaking of QB issue, the Vikes' Christian Ponder actually had a few really nice passes in last week's loss to the Bears. He also took quite a few very hard hits as he tried to make something happen for his offense. One can see why the team would want to remain loyal, but until opponents start buying into the Ponder-love, Adrian Peterson will still be facing 8-man fronts. And the Cleveland defense has one of the most formidable defenses in the NFL.
The Vikings Special Teams coach likes to live dangerously. He kicked the ball to Devin Hester far too many times last week in Chicago. And heaven knows, the Browns' punt returners would be happy to score since the offense is having such struggles.
Straight Up: Minnesota
Against the Spread: Minnesota -4.5
Tampa Bay Buccaneers at New England Patriots. If you're a Sunday afternoon type of football fan, you may have missed the little twitter tiff between Bucs' coach Greg Schiano and superstar CB Darrelle Revis. That didn't take long. Stir in QB Josh Freeman missing the team photo because he overslept and the soap opera is in full voice in Florida. They don't match the offseason drama in New England--but they don't play as well either. And that's a rather sad statement given the state of the Patriots franchise.
One hopes that owner Robert Kraft was nowhere near Tom Brady last Sunday as he watched Wes Welker score another touchdown--for the Denver Broncos. Welker's replacement, the talented but fragile Danny Amendola, lasted one game before injuring his groin so badly that surgery has been discussed, though not yet embraced. Did you think you'd ever see a time when Brady averaged only 5 yards per pass attempt? Even Freeman is averaging 5.6! Yeah, it's been that ugly. And yet the Pats are 2-0. Never underestimate the power of determination and a Belichick defense.
Straight Up: New England
Against the Spread: New England -7
Arizona Cardinals at New Orleans Saints. Arizona phenom Patrick Peterson runs back kicks, catches passes, throws passes and--oh, yeah--plays cornerback really, really well. He turned in quite a performance against Calvin Johnson and Matthew Stafford last week. While there is no doubt that he and rookie safety Tyrann Mathieu will have their share of good moments, this is Drew Brees and company in the Super Dome.
Tune in to see how Rob Ryan's revamped Saints' D fares against Arizona's new Carson Palmer-led O. The former Bengal is averaging 7.1 yards per pass attempt and almost 65% completed passes. At the same time, Rashard Mendenhall has brought back the run to the Cardinals. Unfortunately, monstrous WR Larry Fitzgerald has a hamstring injury and is questionable. If he can't play, this spread will jump up.
Straight Up: New Orleans
Against the Spread: New Orleans -7
Detroit Lions at Washington. The Lions would be favored by a bunch to win this one, except that RB Reggie Bush may not play with a sore knee. The offense has explosive potential with the stratospheric arm of Matthew Stafford and Calvin Johnson at WR. However, without Bush, that's sometimes not enough if opposing defenses can pressure Stafford. Washington D-linemen Ryan Kerrigan and Brian Orakpo need to do just that early and often, since asking any DB in Burgundy and Gold to succeed all day against Johnson is pure folly.
Washington QB Robert Griffin III has had rather ridiculously publicized problems this year as he tries to come back from January ACL surgery. While that's understandable, one isn't quite so sure about a reasonably talented defense that has surrendered more than 500 yards per game! Then there's the injured kicker, but to continue would just be depressing. It's time for Washington to pull it together and achieve a team win at home--which is the only justification for this pick.

Straight Up: Washington
Against the Spread: Washington -1.5

New York Giants at Carolina Panthers. Both teams are 0-2, with all of the pressure and emotional turbulence attending that status. The Panthers are far better than their record suggests, while the Giants have been just plain sloppy.
Cam Newton is the real deal at QB, particularly now that he appears to be growing up. However, he still has only one legit WR and a rushing attack that should be much better than it is. The Carolina D is tight, talented and well coached. So, why can't they get more turnovers?
The Giants have been frankly a mess in 2013, with no excuse given their ability. The defensive and offensive lines seem to have aged overnight (and yes, Osi Umenyiora is now a Falcon). The running game is struggling since heir apparent David Wilson can't hang onto the football and the WR's seem to be on Mars. Eli Manning's horrendous stats this season reflect his efforts to single-handedly win games.
However, New York's head coach lost his brother in a tragic accident this week and Tom Coughlin met with the team privately, sharing how highly he values his family and his team. Such emotional speeches are rare for Coughlin and have tended to produce the kind of dramatic results that may well lead to a re-focused and committed Big Blue. And that will be the difference.
Straight Up: New York Giants
Against the Spread: New York Giants +1.5
Houston Texans at Baltimore Ravens. These teams are built in the same mold: overpowering defense and some superstars on offense. Joe Flacco got back on track with the birth of his second child and a win last Sunday, but Ray Rice has a hip injury so Bernard Pierce will be running for the Ravens. Young WR Marlon Brown will continue his promising learning curve as he attempts to replace Jacoby Jones.
The Texans have had to stage late comebacks both weeks to get to 2-0. And Andre Johnson has a concussion so Matt Schaub will have a young wideout of his own to play with: Week 2 hero, DeAndre Hopkins.
Though the Texans have the better record, they need to prove that they can consistently defend the best QB's in the game--on the road.

Straight Up: Baltimore
Against the Spread: Baltimore +2.5
Atlanta Falcons at Miami Dolphins. A loaded Falcons roster is starting to look like Swiss cheese due to injuries. Defensive anchor Sean Weatherspoon is out, All-World rusher Steven Jackson is out and WR Roddy White is hampered by a bum ankle.
The Falcons' D and the Dolphins' O are a wash: both total 23.5 points on average thus far.
The battle will be won by either the Falcons' offense (ranked fourth and averaging 24 points per week) or the Dolphins' defense (ranked tenth and giving up only 15 points on average). The weather will be the difference as air-conditioned Atlanta meets South Florida in September.
Straight Up: Miami
Against the Spread: Miami -1.5
Buffalo Bills at New York Jets. Battle of the top two rookie quarterbacks. Buffalo's first-round signal-caller E.J. Manuel looks more comfortable in the huddle than first-year coach Doug Marrone does on the sidelines. Watching Buffalo's new main man mic'd up on NFL Films' highlights was enough to give me an anxiety attack. Defensive coordinator Mike Pettine may have a few butterflies himself as he faces former boss Rex Ryan. Pettine should have plenty of insights into the Jets' abilities after serving as their DC for the previous three seasons.
Gang Green's new QB, Geno Smith, has handled himself surprisingly well after being thrust into the starting role somewhat unexpectedly. Enter Bills' passrusher Mario Williams, who returned last week from witness protection to savage opposing QB's. Williams' resurgence raised the defensive play of the entire unit. The good news for Geno is that Bills' CB Stephon Gilmore is out and safety Jairus Byrd is questionable. Now if only WR Stephen Hill can hold onto passes, WR Santonio Holmes and TE Kellen Winslow can play and someone can run the football...

Straight Up: New York Jets at home
Against the Spread: New York Jets -2.5
Indianapolis Colts at San Francisco 49ers. Indy welcomes in former Brown Trent Richardson to tote the rock after the season-ending injury to Vick Ballard. Good move. Great move if he stays healthy. Unfortunately, they've lost a Guard and a TE for the year. Let's not ruin Trent's debut by mentioning that the 49ers' D is only allowing 3.6 yards per carry so far.
However, the Niners just lost their Nose Tackle and safety Eric Reid has a concussion. Nevertheless, it's difficult to imagine San Francisco losing at home after being embarrassed badly in the Emerald City. And if they get on a roll, Jim Harbaugh will put the bit in his teeth and run up the score. Just 'cause.
Straight Up: San Francisco
Against the Spread: San Francisco -10

Jacksonville Jaguars at Seattle Seahawks. Can't we just give the Jags a Mulligan? Even though this is a prime letdown game for Seattle, a Jacksonville win is frankly inconceivable. Their only star-caliber offensive weapon is rusher Maurice Jones-Drew--and he's hurt. Chad Henne will have to face a top-flight Seattle defense that completely shut down emerging superstar Colin Kaepernick last Sunday night. Be afraid.
However, the Jaguars defense is a stronger unit than generally supposed and the 'Hawks' O hasn't really gotten on track yet.
Straight Up: Seattle
Against the Spread: Jacksonville +19.5
Chicago Bears at Pittsburgh Steelers. Everyone will talk about the Steelers' offensive woes, but a significant number in this game is on defense: Pittsburgh has given up almost 120 yards per game on the ground. Chicago rusher Matt Forte can't wait. The Bears rusher looks strong after a down year and, along with a blessedly improved O-line, has been helping his QB have some breathing room. The result has been two last-minute wins enabled by an always-strong Chicago D that has started off with a flurry of interceptions.
The Steelers may be reeling, but Dick LeBeau's defense hasn't forgotten how to blitz. This week will see exactly how strong that new front line will be in protecting Jay Cutler. It's hard to believe that Pittsburgh will lose three in a row no matter how many injuries they have suffered--but that's the only reason to pick them.
Straight Up: Pittsburgh
Against the Spread: Pittsburgh +2.5
Oakland Raiders at Denver Broncos. Terrelle Pryor gets to play on the big stage this week. His legs are certainly up to the challenge: the team has averaged almost 200 rushing yards per game this season--much of it by Pryor. His arm? Well, he's completing over 62% of the passes, but they are for less than 5.3 yards per attempt and he has one TD pass. Not that he has much to work with.
The real question on Monday night will be whether the fifth-ranked Oakland D can make a dent in Peyton Manning's 85 points per game (okay, yes that's an exaggeration). They've held previous opponents to an initially impressive 15 points on average. However, that includes a game against Jacksonville and the unit has yet to force a turnover. One doesn't want to overstate the Denver case, but if you can't take the ball away from No 18--it's going to be a long night in the thin air.

Straight Up: Denver
Against the Spread: Denver -14 (this number may keep rising - don't go crazy)
Isn't football just grand? Enjoy the games!
Correction: In a previous version of this post, the author incorrectly identified Cardinals safety Tyrann Mathieu as Tyrone Mathieu. It has since been corrected.