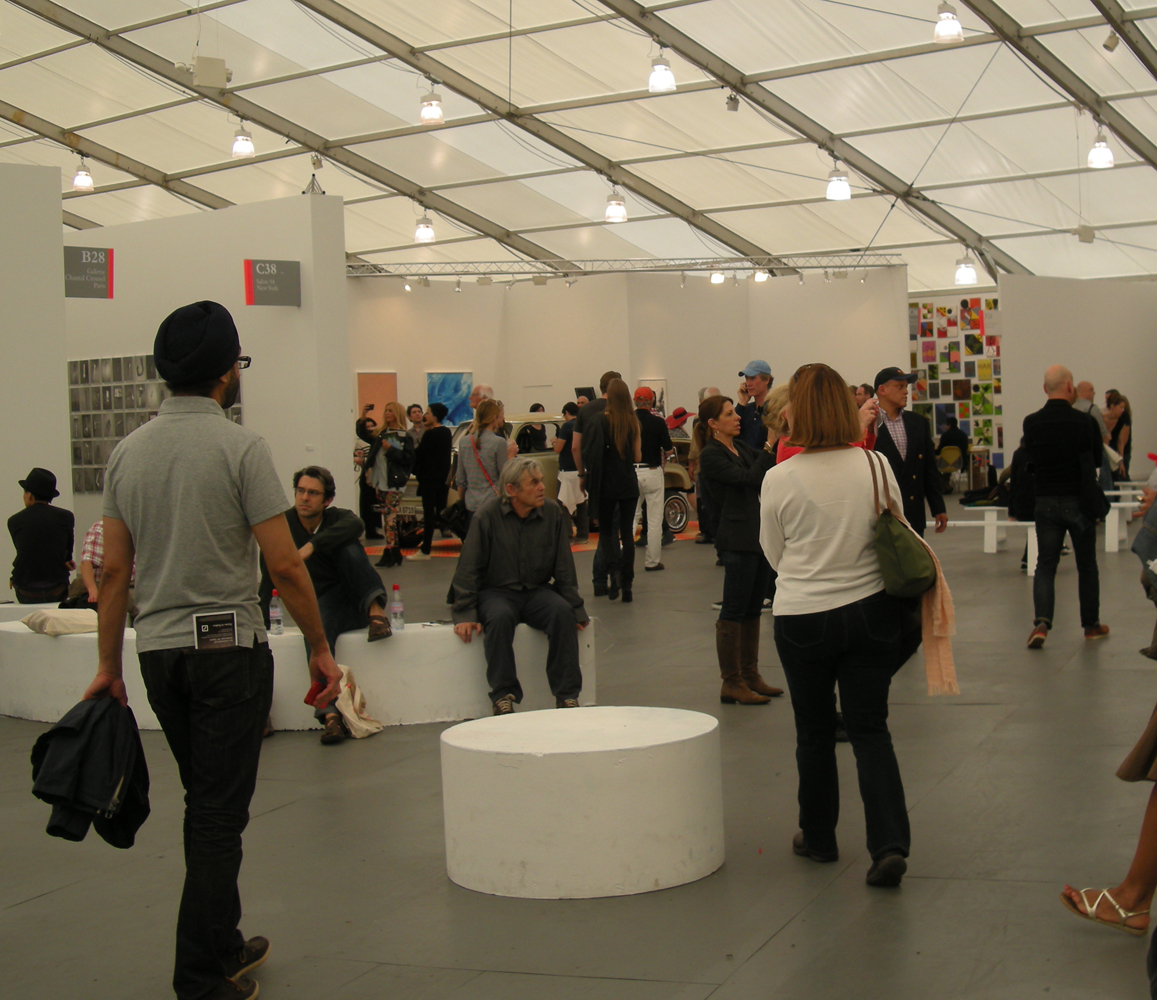 Photo by Barbara Prey
It was a beautiful day in New York and, although I was born in New York, grew up in New York and now live in New York, it was my first visit to Randall's Island in Manhattan to see the inaugural Frieze Art Fair. I have to admit I went over the Triborough Bridge twice trying to find the exhibit exit.
The Frieze Art Fair New York, an extension of the art magazine, took place in Randall's Island Park from May 4 through 7. Frieze New York featured 180 contemporary international galleries with a strong emphasis on American and European, many of them regular exhibitors at Frieze London, their annual art fair in London.
The Sculpture Park at Frieze was located along the waterfront of Randall's Island, which overlooks the East River. A program of presentations, panel discussions and conversations were offered, which featured leading artists, writers and cultural commentators. I happened to hear Robert Storr's (Dean, Yale School of Art) talk about Gerhard Richter's "Atlas" and was impressed at what an engaging lecturer he is. I remember seeing his Museum of Modern Art-curated exhibit of Gerhard Richter Forty Years of Painting.
As this was their first fair in New York, there was very good turnout. Some commented that there was more energy than at The Armory Show at the Piers and that there was a better selection of top tier galleries. In some ways that is an unfair comparison. The Armory Show takes place in March and it is usually cold and windy and sometimes has long cab lines (in the cold and wind). It is May 6, the sun is shining and, like Art Basel Miami, I think the weather affects attitudes.
It took me a while to get used to the large tent. First impressions were that there is a large tent pitched in an open space and they were trying not to make it look like there was a large white tent pitched in an open space. When I first went in, I was looking more at the space than at the art. Everything was white -- the booths were for the most part all white, the tent was white, but there was good natural light. It was a bit antiseptic but then no competition for the artwork. What began as awkward seemed to work. There were also windows and doors and sufficient openings to be able to see the landscape, the river, and beyond to New York. It was a landscape within a landscape and as you move deeper into the maze of exhibitors the space closes and it is a different perception.
As with all art fairs sensible walking shoes are advised. There seemed to be more painting and drawing and not as much photography as I've seen at other fairs. There were a number of unusual chandeliers -- I particularly liked Pea White's at Kaufmann Repitto put together with a sense of humor. Liz Cohen's Trabentimnino a former East German car was unique.
Parking was $20, tickets were $25 and hopefully you won't drive back and forth and have to pay the bridge tolls while looking for the Randall's Island exit. The ferry provides a unique way to approach the event. As I left many people were just sitting outside on the grass -- not a bad place to be on a beautiful May day.