A smiling receptionist is there to greet you as you enter the lobby of the Carol Ann Read Breast Health Center in San Francisco's East Bay. She directs you to the registration desk, where there's no wait. A nice woman hurries to finish up a conversation and is ready to help.
When she's done, which is in minutes, the registrar directs you through the lobby to the Butterfly Room, where another smiling staffer hands you a deluxe waffle-textured gown that actually fits and keeps you warm -- way nicer than the flimsy cover-ups you get at your routine annual mammogram over on the other side of town.
You leave your things in a locker and head to the Bamboo Room to wait. There, across the room on a video screen, fields of tulips, irises and anthuriums take turns wafting in the wind.
Moments later a bright young woman is doing your mammogram. That done, she takes you down the hall to the sonogram exam room, where another bright young woman checks that mysterious clump at one o'clock on your left breast.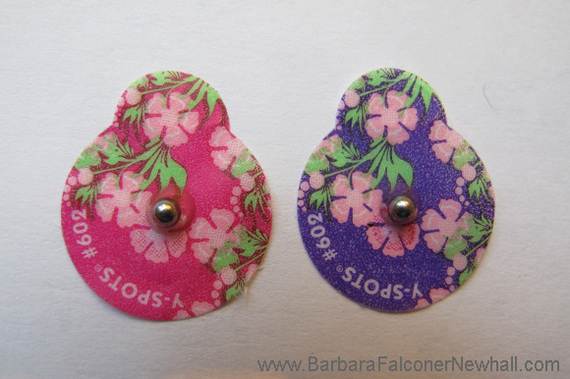 A pair of cheerful, dime-sized stickers mark the location of your nipples during a mammogram. Photo © 2014 Barbara Falconer Newhall
"It's not a mass," the ob-gyn had said. "It's more like a gathering of tissue. I'm not worried."
Like the people who decided on the name for the Carol Ann Read Breast Health Center, the ob-gyn does not use the C-word.
The ob-gyn had detected the "gathering" just a week ago, and the folks at the breast center had wasted no time scheduling the tests.
The sonogram monitor is visible from where you lie on the exam table. Two small dark spots show up. The technician takes a picture, click, and she's done.
The radiologist will look at the scans right away, the technician tells you as you sit up. No need to wait and worry for hours or days. She'll be back in five minutes with the results.
She's back. The doctor saw nothing. No, it's not cancer. No, I'm not going to die any time soon. And, unlike my friend Beverly Rose, who died of breast cancer 25 years ago, I won't be having my life turned upside down for months and years with surgery, chemo, wigs, prosthetics and brain-numbing painkillers.
That's good, because I've got things to do. A book to get published. A son in Minneapolis. A daughter in Los Angeles. A husband who's decided to write a thriller and needs help with the plot. Also with his crossword puzzles.
"Let your doctor know if you notice any changes in that area," the technician says.
"That's it? I'm done?"
"You're done."
Less than an hour after I handed my car keys over to the red-coated valet (valet parking is free here for patients), I'm handing him my ticket.
"It's cold out here," he says. "Why don't you wait inside? I'll find you."
People are nice to you here at the Carol Ann Read Breast Health Center. Really nice.
And if my luck holds out, I won't be back in a place where so many people are so darned nice to me for a long, long time.
© 2014 Barbara Falconer Newhall. All rights reserved.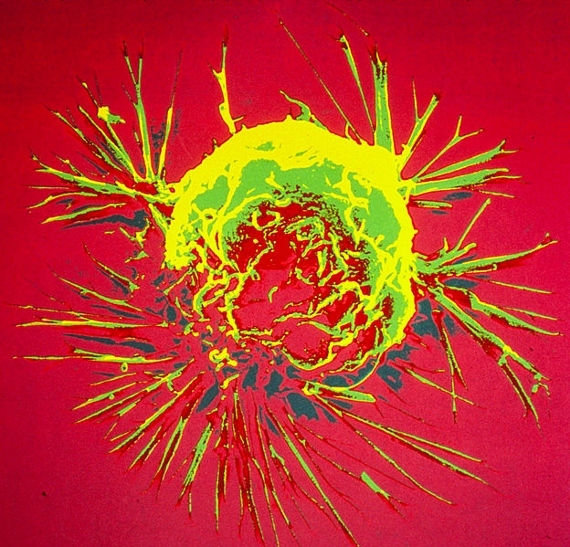 The dark side of the story: a breast cancer cell. Photo courtesy National Cancer Institute