I want to write about tulips today. I don't want to write about sex. The trouble is, for me, writing about tulips means writing about sex: Something about their juicy curves brings erotic metaphors to my particular mind.
I thought that once my mother and father were no longer alive and reading over my shoulder, I'd be able to write my heart out. I'd get merrily, carried-away passionate about the curve of my husband's chin, the stars on a summer night, God in God's heaven and... tulips.
My mother's gone now and so is my father. The trouble is, my kids are still alive, very much so, and they read my stuff.
Back in the olden days of print journalism, when I wrote a weekly newspaper column for the Oakland Tribune and its tens of thousands of readers, I felt free to spill my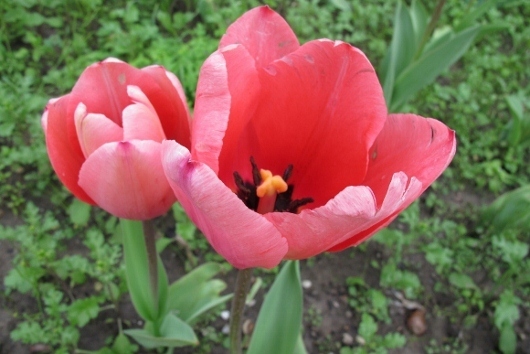 Photo by BF Newhall
guts about my children, my husband, my job and the meaning of life. Total strangers -- thousands and thousands of them -- read weekly about my every misstep and self-doubt.
But they didn't count; they were total strangers.
The people who really mattered? Not a problem. Jon, an old news hand, didn't care what I wrote as long as it sold newspapers. My mother and father lived thousands of miles away; they saw only the columns I chose to clip and mail to them. As for the kids, they read Roald Dahl; newspapers, not so much.
Anne Lamott, I think it was, once advised memoirists and novelists to "write as if everyone you know is dead." It's a great writing tip, but one I've never mastered. Probably because most of the people I know just aren't dead yet.
Which brings us back to tulips. Tulips are my favorite flower, and right now they're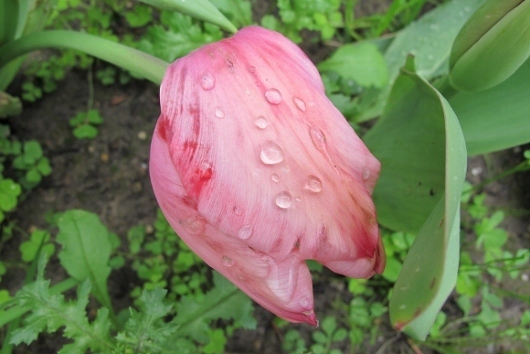 Photo by BF Newhall
blooming like mad over at a local cemetery. So I grabbed my trusty point-and-shoot the other day and headed over to the graveyard...
Anyone who knows me can stop reading now.
Sure enough, there they were -- tulips and tulips and tulips in all their lusty glory. Pink, red, purple, orange, yellow -- all voluptuous and phallic with their ovoid curves and upright stems.
I had planned to spend an hour here. I spent two. I bent over. I squatted. I kneeled in the wet grass. I propped my elbows on my muddy knees. I took 267 pictures. I went home happy.
Ha! You cheated. You read this through to the end. But I cheated too. I wrote it like everybody I knew was dead. But since you're not, I toned it down. A lot.
For more stories about the writing life, go to:"The Trouble With Daffodils," "Writing Tips From Jasmin Darznik" and "Splitting the Infinitive -- How to Boldly Go There."