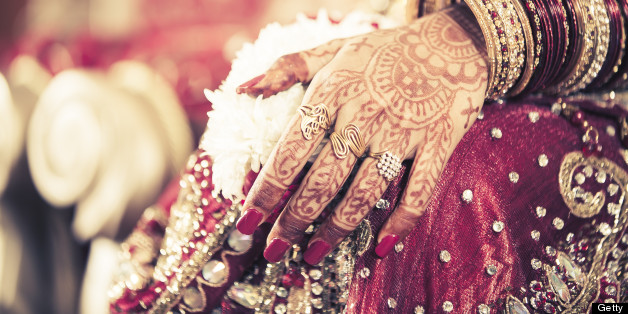 The bride wore red. And violet. And cerise. And gold.
It was an Indian wedding with all the trimmings -- drums, gongs, garlands, priestly blessings, a turban for the groom and, for the bride, an actual palanquin with four bearers to transport her to her wedding.
Add to the ritual, flocks of female guests in their newest, most resplendent, most drop-dead beautiful saris. There was silk everywhere at this wedding. Chiffon. Embroidered hems. Sashes threaded with silver. Gold hanging from ears, necks, wrists and fingers. Smooth-fitting cholis baring sumptuous arms, midriffs and backs. And down those backs, black braids longer than my arms and nearly as thick.
To my mind, there's nothing quite like an Indian wedding to remind the Western woman -- with her slick leather jackets, ripped and bleached jeans, and oh-so-understated little black cocktail dresses -- that she has forgotten how to be gorgeous.
For my son's groom's dinner in May, for example, I needed to wear something festive. I picked out a dress that for me was on the flashy side. It had a whiff of color -- dark blue instead of black. And it had beads. Shiny ones. And ruffles, for heaven's sake.
But then, a few weeks later, I found myself faced with an even more daunting sartorial challenge -- what to wear to a no-holds-barred South Indian wedding where I'd be up against women in their very best, most outrageously gorgeous saris?
I dug through my closet and came across the kimono that my mother-in-law brought me from Japan 20-some years ago. It was brocade and screechingly red with a humongous tie in the front. I've owned it for decades, but never worn it, because where do you wear a fire engine red kimono?
To an Indian wedding reception, of course.
My in-your-face kimono notwithstanding, I found I couldn't begin to compete with the saris at that wedding; I was still the dun-feathered wren in a flock of flamingos.
All evening I kept asking myself, why be beautiful? Why bother? Why go crazy with color and beading and embroidery and six-yard swaths of fabric?
For the heck of it, of course. For the pure fun of being knock-out, over-the-top gorgeous once in a while.
For a story about what to wear to your son's wedding, check out "Is That Me in the Mirror -- Or Somebody's Grandmother?" My thoughts on handbags for evening --why are they always too small?
PHOTO GALLERY
What to Wear to an Indian Wedding