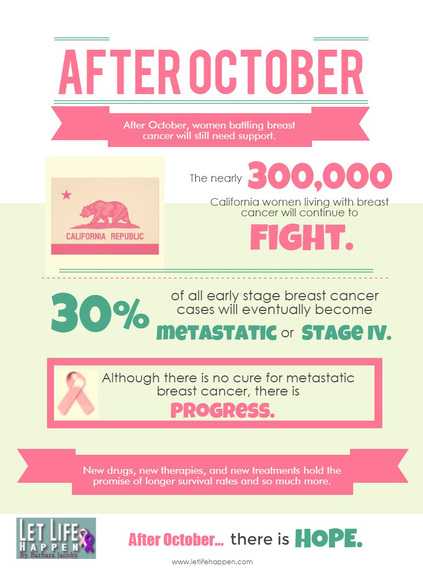 Now that Breast Cancer Awareness Month is over and all things pink have been put away for another year, many people will forget all about breast cancer until next October unless they are personally touched by it. After all, who wants to think about cancer in any way, shape or form if you don't need to do so? But those who have dealt with breast cancer know that even if you are cancer-free at the moment, that doesn't mean that it might not reappear. And for those who have advanced breast cancer, there is no setting aside the thoughts of it, as it is something with which they are dealing every single day. So what does happen during those other 11 months?
While you will probably only see an occasional story in the newspapers or in your TV newscasts unless there is something major to announce, that doesn't mean that nothing is happening. The money raised by various organizations is funding programs in your communities to help those who are in need of a host of services. It is also being used to fund research at colleges and universities throughout this country. But, what many don't realize is that major pharmaceutical companies and other scientific organizations as well as a whole host of companies are also involved in major research for answers as well as providing support to non-profits for education and support of cancer programs from coast to coast.
I know this is so because I do the research. Every single day, I share all of the updates that I find on both the Let Life Happen and When Breast Cancer Happens websites. I see what is happening in so many different arenas. I understand how various groups and companies are coming together to combine their findings in an effort to find the causes of all of the different types of breast cancer and to develop a whole host of new therapies that can be delivered to patients to more directly attack the cancer while doing less damage to healthy cells. I recognize all of the work that is being done to deal with the ever-changing face of breast cancer as those who may have had one type of breast cancer will find that if that cancer metastasizes, it will present itself in a different form. I am learning that while one type of drug may successfully treat cancer for a period time, that treatment may not work long-term because the cancer changes itself in order to survive. And the more that I learn, the more I am surprised that we have been able to accomplish as much as we already have.
Most importantly, the reason that I do what I do is to provide hope to every single person who will ever have to deal with breast cancer. There are people out there who are working on your behalf every single day. They are seeking the answers to every single aspect imaginable in their quest for the treatment and cure of breast cancer. They are devoting their lives to help all of us whether we are affected directly or indirectly. We have not been forgotten just because Breast Cancer Awareness Month is over. They will continue to work for us all year long in the quest to find answers to improved detection and treatments and to find a cure.
However, we can't forget them either. We must continue to support all of those who are helping all of us and that support can come in any number of ways. For me, I have chosen to do the research regarding what is being done and to provide that information to anyone who wishes to learn more. If we educate ourselves and share information with others in our social media spheres, we may be able to be better patient advocates for others as well as ourselves. But in addition, knowing about all that is occurring in the research arenas as well as all of the support being provided to those who are in need and sharing that information provides hope and inspiration to everyone who will ever deal with breast cancer long after October has gone.