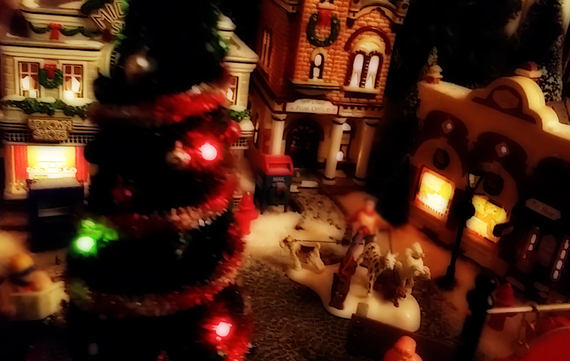 I wonder why it sometimes takes me so long to understand things. Each year as I take out the ornaments and decorate the tree, my mind wanders to the holidays of the past and all of the memories of Christmases past. I keep trying to hold on to all of the traditions of those times and going home to be with my family, as always, hoping for a good snowfall to make the shopping just a little more festive. And this year was no exception, until today, when I realized that nothing in my life is the same as it was back then, so how do I expect that I can recreate those memories? And why do I want to do so?
In those days, I celebrated with my grandparents, my parents, my sister and her husband and daughter and my brother and his wife. This year my sister and her husband are in Holland for the holidays visiting their daughter who lives there now in the home country of her father, my sister-in-law is in PA with her mother and all others have passed away. Those memories were all created on the East Coast, and here I am living on the West Coast. And while all of those memories are pretty exceptionally great, they are just that -- memories.
I have never been one to live in the past. The past is something that is over and done and can't be changed but today is my opportunity to create something special and new and to figure out how to make tomorrow even better. So it should be for today and this holiday season as well. If I spend all of my time thinking about past memories, I can't possibly create new ones that are special and memorable for this year.
Therefore, I have officially put all of my memories where they belong, in the past, and I am creating a new and wonderful set of holiday memories for today and every day. I want to spend the time doing things and/or just being with my husband. I want to share a bit of the holidays with my special friends. I want each and every gift that I pick to be special for the recipient and I want to enjoy the beautiful weather and surroundings that I have in my life.
Most of all, I want to remember what the holidays truly represent and make the most of the sentiments that are shared. So what will happen if I can't find the perfect presents or don't have all of the perfect decorations or have some people around me who don't have any holiday spirit? It really doesn't matter. I have a wonderful life, a wonderful husband, some very special friends, a good job and food and clothing and shelter. I don't need presents, etc. just because it is Christmas. I have everything I need and want already in my life and the only thing that I want more this holiday season is to be able to share with others who need my help. I want to be able to give to others and to make a difference in the lives of others. And as far as I can see, that is what the holiday season is truly all about.
What does the holiday season mean to you?