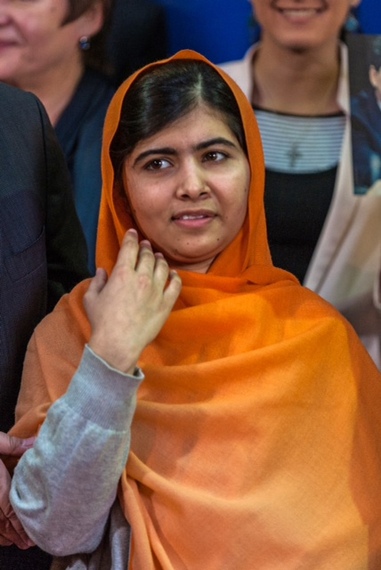 History was made on October 10 when Malala Yousafzai became the youngest recipient of The Nobel Peace Prize in history. Malala has been making an international name for herself since the age of 11. The daughter of education activists, Malala is paving a road all her own in her unrelenting efforts to see that young women--all around the world--are provided the human right of education.
While her age may garner your attention, these five inspirational Malala mentions will grab your heart (and your spirit):
1. Her unfathomable Courage: While many youngsters are riding bikes, Malala was speaking out against an oppressive and imposing regime as early as age 11. When the Taliban banned young girls from attending school, Malala publically made waves about the travesty of this tyranny and how her people must rise above the terrorism. She began blogging for the BBC under a pseudonym and gathered the attention of Taliban leaders. As her public communication continued despite Taliban threats, Taliban assassins stopped her school van one morning, climbed on and demanded that the children identify Malala. Terrified, the children obeyed and the men shot, Malala in the head and the neck and also wounded two other girls. The Taliban declared they would come for her again if she survived, but that has not stopped Malala and her message. She continues her mission almost two years later.
2. She's a daddy's girl. Malala's father, Ziauddin, has been quoted as saying Malala is "something entirely special" and permitted her to stay up late at night to talk about politics while her two brothers were sent to a timely bedtime.
3. She had quite the Sweet 16. On Malala's 16th birthday, she spoke before the United Nations in a call to defend and advocate worldwide access to education. The UN dubbed the event "Malala Day" and she humbly responded, "Malala day is not my day. Today is the day of every woman, every boy and every girl who have raised their voice for their rights." Some teenagers get a car on their 16th birthday--Malala received a nationally declared day on the calendar, courtesy of the UN.
4. She's a figure in history that will inform future generations with her written accounts. Malala's memoir I Am Malala: The Story of the Girl Who Stood Up for Education and was Shot by the Taliban, has been praised as "fearless" and "riveting." A reviewer for The Washington Post actually stated, "It is difficult to imagine a chronicle of a war more moving, apart from perhaps the diary of Anne Frank."
5. She represents an ordinary girl, despite her unordinary position. While incredibly grateful of the honor, Malala, true to her educational ambitious efforts, had some anxiety of traveling to receive her Nobel Peace Prize Award. Her worries weren't about what she would wear on TV, or if people would think her speech was good or bad, instead, she feared all the travel involved would cause her to be behind in her schoolwork. To celebrate her history-making achievement, Malala spent the night nursing a cold and watching TV with her parents. If you haven't, please watch her historic Nobel Prize acceptance speech.
Malala is a captivating young woman. She captures us with her reflection of the average 17-year-old, yet leaves us spellbound by the wisdom, insight and sense of duty far beyond her years. Malala not only is sharing a cause she would die for ... she is spearheading a movement that has already came close to claiming her life, but keeps moving full speed ahead. May we all find a cause so dear to us, that we continue self-assured, despite all obstacles.