I'm humming "Happy Birthday" to a hero far away.
South Africa's freedom fighter Ahmed Kathrada. "Kathy" -- as he's well known there -- turned a robust 85-years-old on August 21. Long considered a sentinel for the truth in his home country, Kathy is the premiere guide and custodian of the history of infamous Robben Island, where he and Nelson Mandela were unjustly imprisoned for 18 years.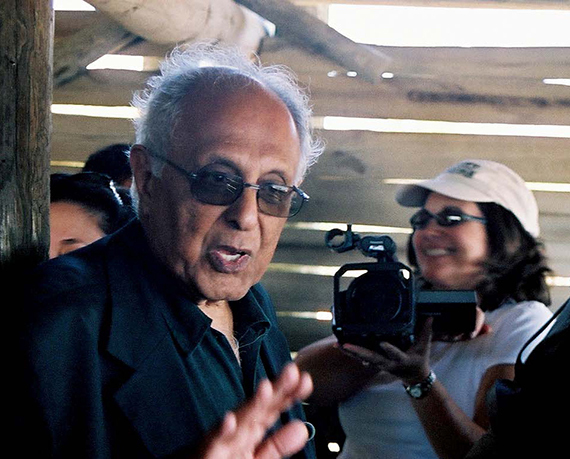 Barbara Rick filming Ahmed Kathrada in South Africa. Courtesy © Artists for a New South Africa, 2006
We were introduced to Kathy on a journey to Cape Town, Johannesburg and Durban while documenting a special delegation from a respected activist organization, Artists for a New South Africa. Among the participants were Deborah and Carlos Santana and members of their family, Alfre Woodard and Roderick Spencer, LaTanya and Samuel L. Jackson and their daughter Zoe, CCH Pounder, Jurnee Smollett, and others, all led by ANSA's executive director, the human rights activist Sharon Gelman.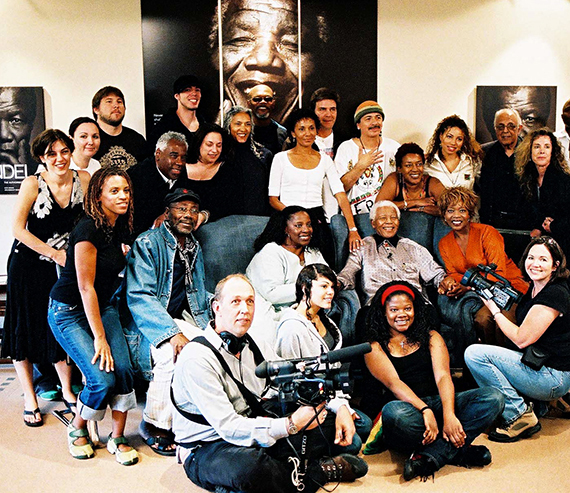 With former President Nelson Mandela, Ahmed Kathrada, and the Artists for a New South Africa delegation. Courtesy © ANSA, 2006
My own brief personal reflections on meeting and filming the giant-hearted Ahmed Kathrada will be published later this year in a special collection of remembrances from the many people around the world whose lives he's touched. The book to be called: Triumph of the Human Spirit: Ahmed Kathrada and Robben Island. Below, an excerpt: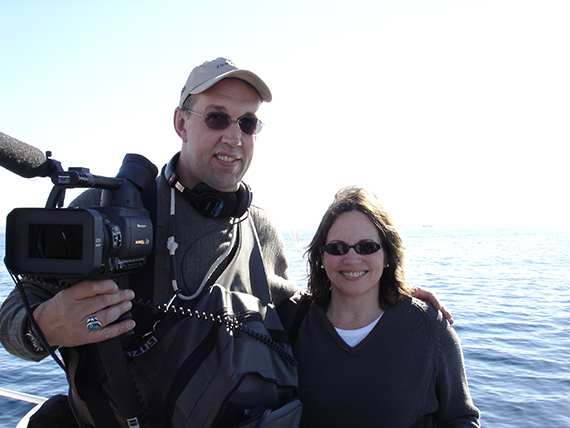 Cinematographer Jim Anderson and Director/Producer Barbara Rick leaving Cape Town with Ahmed Kathrada and ANSA delegation. Courtesy © Out of The Blue Films, Inc., 2006
Sapphire-tipped waters between Cape Town and Robben Island sparkled the day we sailed across to the prison in the joyful company of Mr. Ahmed Kathrada. Sunshine crackling.
He was a stranger to us. My cinematographer husband Jim Anderson and I were filming Artists for a New South Africa that October morning in 2006 at the request of dear friend Deborah Santana, the American philanthropist and activist. Deborah hired us to record her family's journey to South Africa with ANSA for her personal archives, and later, the documentary film she and I would create together: Road To Ingwavuma.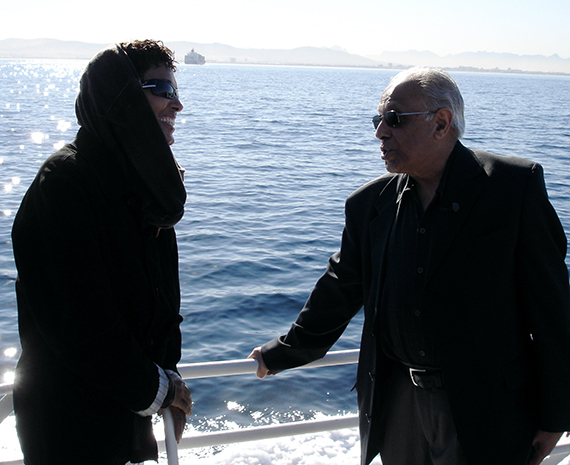 Deborah Santana and Ahmed Kathrada en route to Robben Island. Photo by Barbara Rick, Out of the Blue Films, Inc. © 2006
With shining love and reverence, the delegates called him "Kathy." Much laughter, nods of satisfaction, many hugs. I remember the striking beauty of Deborah and Kathy standing side-by-side, happy and windblown against crystal waters. Free.
Once on land, we walked the sacred island's echoing halls, barbed wire paths, following Kathy's footsteps; embracing every word. He asked Deborah's son, Salvador, to unlock Mr. Mandela's cell -- the group gasping as the door swung open.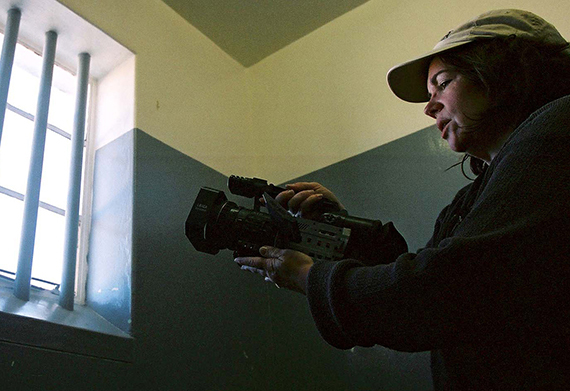 Barbara Rick filming inside Nelson Mandela's cell on Robben Island. Courtesy © Artists for a New South Africa, 2006
In his melodic voice, Mr. Kathrada unreeled for us and our cameras stories of strangled justice here. Less sugar at meals for the darker-skinned inmates. No long pants: a humiliation strategy. Daily deprivations and struggle. Kathy held a slim white handkerchief in his hand as he gestured, our group hypnotized.
The hard narrative rising up, giving way, triumphant: perseverance, human decency, providence sweeping over oceans of injustice.
Kathy, for many years before that day and many years after, accompanying ever more witnesses to Robben Island: presidents and their families, prime ministers, poets.
We crossed that water with him back to Cape Town, and then home again, different. Better. The prisoners, their prison, and their visitors, all now more free.
--
Barbara Rick is a Peabody and Emmy award-winning filmmaker and journalist based in New York City, and founder of the documentary nonprofit, Out of The Blue Films, Inc.
Follow her on Twitter: @brickdoc