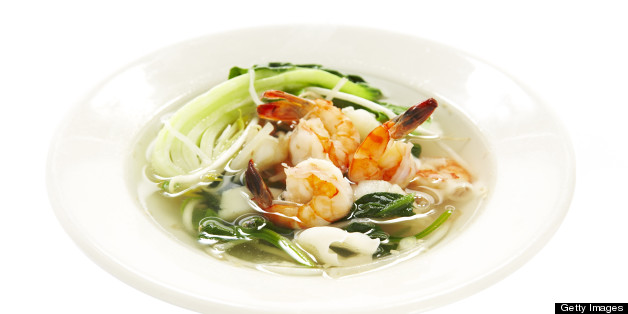 "Hi. I'm Jack.''
"Barbara."
We met on Match.Com. He's a 70-year-old family therapist, though he looks much older. He's giant-size with a huge tumble of faded brown, curly hair that sits on top of a rather large head, but my mother always said that the ugly men are the best ones, the nicest guys.
"OK, we've Googled, so let's eat.'' He leads me to a small, wobbly table.
Anyway, we're having lunch at this cheapo Thai restaurant. A huge fish tank contains sicky-looking crabs floating about. He tucks the napkin into his neck. He wears an old tweed coat over a nubby, worn, thick, dark blue, lint-filled sweater. The slight smell of mothballs floats from his body.
After studying the menu for what seems an interminable time, he makes a big deal about ordering the #7, a potpourri of Thai food.
"I suggest the seven," he repeats vehemently.
I nod, thinking, another no-show. He looks at me, as if evaluating some great issue.
"Usually I date women much younger. I don't date women over 60.''
"Well, we have vaginas and everything.''
He presses his thick lips and glares at me disapprovingly.
The food comes. I 'm trying not to gag at the hideous fish eyes floating in the soup, while he rants in a loud voice that he's Googled my talks and articles on men and ageism and that he hates what I write and that I'm pretending that age is a great thing.
"Age is the pits and the shits," he continues, dabbing at his watery goiter-eyes with the edge of the napkin.
"Well, I believe age is a buzz word. It's different for different people. I don't believe in numbers. I believe that age is a gift and that sex and rock and roll and new goals are possible to the end of our lives. Where there's age there's hope.''
"Hope for what! That you're incontinent, can't see, feel shitty!" he shouts. "Have IBS, and wear diapers? ou don't know what the fuck you're talking about. You need therapy."
"I am in therapy and I do know what I'm talking about. I don't agree with your bleak attitude.' Age is fabulous. It means we're alive. Have new beginnings!''
"Honey, look at your birth certificate for a reality check. You're old."
And then the freak starts ranting more about how I need "real therapy," and that I must have "lousy therapy," his eyes bulging out like ping-pong balls. Between slurping his soup, then stuffing his face with fish and rice, he continues to elaborate in agonizing detail about how two years ago, he'd married a girl thirty years younger and how she took him to the cleaners. "The bitch took me for every dime -- and my house, my Lexus, my guitar. She took everything!"
'Shame." I say, picking at a lump of rice.
"And you preach love?" he continues, his mouth full of rice. "Love is hard enough for the young and the beautiful, but who wants love when your teeth hurt and you can't lift your leg to fuck?"
"Well, I'm sorry. I don't see it that way," I say, thinking, I have to get out of here.
"I read your article on boomers and genitalia -- 'If It Fits Don't Acquit.' Very entertaining, but you're sexually repressed."
"I don't think so.''
"I know so. I've been a therapist for 34 years. You need sex. I can always tell."
"Don't we all," I say.
He looks reflective, blinks several times. "The current woman I'm in love with -- we finally had sex and I couldn't get an erection... couldn't get it to work. She left me an email that she isn't sexually attracted to me. I feel like the Pyramid Building fell on me."
"I'm... sorry," I whisper.
"I wish I had 10 inches." Then, he starts crying real crocodile tears. Cries as if I'm not even here. His smart phone is lighting up and a buzzer goes off on his watch -- time for his medication. Oh my God, is this boomer dating? Why can't I meet anyone? It's been years -- and outside of the schlumpy mathematician, nada, only a bunch of fools and bad boy boomers.
"You have your wallet with you?"
I nod.
"Most of you boomer gals expect a man to take care of you."'
"What century are you in?"
He studies the bill as if he's studying a treaty and then takes out his mini-calculator. "You owe, including tip, 27 dollars and 67 cents."'
I put down my card, and pay for the entire check.
"Gotta go.''
BarbaraRoseBrooker is author of her best selling novel The Viagra Diaries published by Simon & Schuster, Apr 30-2013. Soon to be an HBO series.