They used to call her Miss Firecracker, heir to the Dottie Pepper-Helen Alfredsson school of high voltage on-course emotion -- and not ashamed to shed a few public tears either. But then again, Morgan Pressel was only twelve-years-old when she first came to national prominence as the youngest ever to qualify for, and play in the U.S. Women's Open. It was the start of a distinguished amateur career that included multiple AJGA Player-of-the-Year titles, Junior Solheim Cup appearances, and a victory as the 2005 U.S. Women's Amateur Champion.
But the capper might have been earlier that same summer, while playing as a 17-year-old amateur in the U.S. Women's Open at Cherry Hills, when she endeared herself to virtually everyone who has ever competed. Watching from the 18th fairway, she saw Birdie Kim's miraculous chip-in on that final hole all but close her out, snatching away, what up until that moment, looked to be very much like a Pressel victory, and she ultimately finished as runner-up.
And yet through it all, and despite all the accolades and achievements, Pressel almost always seemed to be overshadowed by the juggernaut that was Michelle Wie. Enveloped by a barrage of Wie media hysteria, Pressel never backed off, with a not so silent mantra to the tune of "what about me" and what about some of the other younger phenoms, whom she felt were also getting short shrift.
Her protests were validated, as Pressel made history with a win in 2007 at the Kraft Nabisco, becoming the youngest woman ever to win an LPGA major.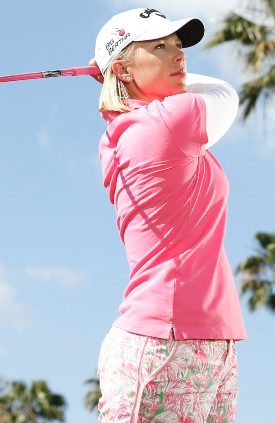 (photo courtesy Callaway Golf)
She was 18, and was soon followed by her teenage contemporaries Inbee Park, and Yani Tseng, who won their first majors in 2008 at the age of 19. In subsequent years, Lexi Thompson and Hyo Joo Kim, would also win majors as 19-year-olds. But probably no one could foresee--even a few short years ago--the phenomenon that would be just over the horizon in the personification of teen queen, Lydia Ko.
And so Ko, and virtually every marquee player on the LPGA returned to Lake Merced GC (just adjacent to San Francisco) this late April for the Swinging Skirts LPGA Classic Presented by CTBC.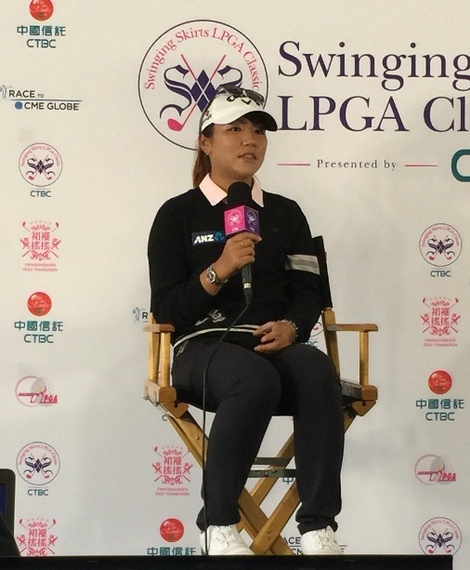 (photo by Barry Salberg)
Arriving now as the defending champion, the number one player in the world, and a new media darling in her own right, Ko would celebrate her 18th birthday during tournament week. "This is definitely one of the toughest golf courses we play, even including the majors," said Ko in a pre tournament interview. "It is certainly one of the best venues we play all year," echoed LPGA star, Stacy Lewis. "There is so much golf history in this area that it's just really cool for us to be playing here. It's getting rare that all the top players are playing together, and this is one of those weeks just because of the venue."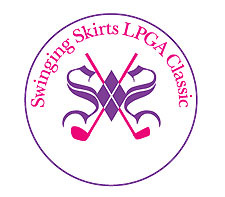 Several players, as well broadcaster, Kay Cockerill, commented that the event had the feel of a major. Billed as a celebration of art and culture, the tournament site is accented with a group of whimsical sculptures by noted Taiwanese artist, Hung Yi,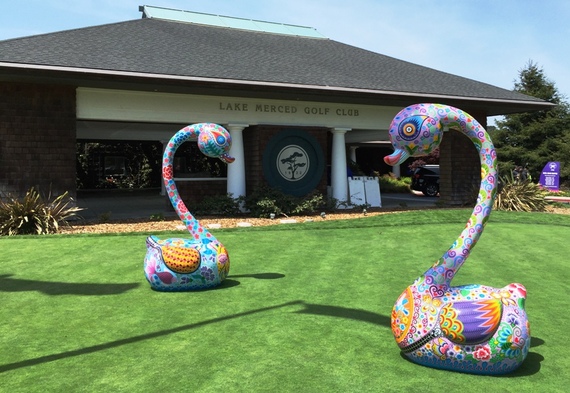 to lend an added taste of fun and Asian flavor to the festivities. (photo by Barry Salberg)
But Lake Merced can be a demanding brute, with temperatures all week in the low fifties, punctuated with gray, heavy, marine air in the mornings and bone-chilling winds in the afternoons. Yet, on TV it played glorious -- fittingly reflective of one of California's top-tier courses and one of the planet's most gorgeous urban landscapes.
On Sunday, it was Morgan Pressel, with a re-tooled swing, added distance, and almost a decade as one of the tour's upper echelon, who was in the final group along with another teen phenom, Brooke Henderson. But coming from three shots behind at the start of the day, and playing in the group just ahead of Pressel, it was Ko, who ultimately prevailed again in the second playoff hole with Pressel. One of my golf buddies who's only a casual follower of the LPGA, e-mailed me that "Lydia's for real!" I responded back, "no, she's UN-real!" And though she professes to feel nerves like anyone else, clearly she is a notch well beyond special.
At a press conference just prior to her video shoot to promote the Swinging Skirts event,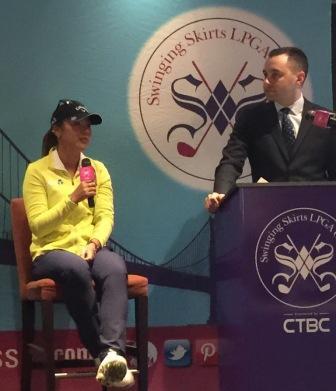 Ko informed the media that she was beginning college and would be majoring in psychology. "So you guys better watch out," she warned playfully. The question is, whether she was warning the media or the other players. As for Pressel, a Solheim Cup stalwart and two-time tour winner, it's been several years since her last win.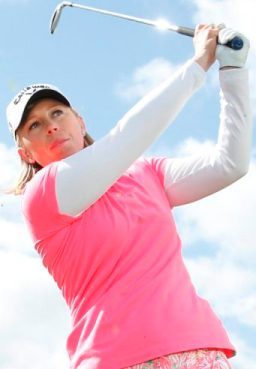 ( photo courtesy Callaway Golf)
Perhaps, the recent reunion with her swing coach, and now almost a victory in one of the preeminent events on the LPGA may be the spark to have the firecracker re-kindled. ###